Pork Chops Creole
Quinoa with Green Onion and Spring Herbs
Sautéed Snow Peas (Mangetout) with Green Onions
Cooking time: 40 minutes for menu      Cooking schedule: see below for instructions
     A last bit of spicy, skillet pork to finish the winter cooking season. This uses the rest of the tomato sauce from Friday.  Use green or spring onions (spring onions are slightly larger with more of a bulb).
Pork Chops Creole
Total time: 40 minutes
    Use boneless chops for this if you can get them.  The lively sauce keeps them tender even though they are only simmered 20 minutes or so..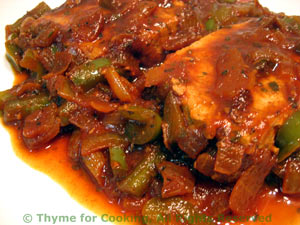 Ingredients:
2 - 4 pork chops, depending on size, 12oz (360gr) boneless weight
1 tbs olive oil
1 medium onion
1/2 green pepper
4oz (120gr) mushrooms
2 cloves garlic
1/2 cup (4oz, 120ml) tomato sauce
1 tbs Worcestershire
1 tsp chili powder
1 tsp paprika
2 tbs chicken stock
1 tsp oregano
 Instructions:
Mince garlic. 
Cut onion into quarters and slice thickly. 
Thickly slice green pepper, then cut slices in half. 
Clean mushrooms and slice. 
In medium nonstick skillet heat oil over medium-high heat. 
Sauté pork chops until lightly browned, about 3 minutes per side.  Remove and set aside. 
Add chili powder, paprika, garlic, onions, pepper and mushrooms to pan and sauté 5 minutes. 
Return chops to pan.  Spread tomato sauce and Worcestershire sauce over top.  
Add stock and bring to a boil.  
Reduce heat to low, cover and simmer 20 - 30 minutes, turning once and stirring sauce, until chops are done and tender.  
Serve.
Quinoa with Green Onions and Herbs 
Total time: 25 minutes   
    This near-perfect food of the Incas has slowly been gaining recognition in the culinary world. It cooks quickly and has a nutty flavor that goes with everything. It is normally ready to cook, but if not it will need to be rinsed first.  If you can't find it substitute Basmati or Jasmine Rice.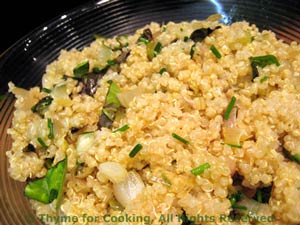 Ingredients:
1/2 cup (3.5oz, 100gr) quinoa
1 cup (8oz, 240ml) chicken stock
2 green onions
1 tbs fresh snipped chives  

substitute 1 tsp dried

1 tbs fresh snipped marjoram  

substitute 1 tsp dried

1 tsp lemon juice
1 tbs olive oil
 Instructions:
Combine quinoa and stock in small saucepan. 
Cover and bring to a boil.  Reduce heat and simmer until done, about 15 minutes.
Slice green onions. 
In small skillet heat 1 tbs olive oil.  Add green onions and sauté until tender, about 5 minutes. 
Add herbs, lemon and stir into quinoa. 
Spoon into a serving dish and serve.
Sautéed Snow Peas (Mangetout) with Green Onions
Total time: 15 minutes
     Spring onions are the small, round white onions that appear in spring.  If you don't have them use green onions.   If the snow peas are small, leave them whole.  If they are large (2", 5cm) cut in half of thirds, at an angle.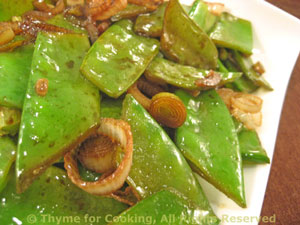 Ingredients:
4oz (120gr) mangetout, snow peas
2 spring onions or green onions, including tops
2 tsp Balsamic vinegar
1 tsp soy sauce
2 tsp olive oil
 Instructions:
Peel and slice onions.
Clean pea pods - snip off the stem end.  Cut large pods into pieces, at an angle, if desired. 
Heat oil in nonstick skillet over medium heat. 
Add onions and mangetout, 5 - 7 minutes, stirring frequently. 
Add vinegar and soy sauce, stir to combine and serve.
Cooking schedule: 40 minutes
Assemble all food, utensils and serving dishes
Utensils: measuring cups, spoons, knives,
large skillet with lid, medium skillet, small saucepan
with lid, small skillet
Sauté pork chops
Slice onion, pepper
Mince garlic
Turn chops
Trim, slice mushrooms
Trim, slice all green or spring onions, divide
Remove chops
Sauté vegetables and spices

Snip herbs
Return chops to skillet
Add tomato sauce, Worcestershire to chops
Cover, simmer
Cook quinoa
Trim, slice snow peas
   Pause while stuff cooks
Turn pork, stir
Sauté onions, snow peas
Sauté onion for quinoa
Combine quinoa, onions, lemon, herbs
Add vinegar, soy sauce to snow peas
Put chops on platter, spoon sauce over, serve all