Cumin-Scented Grilled Chicken
Roasted New Potatoes Dijon
Asparagus with Soy and Balsamic
Cooking time: 40 minutes for menu        Cooking schedule: see below for instructions
     If you are ready to use the barbecue grill - here is the official start.... If not, simply sauté in a nonstick skillet; the flavors will still shine. Use whatever asparagus you have left.
Cumin-Scented Grilled Chicken
Total time: 30 minutes
     Cumin adds a hint of Northern African fare to this marinated chicken breast.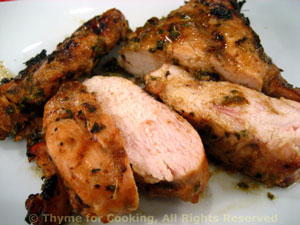 Ingredients:
2 boneless, skinless chicken breasts
2 tbs olive oil
2 tbs cider vinegar
1 tbs Worcestershire sauce
2 tsp Dijon-style mustard
1 tsp cumin
1 tsp oregano
 Instructions:
Mix oil, vinegar, Worcestershire, mustard, cumin and oregano.
Spoon over chicken breasts and let marinate for 10 minutes.
Cook on barbecue grill 6 - 8 minutes per side or sauté in nonstick skillet for about the same amount of time.  They should be nicely browned and juices should run clear when pierced with a knife. Remove, slice and serve.
Roasted New Potatoes Dijon
Total time: 45 minutes  
     New potatoes are another spring delicacy.  They are very tiny, usually covered in dirt and only keep a few days.  If you can't find them at a farmer's market, use small fingerlings. 
 Ingredients:
10 - 15 small new potatoes depending on size, 12oz (360gr)
2 tbs Dijon-style mustard
2 tbs olive oil
1/2 tsp garlic powder
1 tsp Herbes de Provence or 1/2 tsp each basil and thyme
 Instructions:
If potatoes are golf ball size or larger, cut in half.  If smaller leave whole. 
Put mustard, olive oil, garlic and herbes in a medium bowl, and whisk well; it will be very thick. 
Add potatoes and stir well to coat. 
Put them on a baking sheet with a lip (trusty round pizza pan) and bake in the oven for 35 minutes. 
Remove and serve.  These stay very creamy inside.
Asparagus, Stir-Fried
Total time: 10 minutes  
    This is a quick stir-fry; the asparagus should be crisp-tender, lightly browned and slightly blistered. Serve hot or warm. 
 Ingredients:
8oz (240gr) green asparagus
1 tsp olive oil
1 tsp sesame or walnut oil
2 tsp soy sauce
2 tsp Balsamic vinegar
 Instructions:
Snap off ends of asparagus.  Roll cut asparagus in 2 inch (5 cm) lengths.
Heat oil in a medium skillet. 
When very hot add asparagus and stir-fry 3 minutes. 
Add soy sauce, vinegar, and stir-fry another 30 seconds. 
Serve.
Cooking schedule: 40 minutes
Assemble all food, utensils and serving dishes
Utensils: measuring cups, spoons, knives,
medium skillet, bowl (used 2X), whisk, baking sheet,
dish for marinating, barbecue grill or medium skillet
Turn oven on 400F (200C)
Wash potatoes, dry
Mix mustard, garlic, oil, whisk well
Add potatoes, coat, lay on baking sheet, bake
Same bowl - make marinade
Put chicken in dish, add marinade, turn to coat


Light barbecue grill if using
    10 minute break
Cook chicken
Cut asparagus   slowly ;-)
Turn chicken
   Pause while stuff cooks
Stir-fry asparagus
Add soy sauce, vinegar, stir-fry, remove from heat
Remove chicken, slice if you like
Remove potatoes
Serve