Christmas Day Dinner

or Christmas Lunch

For 4


Glazed Ham with Mustard Sauce
Maple Glazed Sweet Potatoes
Brussels Sprouts with Chestnuts

Cooking time:  1 1/2 - 2 hours for menu       Cooking schedule: see below for "menu" instructions

      This menu is for 4 - or 2 with leftovers.  The vegetables and potatoes can be done ahead and reheated.  The mustard sauce can be done up to a week in advance - it's easy to make and the best Mustard Sauce you'll find (she says, modestly.... It's a family recipe)
Roast Ham with Mustard Sauce
Total time: 1 hour 45 minutes 
      A fully cooked ham should be baked to an internal temp of 140F (60C), about 20 minutes per lb. A ham that must be cooked should reach an internal temp of 150F (65C), 35 minutes per lb. for small hams and 22 minutes for larger (over 5 lbs) hams.  All times assume a 325F (165C) oven.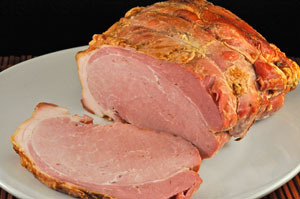 Ingredients:
1 small ham, about 4 lbs (2000gr)
1 cup brown sugar
1/2 tsp dry mustard
1 tbs red wine vinegar
 Instructions:
Put ham on rack in roasting pan and roast in 325F (165C) oven. 
About 30 minutes before it's done mix the sugar, mustard and vinegar. 
Remove the ham from the oven. Remove the skin if there is any, score the fat with a sharp knife (diamond pattern is pretty). 
Pat the brown sugar mixture over the top of the ham and return to oven.  Finish baking.
Remove ham and allow rest for 15 - 20 minutes before slicing.
Mustard Sauce
  Time: 10 minutes
    A timeless tradition in my large, extended family.  The original recipe came from "The Anderson House", a small family run hotel in my home town. For some, it's the only reason to have ham!  Can be made ahead.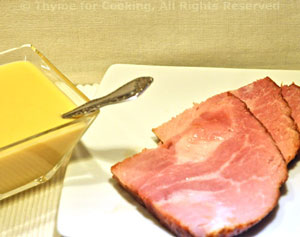 Ingredients:
1/4 cup sugar
1/4 cup milk
1/4 cup plain white or cider vinegar
2 tbs dry mustard
1 egg
pinch salt
2 tbs butter
 Instructions:
Note:  if you don't have a double boiler, put a metal bowl on a saucepan partially filled with water.  The bottom of the bowl should not touch the water.
Maple Glazed Sweet Potatoes
Total time: 60 minutes 
     These are not overly sweet - no mini-marshmallows.  The taste of the sweet potatoes shines through and is enhanced, rather than overpowered, by the maple.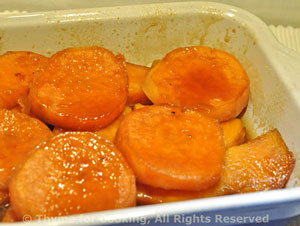 Ingredients:
24oz (1 1/2 lb, 720gr) sweet potatoes, 2 large
1/4 cup maple syrup
1/4 cup brown sugar
1 tbs butter
pinch of nutmeg
 Instructions:
Peel sweet potatoes and cut into 3/4 inch (2cm) rounds (the short way).
Cook in boiling, salted water until just tender, easily pierced with a knife.
Remove and drain. 
While potatoes cook heat the syrup, butter and brown sugar to boiling in a small saucepan.
Reduce heat and simmer 5 minutes.

To assemble:

Lay the potatoes in a baking dish just large enough to hold them all easily.  Don't fuss with the layers but do spoon a bit of syrup over each potato slice.
Pour the rest of the syrup over the top and bake, uncovered, 350F (175F) for 30 minutes.
Baste once after 15 minutes with the syrup from the bottom of the baking dish.   Serve.
Brussels Sprouts with Chestnuts
Total time: 50 minutes
      This is a classic on British holiday tables and slowly moving to American tables.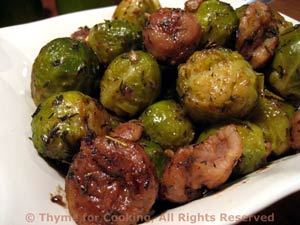 Instructions:
20 - 25 Brussels sprouts -

I normally serve 6 - 8 per person

18 - 24 chestnuts, fresh or canned
2 cups (16oz, 480ml) beef stock  

if using fresh chestnuts

1/2 cup (4oz, 120ml) beef stock   

if using canned chestnuts

3 tbs butter
1 tsp thyme
sea salt and fresh pepper
 Instructions:
If using fresh chestnuts:

  With a sharp knife cut an 'X' through tough outer shell.
Put in a saucepan and cover with water.  Bring to a boil over medium-high heat.
Reduce heat to medium-low and boil for 5 minutes.
Remove pan from heat.  Removing 1 chestnut at a time peel off shells and inner skin. Chestnuts must stay hot to peel easily.  If they cool down too much while you are working, bring them to a boil again. 
Put peeled chestnuts into a saucepan, cover with beef broth, bring to a simmer over medium heat and simmer for 15 minutes, until tender.
Drain.

If using canned chestnuts:

  Rinse and drain.

To cook Brussels sprouts:

Slice a bit off of the stem end and peel away the outer leaves - any that are damaged, wilted or discolored.
With the tip of your knife make a small X in the stem end - that, supposedly, aids even cooking.
Put into a saucepan with 1/2 cup beef stock, and enough water to almost cover.  Cover and bring to a boil.
Reduce heat and simmer until done, 10 - 15 minutes.  They should be just tender when pierced with a sharp knife. 
When done remove, drain and set aside. 
Both steps can be done earlier in the day and finished at the last minute.

To finish:

Melt butter in a medium saucepan over medium heat.
Add thyme and pepper and combine.
Add sprouts and chestnuts and sauté about 5 minutes (longer if sprouts and/or chestnuts are cold).
Sprinkle with salt and serve.
Cooking Schedule: 2 lazy hours
Assemble all ingredients and utensils
Utensils: measuring cups, spoons, knives,
small bowl, roasting pan, meat thermometer, baking
dish, foil, 2 medium saucepans with lids, double
boiler or saucepan and metal bowl, small saucepan,
carving board
Turn oven on 325F (165C), arrange 2 shelves
Start to bake ham
Peel sweet potatoes, slice
Cook sweet potatoes
   Prepare chestnuts if using fresh
Open jar, rinse and drain chestnuts if using canned
Make mustard sauce, cover, refrigerate
Trim sprouts
Cook sprouts
Make glaze for sweet potatoes
Remove sweet potatoes, drain

Layer sweet potatoes, glaze in baking dish, set aside
Make glaze for ham
Remove sprouts and keep warm
  Everything under control? Do a bit of kitchen clean-up
  Pour a glass of Christmas cheer, enjoy the day
Remove ham, fuss if needed, pat on glaze
Return ham to oven
   Another break - 10 minutes
Bake sweet potatoes - same temp as ham is fine
   Another break  - 15 minutes
Remove ham, cover and let rest
Melt butter for sprouts and chestnuts
Add thyme, pepper, chestnuts and sprouts to butter
Sauté until heated through
Slice the ham... Don't forget the mustard sauce!
Remove potatoes
Serve all... 
                     MERRY CHRISTMAS!