Braised Pork Chops with Peppers and Olives
Barley Pilaf
Rutabagas with Bacon and Onion
Cooking time:  35 minutes for menu      Cooking schedule: see below for "menu"  instructions
      Rutabagas are in season now and a great winter root vegetable. Try it... you may like it.  As they tend to be rather large, there should be enough for 2 meals.
Braised Pork Chops with Peppers and Olives 
Total time: 25 minutes
     Pork chops, quickly seared to caramelize the surface, then braised for 15 minutes with peppers, olives and a bit of spicy tomato sauce makes an easy weeknight dinner.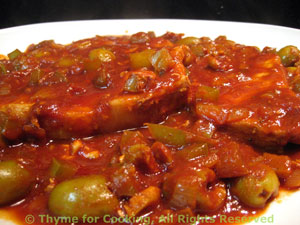 Ingredients:
2 - 4 pork chops, depending on size, (12oz, 360gr) total weight
2 tsp olive oil
2 tsp chili powder
1 onion
1/2 green or red bell pepper
1/2 cup green or black olives
2 cloves garlic
1 cup (8oz, 240ml) tomato sauce
1 tbs Worcestershire
 Instructions:
Chop onion and pepper.
Mince garlic.
In medium nonstick skillet heat oil over medium-high heat.  Sauté pork chops until lightly browned, about 3 minutes per side.
Remove and set aside.  Add chili powder, onions, garlic, pepper to pan and sauté 5 minutes.
Return chops to pan.
Add tomato sauce, Worcestershire sauce and olives.  Reduce heat to low, cover and simmer 10 - 15 minutes, until chops are done and tender.
Serve.
Barley Pilaf
Total time: 25 minutes  
   Barley is a hearty, nutritious grain; easy to cook and flavorful.  I get the quick-cooking barley which takes 15 minutes.  Here it's cooked in chicken stock with sautéed carrots and onion; a pretty, flavorful side dish.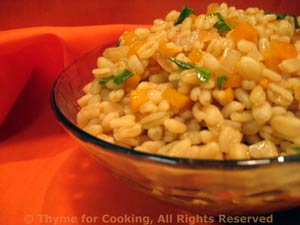 Ingredients:
1/2 cup (2.8oz, 80gr) quick-cooking barley
1 cup (8oz, 240ml) chicken stock (or more, depending on type of barley)
1 small - medium carrot
1/2 onion
1 tbs soy sauce
1 tbs dry sherry
1 tsp dried basil
1 tsp olive oil
 Instructions:
C

hop

onion and carrot.

Heat oil in a small saucepan.  Add onion, carrot and sauté until they start to get tender, about 5 minutes.
Add barley, stock, soy sauce, basil and sherry; stir to combine.
Cover and simmer until barley is done, about 15 minutes or according to package directions. 
Serve.
Rutabagas with Bacon and Onion
Total time: 35 minutes 
    Rutabagas, or Swedes as they are known in the UK, are a yellow turnip.  They add sweetness to vegetable soups or stews and are excellent, braised on their own, or, as in this case, with a bit of bacon and onion.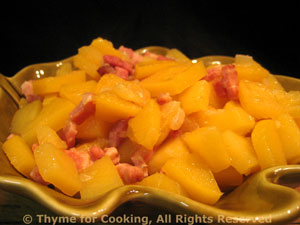 Ingredients:
 Instructions:
Peel rutabaga (with a vegetable peeler - like a potato) and cut into pieces about 1/2" X 1/4" - you will need a big knife; it's rather hard. 
Roughly chop bacon and sauté in a medium sauce pan.
When crisp remove and drain all but 1 tbs fat.
Chop onion, add to skillet and sauté until tender, about 5 minutes.
Add rutabaga, 1/2 cup water and bacon.  Bring to a boil, cover, reduce heat and simmer 15 - 20 minutes.
Test for doneness - taste, should be like a cooked potato.  When done, drain any remaining liquid, stir in butter, sherry and serve.
Cooking schedule: 35 minutes
Assemble all food, utensils and serving dishes
Utensils: measuring cups, spoons, knives,
small saucepan with lid, large nonstick skillet,
medium saucepan with lid
Chop bacon, sauté in medium saucepan
Heat oil in skillet
Add pork chops and brown
Chop all onion
Remove bacon, sauté onion for rutabagas
Turn chops
Peel, cut rutabaga
Chop pepper
Mince garlic

Add rutabaga, bacon, water to onion, cover, simmer
Remove chops
Add chili powder, onion, pepper, garlic to skillet, sauté
Chop carrot
Sauté onion, carrot for barley
Return chops to skillet
Add tomato sauce, Worcestershire, olives
Cover, simmer
Add barley, stock, soy, basil, sherry, cover, simmer
            15 minute break while it all cooks
Back? Rutabagas done?
Drain rutabagas, add butter, sherry
Finish everything else
Serve all