Christmas Eve Dinner
Roast Beef Tenderloin with Red Wine Sauce
Potato Mushroom Timbales
Braised Asparagus with Butter
Cooking time:  60 minutes for menu          Cooking schedule: see below for "menu"  instructions
      Holiday meals are full of tradition.  You could substitute a Standing Rib Roasted and Yorkshire Pudding.  As to the Asparagus.... I know, out of season and expensive, but if we can get it, we will. Get a Bûche de Noël at your favorite bakery. This is a dinner for two, but is easily expanded.  Allow more time if making a larger roast.
Beef Tenderloin with Red Wine Sauce
Total time: 40 minutes
    Cooking time can vary depending on the size of the roast.  A meat thermometer is best.  Start checking after 20 minutes for a small roast and 30 for a larger one. Remember it will cook a bit more once off the heat.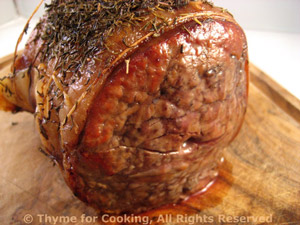 Ingredients:
The Beef
whole or piece of beef tenderloin, about 6oz (180gr) per person - but at least 16oz (480gr)
1 tbs olive oil
1 tsp dried thyme
1 tbs Worcestershire sauce
The Sauce
2 shallots
2 cloves garlic
1 cup (8oz, 240ml) red wine
1/2 cup (4oz, 120ml) beef stock
1 tsp fresh or dried thyme
1 tsp Balsamic vinegar
1 tbs cornstarch (maizena, corn flour) dissolved in 1 tbs water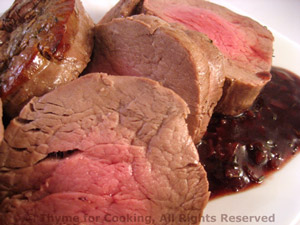 Instructions:
Potato Mushroom Timbales
Total time: 60 minutes  
   I made these using 'rings' - ramekins without a bottom.  Regular ramekins will work fine, just carefully turn timbale over after taking out, so that brown side is 'up'.
 Ingredients:
2 medium potatoes, (12oz, 360gr)
2 medium shallots,  (3oz, 90gr)
3oz (90gr) mushrooms
1.5oz (45gr) Gruyère cheese, shredded
2 tsp olive oil
butter
 Instructions:
Finely chop the mushrooms and shallots.
Shred the potatoes.
Heat 1 tsp oil in medium skillet.  Add onions, mushrooms and sauté until tender and starting to brown. Remove and set aside.
Heat remaining tsp oil and add potatoes.  Sauté until potatoes are starting to get tender and are partially cooked.

To use ramekins:

Generously butter the bottoms and sides of 2 ramekins.
Pat 1/4 of the potatoes into each ramekin.
Divide and add the mushroom and onion, patting down lightly.
Top with the remaining potatoes.
Put the cheese on top and bake (400F, 200C) until brown and bubbly, about 30 minutes.
Run a knife around the edges of the ramekin.  Put a plate on top and tip over, releasing the timbale onto the plate. 
Turn again to have brown side up.   Serve.

To use rings:

Put 2 rings on a baking sheet that's been  lightly brushed with oil.
Pat 1/4 of the potatoes into each ring.
Divide and add the mushroom, onion, patting down lightly.
Top with the remaining potatoes.
Put the cheese on top and bake (400F, 200C) until brown and bubbly, about 30 minutes.
Slip a spatula under the rings and transfer to plates.  Remove rings and serve. 
Braised Asparagus with Butter
Total time: 15 minutes  
    Roasted, fried, grilled - all wonderful ways to fix asparagus.  Sometimes we just have to do the classic.  Cooking time for asparagus varies with the thickness so be careful not to overcook.  I normally remove the pan from heat, but leave covered, for 7 - 9 minutes more, after the lid has reached the 'too hot to touch' point.
 Ingredients:
12oz (360gr) asparagus - more if you truly love it
1 - 2 tbs butter

Seasoning:

  fresh cracked pepper, snipped chives, basil, or other herb
 Instructions:
Snap off ends of asparagus.  If white use vegetable peeler and peel the bottom half of stalk. 
Put into a skillet big enough to hold them without cutting, add water to cover bottom by 1/4 inch, cover and bring to boil.
Lower heat and cook just until done, 10 - 15 minutes, longer for white, adding a bit of water as needed.  When done drain and put into a serving dish. 
Return the skillet to heat and melt the butter.
Add the herbs and sauté 30 seconds.
Add asparagus and sauté until heated through.
Put back onto serving dish and serve - adding salt and pepper if desired.
Cooking Schedule: 60 minutes
Assemble all food, utensils and serving dishes
Utensils: measuring cups, spoons, knives,
small saucepan, lid, 2 medium skillets, 1 lid,
ramekins or rings, baking sheet, roasting pan, meat
thermometer
Turn oven on 400F (200C), arrange 2 shelves
Chop all shallots
Saute shallots for potatoes in skillet
Sauté shallots for sauce in saucepan
Mince garlic, add to saucepan
Trim, brush mushrooms
Add red wine to saucepan, reduce heat, simmer
Add mushrooms to skillet, sauté
Shred potatoes
Remove mushrooms, shallots from skillet
Add potatoes to skillet, sauté

Prepare beef, depending on size... roast when ready
Shred cheese
Butter ramekins
Add beef stock to sauce, reduce
Assemble ramekins / rings, bake
Trim asparagus
Dissolve cornstarch in water
Finish sauce, cover, keep warm
      Pause while stuff cooks
Cook asparagus
Remove beef. let rest
     Pause a few minutes again
Remove potatoes, plate
Finish asparagus
Slice beef, serve

                       Merry Christmas!