Chicken with Whole Grain Mustard Sauce
Hot Cauliflower and Potato Salad
Cooking time:  30 minutes for menu      Cooking schedule: see below for instructions
      An easy dinner to end the week.  And, yes, one can have winter salads.... This should finish the cauliflower.
Chicken with Whole Grain Mustard Sauce
Total time: 25 minutes
  Whole grain mustard and white wine, slightly reduced, make a lovely, light sauce for the chicken, bursting with flavor but low in calories.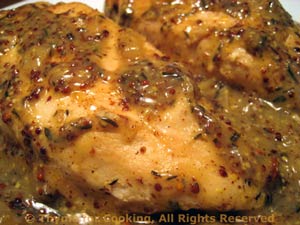 Ingredients:
2 chicken breasts, boneless, skinless
1/2 medium onion
2 tsp olive oil
1 tsp thyme
1/2 cup (4oz, 120ml) white wine
2 tbs whole grain mustard
 Instructions:
Roughly chop the onion.
Sauté onion in oil in nonstick skillet over medium-high heat. 
When onion starts to brown, move it to the sides of the pan and sauté chicken breasts until lightly browned.
Add thyme, mustard and wine.  Stir to combine.
Cover, reduce heat and simmer until chicken is done, about 15 minutes.
Remove chicken to a small platter, cover to keep warm.
Increase heat under skillet and reduce sauce slightly.
Pour sauce over chicken and serve
Hot Cauliflower and Potato Salad
Total time: 30 minutes
    Potatoes and cauliflower take about the same time to cook - so why not cook together?  Finish with a slightly sharp mustard and a slightly sweet vinegar and you have a flavorful side dish; one dirty pan!  Give the potatoes a slight head start....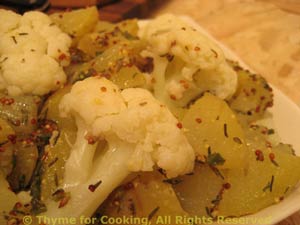 Ingredients:
7oz (210gr) cauliflower, 1/3 head
2 medium potatoes
1 tbs olive oil
1 tsp dried thyme
1 tsp dried chives
1 tbs white Balsamic vinegar
1 tbs whole grain mustard
 Instructions:
Put an inch of water in the bottom of a steamer and put it on medium-high heat. 
Cut potatoes into large bite-size chunks and put into the steamer. 
Cut cauliflower into florets, put on top of potatoes. 
Steam for 10 - 15 minutes, until fork-tender. 
Remove from heat and drain water from pan. 
Return pan to heat and add oil. 
Add herbs, mustard and vinegar, heat through. 
Add potatoes and cauliflower and toss well to combine.  Serve.
Cooking Schedule: 30 minutes
Assemble all ingredients and utensils
Utensils: measuring cups, spoons, knives,
large skillet with lid, large saucepan with steamer
basket and lid
Chop onion, sauté
Put steamer with water on medium-high heat
Cut potatoes, add to steamer
Brown chicken breasts
Cut cauliflower
Turn chicken

Add cauliflower to steamer
Add thyme, mustard, wine to chicken
Cover, reduce heat, simmer
     Pause while it all cooks
Remove steamer basket with vegetables
Empty saucepan
Add oil, herbs, vinegar, mustard, to pan, heat
Add potatoes, cauliflower, stir well, keep warm
Remove chicken, cover
Reduce sauce, spoon over chicken
Serve