Pizza Steaks
Polenta with Cheese and Herbs
Roasted Cauliflower
Cooking time:  35 minutes for menu          Cooking schedule: see below for instructions
       For the Pizza Steaks, you can use a more expensive, tender cut, and serve medium or medium rare, or use a cheaper cut and braise with the sauce.  
Pizza Steaks
Total time: 25 minutes
      A thick sauce of tomatoes and oregano lend the 'pizza' taste to these steaks.  You can simmer the steaks in the sauce for more flavor, if you like, be we prefer our steaks more on the medium rare side so we just spooned the sauce on top.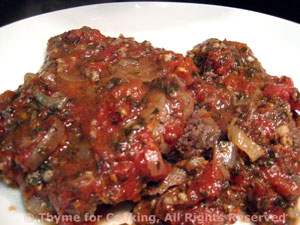 Ingredients:
 Instructions:
Chop onion; mince garlic.
Heat 1 tbs oil in small skillet over medium heat.  Add onion, cumin, paprika and sauté 5 minutes. 
Add garlic and sauté 5 minutes longer. 
Drain tomatoes, reserving juice for another use. 
Roughly chop tomatoes and add to skillet along with wine and oregano. 
Reduce heat and simmer for 10 minutes, until reduced and thickened. 
Meanwhile heat remaining tbs of oil in large nonstick skillet or grill pan over medium-high heat. 
Add steaks and fry quickly, 1 - 2 minutes per side, depending on thickness and desired degree of doneness. 
When done, put on small platter.  Spoon sauce over and serve.
Note:  If using a tougher cut, brown first, then add to sauce and simmer 15 - 45 minutes.
Herbed Polenta with Ricotta
Total time: 15 minutes
    Check the package directions for quantity proportion - you may have to add more (or less) liquid to get a soft consistency.  It can be adjusted at the end, before serving.   This should be quite thin, more like grits than mashed potatoes.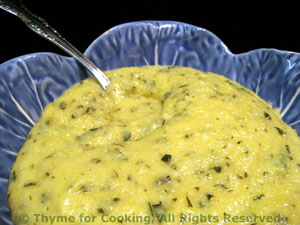 Ingredients:
1 1/4 cups (10oz, 300ml) chicken stock
1/4 cup (1.5oz, 45gr) polenta, quick-cooking
1/4 cup (2oz, 60ml) ricotta cheese
1/4 cup (1oz, 30gr) shredded Cheddar
1 tsp dried oregano
1 tsp dried chives
 Instructions:
Heat 1 cup (8oz, 240ml) stock and herbs in a small sauce pan over medium heat.
When stock is simmering slowly pour in polenta, whisking constantly. 
Cook, stirring, about 5 minutes or until done. 
Add cheeses and as much extra stock as needed to thin. 
Cover and let sit 5 minutes. 

Serve. 
Roasted Cauliflower
Total time: 35 minutes 
    Roasting vegetables browns them lightly, adding a crunchy sweetness from the natural sugars, and leaves all the vitamins and minerals safely intact.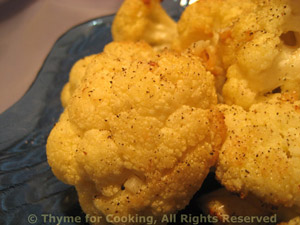 Ingredients:
1/3 head cauliflower - or enough for 2
2 cloves garlic
1 tbs lemon juice
1 tbs olive oil
salt & pepper
1 tbs Parmesan cheese
 Instructions:
Cut cauliflower into florets (plus some stem). 
Slice garlic. 
Put cauliflower and garlic into a small bowl.  Add olive oil, lemon juice, salt & pepper and toss to combine. 
Put into a small glass baking dish, cover and roast at 400F (200C) for 15 minutes. 
Uncover, stir, turn oven to 350F (175C) and roast 15 minutes longer or until cauliflower is tender and lightly browned.  Remove, sprinkle with Parmesan and serve.
Cooking Schedule: 35 minutes for menu
Assemble all food, utensils and serving dishes
Utensils: measuring cups, spoons, knives,
2 medium skillets, baking dish with lid or foil,
small saucepan with lid
Turn the oven on 400F (200C)
Chop onion, mince all garlic
Clean, cut cauliflower
Mix garlic, cauliflower, lemon, oil, salt, pepper
Put cauliflower in baking dish, cover, roast
Grate Parmesan for cauliflower, set aside
Sauté onion, paprika for steak
Heat stock, herbs, for polenta

Add garlic to onions, sauté
Open, drain, chop tomatoes
Add tomatoes to skillet for pizza sauce, simmer
Turn oven down, uncover, stir cauliflower
Add polenta to stock, cook, stirring
Stir cheeses into polenta, add stock as needed
Cover polenta, keep warm
Heat skillet for steaks
Sauté steaks
Remove cauliflower, add Parmesan
Turn steaks
Remove steaks, pour sauce over (or next to)
Serve all