Spring Greens Salad with Ham and Asparagus
Fresh Strawberries with Yogurt and Mint
Cooking time: 25 minutes for menu             Cooking schedule: see below for instructions
    I originally used smoked turkey in this, but it's unavailable here so I switched to ham. The Creamy Herb Dressing is similar to a commercial Ranch dressing. This should finish the goat cheese and the radishes.
Spring Greens Salad with Asparagus and Ham
Total time: 25 minutes
     A variation on a Cobb Salad with the emphasis on spring: asparagus, radishes and spring greens.
 Ingredients:
 Instructions:
Hard boil eggs.
Snap off ends of asparagus. If white use vegetable peeler and peel bottom half of stalk. 
Roll cut (cut the end off at an angle, roll 1/4 turn and cut next piece at an angle, roll 1/4 and cut next piece, etc.) asparagus in 1 1/2 inch (4 cm) lengths.
Fill large saucepan half full of water and bring to a boil over high heat. 
When boiling, drop in asparagus and parboil for 2 minutes if green, 3 if white. 
Drain and immediately rinse with cold water.
Prepare greens and put into a large bowl. 
Add a bit of dressing and toss well with tongs to combine. Taste and adjust dressing. 
Arrange on a shallow platter, flat salad bowl or two plates. 
Clean and slice radishes.
Slice ham/turkey into strips and cheese into rounds.  
Peel and quarter eggs.  
Arrange ham, eggs, asparagus, radishes and cheese nicely on top of greens.
Drizzle a bit of dressing over all and serve, extra dressing on the side.
Creamy Herb Dressing
Whisk together the yogurt, mustard and lemon juice. 
Drizzle in the olive oil, whisking constantly. 
Stir in herbs. This will keep a week in the refrigerator.
Fresh Strawberries with Yogurt and Mint
Total time: 10 minutes
   A bit of sugar and Greek Yogurt is wonderful with fresh strawberries.... and ever so much healthier than cream.  If you have fresh mint - that will finish it just right!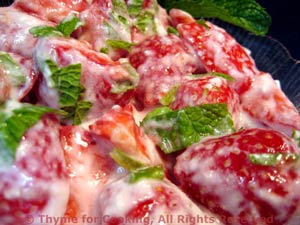 Ingredients:
1 - 1 1/2 cups fresh strawberries
1 tbs sugar  

optional

4oz (120gr) Greek yogurt
1 tbs fresh mint, snipped
 Instructions:
Rinse strawberries. 
With your fingers, pull the stem end and leaves off. 
Cut in half or quarters if very large.
Put into a medium bowl and sprinkle with sugar.  Stir gently. 
Add yogurt and snipped mint and stir gently. 
Spoon into 2 small dishes and serve.
Cooking Schedule: 25 minutes for menu
Assemble all ingredients and utensils
Utensils: measuring cups, spoons, knives,
scissors, whisk, small bowl, medium bowl, salad
spinner, small saucepan, lid, medium saucepan
Hard cook eggs
Heat water for asparagus
Roll-cut asparagus
Blanch asparagus
Rinse asparagus in cold water, drain
Prepare salad greens
Prepare strawberries

Snip herbs
Add sugar to berries, stir
Add yogurt, mint to berries, stir
Mind the eggs
Make Creamy Herb Dressing
Toss greens with dressing, arrange on plates
Cut ham, slice cheese
Slice radishes
Peel, quarter eggs
Arrange ham, cheese, eggs, radishes on greens
Drizzle a bit more dressing, Serve
Don't forget the strawberries...