Glazed Lamb Chops
Braised New Potato with Rosemary and Olives
Simple Fresh Spinach Gratin
Cooking time:  45 minutes for menu        Cooking schedule: see below for instructions
        Substitute pork or beef flank steak if you prefer, but use the same glaze.
Grilled Glazed Lamb Chops
Total time: 30 minutes
   We don't normally marinate lamb chops, but this added a light flavor and a slightly caramelized crust to the finished chop.  If you are not ready for the barbecue grill, they can be broiled (grilled in the oven) or pan-fried.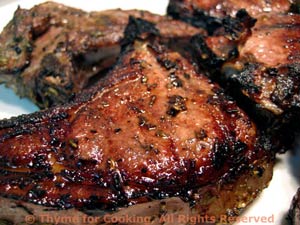 Ingredients:
4 - 6 center-cut lamb chops - depending on size, 16oz (480gr) total  

substitute pork chops

3 tbs sherry
2 tbs sherry wine vinegar
1 tbs honey
1 tbs olive oil
1/2 tsp garlic powder
2 tsp dried rosemary
 Instructions:
Mix all ingredients except chops in a small bowl. 
Put chops in a glass baking dish large enough to hold them in a single layer.  Pour marinade over, turn chops a few times to coat well, and set aside.  Can marinate for several hours in the refrigerator or for 20 minute at room temperature. 
Cook on barbecue grill for 2 - 5 minutes per side depending on thickness and desired degree of doneness (I don't know if that is a word - but you get the idea). 

We do ours on a hot grill 2 minutes per side for medium rare.

  When you think they might be close take one off, cut into center and peak.  You can always put them back on to cook more - you cannot undo... 
When done to your liking remove from heat and serve. 

Or you can broil or sauté in non-stick skillet for about the same amount of time - until done. 

Pork chops will take 6 - 8 minutes per side.
Braised New Potatoes with Rosemary and Olives
Total time: 40 minutes
     If you can't get new potatoes, or the they are large, cut them in half or quarters.  The wine, olives and rosemary lend a Mediterranean flavor.  Finish with a bit of sea salt, if you like.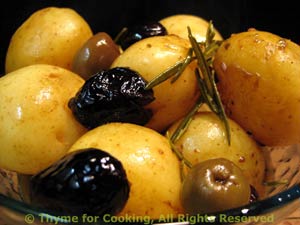 Ingredients:
10oz (300gr) potatoes 

2 medium or 12 - 15 new potatoes (which are the size of walnuts)

2 tsp dried rosemary  

or a sprig fresh

8 - 10 olives  

any color or combination you have  I used both Greek and green 

1/3 cup (3oz, 30ml) white wine
 Instructions:
Simple Fresh Spinach Gratin 
Total time: 45 minutes
   Fresh spinach cooks quickly, with a bit of stock to keep it moist.  It's topped with a seasoned mix of bread crumbs and shredded cheese for a quick, healthy side dish.
 Ingredients:
8oz (240gr) fresh spinach
1/2 cup (4oz, 120ml) chicken stock
1/3 cup (1.5oz, 45gr) shredded cheese
1/4 cup dry bread crumbs
1 tsp thyme
2 tsp olive oil
 Instructions:
Remove thick stems from spinach and roughly chop: pile the leaves up and cut through 2 or 3 times. 
Put spinach in oiled baking dish just large enough to hold it.  I used my 8 X 11 inch (20 X 27.5cm) oval ceramic dish. 
Heat stock and pour stock over spinach. 
Mix bread crumbs, thyme and cheese and sprinkle over spinach. 
Cover with foil and bake at 375F (190C) for 30 minutes. 
Uncover for last few minutes to brown top.  Serve from baking dish.
Note:  I could barely get all the spinach in my dish; I had to press it down. Heating the stock helped wilt it so that it wasn't higher than the sides of the baking dish.  As it bakes, it collapses, and the gratin topping comes together.
Cooking Schedule: 45 minutes
Assemble all food, utensils and serving dishes
Utensils: measuring cups, spoons, knives,
scissors, small bowl, whisk, dish for marinating,
medium saucepan with lid, baking dish, foil,
barbecue grill or large skillet
Turn oven on, 375F (190C)
Pick through spinach, remove tough stems
Roughly chop spinach
Oil dish, add spinach
Heat stock (micro)
Pour stock over spinach
Mix crumbs, thyme, cheese
Sprinkle over spinach
Cover with foil, bake

Wash potatoes, cut if needed
Put potatoes, olives, rosemary, wine in pan
Cover, boil, reduce heat, simmer
Make marinade for lamb
Pour over lamb chops, set aside
Light/turn on barbecue grill
    Pause while everything cooks
Uncover potatoes, cook
    Pause again
Start to cook lamb chops
Check potatoes
Check spinach, uncover
Turn chops
Finish everything
Serve