Grilled Hens with Molasses Glaze
Pesto Potato Salad
Green Beans with Butter and Pine Nuts
Cooking time:  60 minutes for menu, plus 5 early     Cooking schedule: see below for instructions
       You can use commercial pesto... Unless you are one of the lucky ones with access to lots of basil - both are on the Shopping List.
Grilled Cornish Hens (Poussin) with Molasses Glaze
Total time: 60 minutes
    The combination of molasses, vinegar and soy sauce gives the chicken a flavor reminiscent of Peking Duck and leaves the crisp skin a lovely mahogany color.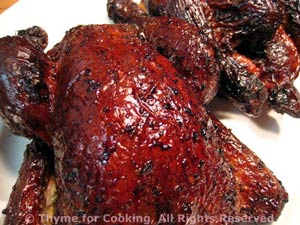 Ingredients:
2 Cornish game hens or poussin (little chickens)
1 tbs olive oil
3 tbs molasses
2 tbs red wine vinegar
1/2 lemon squeezed or 2 tbs lemon juice 
1 tbs soy sauce
1 tbs Dijon-style mustard
1 tsp finely ground black pepper
 Instructions:
Tie legs together with kitchen string and fold wing tips under back (at first joint) - keeps them from flapping. 
Rub birds with olive oil. 
Mix all remaining ingredients together in a small saucepan.
 Heat to boiling and simmer for 1 minute. 
Cook hens on barbecue grill over indirect heat, covered, for 45 - 60 minutes or until done. 
Brush with the glaze immediately and 3 or 4 more times while cooking. 
Chicken is done at 160 F (70C) on your meat thermometer and/or the juices run clear when pierced with knife. 

Or

they can be baked in a shallow roasting pan in a 400F oven for the same amount of time - until done, basting the same. 
When done, remove from heat, cut string and serve - don't forget finger bowls (it's messy) and bone bowls (to keep your plates tidy).  Serve whole or cut each bird in half.
Note: One would probably be enough for 2 people if it is on the larger side...  Or you can substitute your favorite chicken pieces for the hens.
Pesto Potato Salad
Total time: 25 minutes
   Pesto is not just for pasta!  A spoonful in this or that adds a depth of summery basil flavor.  Or use a lot, for this creamy potato salad.  As usual, we try to keep the calories and fat down by using yogurt rather than mayonnaise.
 Ingredients:
2 medium potatoes, about 12oz (360gr)
1/4 cup (2oz, 60gr) pesto
1/4 cup (2oz, 60gr) Greek or plain yogurt
 Instructions:
Slice potatoes for salad.
Cook in boiling, salted water, partially covered, until done, 10 - 12 minutes. 
When done, drain and put into serving dish.
Mix pesto and yogurt.  Add to potatoes and stir gently to coat.  Serve.
Homemade Pesto 
Time: 10 minutes
 Ingredients:
 Instructions:
Put everything but the oil in a blender.

Add 1/2 cup oil and blend.  Add more oil as needed.  It really depends on how tightly you packed the basil.  I used 1 cup of oil.

 

It will keep about a week in the refrigerator, up to 9 months in the freezer.
Green Beans with Butter and Pine Nuts
Total time: 20 minutes
  I like the flavor pine nuts add, just sprinkling a few on a vegetable or salad can turn a plain dish into something a little more special.  Quickly sautéing them in butter adds a light toasting.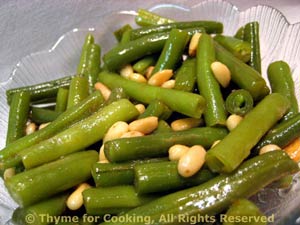 Ingredients:
6oz (180gr) green beans
1 1/2 tbs butter
1 tbs pine nuts
Salt and pepper to taste
 Instructions:
Put an inch of water in the bottom of your steamer and bring to a boil, covered. 
Top and tail beans... cut off the ends.  Cut into 1 1/2 inch lengths (4cm) or leave whole. 
Add beans to steamer when water is boiling.  Cover and steam for 10 minutes. 
Uncover and taste a bean.  If not done leave in for another 1 - 2 minutes.  If done, remove beans and spread on a plate to cool slightly and stop cooking. 
Heat medium nonstick skillet over medium heat.  Add pine nuts and toast, shaking pan occasionally until golden, 4 - 5 minutes. 
Add butter and beans.  Heat through. 
Add salt and pepper to taste and serve.
Cooking Schedule: 60 minutes for menu
Assemble all food, utensils and serving dishes
Utensils: measuring cups, spoons, knives,
scissors, small saucepan, medium saucepan with
lid, medium saucepan with steamer basket and lid,
blender, medium nonstick skillet, barbecue grill,
Turn on/light barbecue grill
Make glaze for hens
Prepare hens
Start to cook hens, baste
Boil water for potatoes
Cut potatoes, add to water, cook
Heat water in steamer for beans
Top and tail beans
Baste hens

Start to steam beans
Make pesto if doing homemade, refrigerate extra
Drain potatoes, allow to cool
Baste hens
Make Pesto Dressing for potatoes
Remove beans, allow to cool
Baste hens
      Relax, wait for the hens to finish
Hens done?
Remove hens, let rest
Toast pine nuts
Add butter to pine nuts heat
Add beans, heat through
Stir dressing into potatoes
Serve - don't forget the finger bowls....