Grilled Lamb Chops with Sweet/Sour Marinade
Grilled Potatoes and Carrots Dijon
Cooking time:  40 minutes for menu     Cooking schedule: see below for instructions
      Both the lamb and vegetables are grilled, making this a very easy dinner from the grill.....
Lamb Chops with Rosemary, Sweet and Sour Marinade
Total time: 30 minutes
    The Sweet and Sour comes from the marmalade and the vinegar... It's closer to the original Chinese sauce than what one finds on American 'Chinese' buffets.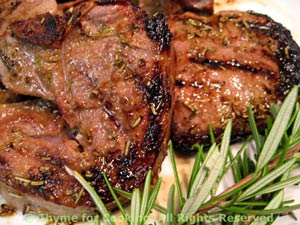 Ingredients:
 Instructions:
Put all ingredients (except lamb) into a small bowl and whisk well. 
Spoon over lamb chops and set aside for 15  - 30 minutes. 
Cook on barbecue grill for 2 - 5 minutes per side depending on thickness and desired degree of doneness (I don't know if that is a word - but you get the idea). 
Baste once with any remaining sauce. 
We do ours on a hot grill 2 minutes per side for medium rare.  When you think they might be close take one off, cut into center and peak.  You can always put them back on to cook more - you cannot undo...  When done to your liking remove from heat and serve. 
Or you can sauté in a hot nonstick skillet for about the same amount of time.
Grilled Carrots and Potatoes Dijon  
Total time: 35 minutes
   Dijon-style mustard lends a bite to these roasted vegetables, not much.... Just a little, to make them interesting.  They can be done on the barbecue or in the oven; either way, stir them once or twice.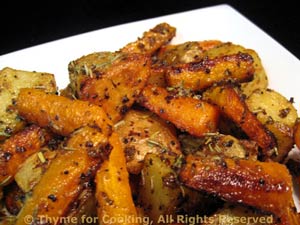 Ingredients:
2 medium potatoes
2 - 3 carrots
1 tbs Dijon-style mustard
2 tbs olive oil
1/2 tsp garlic powder

1 tbs fresh thyme 

  

substitute 1 tsp dried
 Instructions:
Cut potatoes in 4ths the long way and then in thirds the short way. 
Peel carrots then cut in thirds the short way, then each length in half. 
Put remaining ingredients into medium bowl and mix well - it will get thick. 
Add potatoes, carrots and toss well to coat. 
Now you have two choices: you can put them in the oven on a baking sheet with lip (trusty round pizza pan) and bake at 400F (200C) for 35 minutes, or put them in an old 'for barbecue only' metal pan and cook over direct heat on the barbecue, stirring frequently until brown and done, 20 - 25 minutes or over indirect heat for 35 - 40 minutes, stirring occasionally. 
Remove and serve.
Cooking Schedule: 40 minutes for menu
Assemble all food, utensils and serving dishes
Utensils: measuring cups, spoons, knives,
small bowl, whisk, medium bowl, dish for
marinating, grill pan, barbecue grill
Light/turn on barbecue grill
Cut potatoes
Peel, cut carrots
Mix mustard, oil, garlic, thyme

Add potatoes, carrots, stir to coat, put on grill
Make marinade, pour over lamb chops
      Pause while potatoes, carrots cook
Stir potatoes, carrots
Cook lamb chops
     Pause while it all finishes
Turn lamb chops
Stir potatoes, carrots, remove
Remove lamb chops, serve