Tomato Vermicelli Soup
Grilled Lamb Chops with Dijon-Basil Butter
Patatas Bravas
Lentils Provençal
Cooking time:  45 minutes for menu      Cooking schedule: see below for instructions
        Substitute pork chops or a steak for the lamb if you prefer. This uses the rest of the Pimento Sauce.
Chilled Tomato Vermicelli Soup
Total time: 10 minutes
     This is an easy summer soup using pantry items.  If made a bit ahead it can be welled chilled but if you can't, just chill the tomato juice ahead of time; even with warm vermicelli, the soup will be cool.  Garnish with some fresh basil.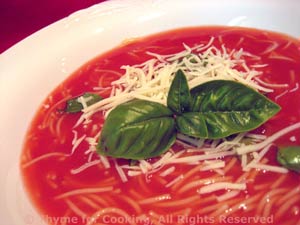 Ingredients:
 Instructions:
Heat the stock in a saucepan until boiling. 
Add vermicelli and simmer for 4 minutes, stirring occasionally.  It should be almost done... but not quite. (for other pasta, follow package directions, cooking until almost done) 
Remove from heat and let cool - it will finish cooking and not get too done. 
When no longer hot, add the tomato juice, stir well and chill until ready to serve.
To serve:
Ladle into soup bowls. 
Divide the cheese and sprinkle over the top. 
Garnish with fresh basil leaves and serve.
Note: If a lot of stock evaporates, you can add a bit of ice to help cool the soup and 'reconstitute' the beef stock.
Lamb Chops with Dijon-Basil Butter 
Total time: 20 minutes
    A bit of mustard-basil butter finishes off the lamb, melting over the top as you serve.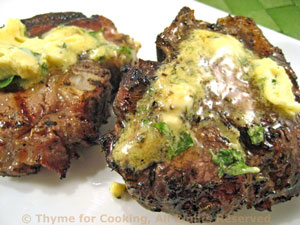 Ingredients:
4 - 6 center-cut lamb chops - depending on size
1 tbs olive oil
1/2 tsp garlic powder
1 tbs chopped/snipped fresh basil
1 clove garlic
1 tsp Dijon-style mustard
2 tbs soft butter
 Instructions:
Faux

Patatas Bravas 

Total time: 35 minutes
   These are not as hot as the 'real' ones in Spain.  If you would like more heat add red pepper flakes or a few drops of bottled hot sauce.  The translation is 'Fierce Potatoes' (not 'brave'). The Pimiento Sauce is enough for 2 dishes.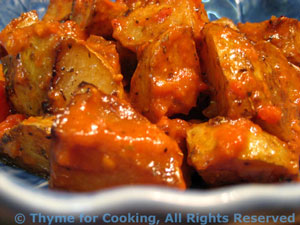 Ingredients:
2 medium potatoes
1 tbs olive oil
2 tsp Herbes de Provence
1 tbs sherry vinegar
1 tsp paprika   

smoky if you have it

Pimiento Sauce: 
leftover pimento (pimiento) sauce
1 tsp paprika   

smoky if you have it

Red pepper flakes,

if you want more heat
 Instructions:
Cut potatoes into large pieces. 
Whisk together the oil, herbs and vinegar. 
Add potatoes and toss to coat. 
Cook in grill pan on barbecue grill about 25 minutes or until done and starting to brown and get a bit crispy. 

Or

you can roast them in the oven:  Arrange potatoes on baking sheet with rim (I use my trusty, round pizza pan) Bake at 400F for 30 minutes. 
Gently warm 1/3 - 1/2 cup

Pimiento Sauce

. 
When potatoes are done, put into a bowl and pour warmed Pimiento Sauce over - just enough to very lightly coat. 
Sprinkle with paprika and serve.
Pimiento Sauce:
Gently warm 1/3 - 1/2 cup Pimiento Sauce.
Lentils Provençal
Total time: 45 minutes
     I use the tiny, green lentils de Puy, but you can use the larger brown or tan lentils. Do not use the red ones, they get too mushy. With the shallots, garlic, olives and mustard it's reminiscent of long, slow lunches in Provence.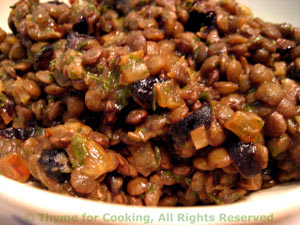 Ingredients:
1/3 cup dried lentils
1 cup stock or water
1 bay leaf
2 shallots
2 cloves garlic
2 tsp olive oil
9 - 12 Greek olives
1 tbs fresh parsley  

substitute 2 tsp dried

1 tbs Dijon-style mustard
 Instructions:
Briefly inspect the lentils in case someone missed the odd stone.  Rinse and drain.
Cook the lentils in water and/or stock, with the bay leaf, about 30 minutes / according to package directions or until done. 
When done, remove from heat and drain if needed. Remove the bay leaf.
Finely chop shallots and mince garlic. 
Heat oil in medium skillet over medium heat.  When hot add shallots and garlic, sauté until tender, about 10 minutes. 
Pit the olives if needed. 

(I place them on a board, lay the blade of a heave knife flat on top and smack the knife with my hand, smashing the olive.  This cracks them and the pits can easily be picked out.  You could use a meat pounder, too.)

Roughly chop olives and add to shallots along with the parsley and lentils.  Heat through. 
Stir in the mustard and serve.
Cooking Schedule: 45 minutes
Assemble all food, utensils and serving dishes
Utensils: measuring cups, spoons, knives,
scissors, small bowl, medium bowl, whisk, 2 small
saucepans, medium skillet, barbecue grill, grill pan,
Chill tomato juice if not done
Light/turn on barbecue grill
Start to cook lentils
Cut potatoes
Whisk oil, herbs, vinegar
Add potatoes, stir
Start to cook potatoes
Sprinkle chops with garlic, oil, set aside
Snip all herbs
Make Basil Butter
Cook vermicelli for soup
Get pimiento sauce from fridge, reheat

Mind the potatoes
Chops shallots, garlic for lentils
Finish soup, chill
Chop olives
Sauté shallots, garlic
Ladle soup into bowls, garnish
Turn heat off under shallots
Move potatoes off of direct heat
Turn lentils off
Serve soup
Done?
Start to cook chops
Turn heat on under shallots
Remove potatoes, add sauce, finish
Turn chops
Finish lentils
Serve