Ham and Chive Mini Frittatas
Lightly Smoked Cod
Couscous and Green Bean Salad
Cooking time: 35 minutes for menu      Cooking schedule: see below for instructions
     The frittatas don't need much ham, so trim a bit off of the ham steaks that are for Thursday.  We use wood chips a few times during the summer.  A smoker is nice for the cod, but any grill will work.
Ham and Chive Mini Frittatas
Total time: 35 minutes
       These Frittatas look like cupcakes but are actually fluffy eggs, mixed with small bits of anything savory. These have a bit of ham, some cheese and lots of fresh herbs. They can be served, hot, warm or cold and are great to do ahead for a party or, in summer, a picnic.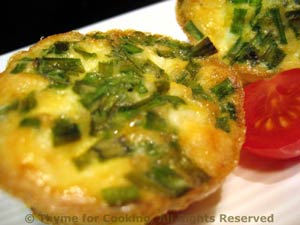 Ingredients:
1/2 cup diced ham, about 2oz (60gr)
3 eggs
1/3 cup (1.5oz, 45gr) shredded cheese
2 tbs snipped chives, fresh or dried
butter or cooking spray
6 cherry tomatoes for garnish 
 Instructions:
Cut ham into small pieces. 

*Butter or spray a nonstick muffin (tartlet) pan, one that holds 6. 

I know it sounds redundant to butter a nonstick pan but these will stick if you don't. 

Divide the cheese, ham and chives evenly between the cups.
Crack the eggs into a large bowl and whisk well. 
Using a ladle or spoon divide mixture evenly between the cups. 
Bake at 400F (200C) for 12 - 15 minutes or until set. 
Remove from oven. Frittatas will puff up considerably and then fall a bit. 
Allow to cool 5 - 10 minutes before removing from pan; they will start to come away from the sides of the pan as they fall making them easier to get out. 
Serve with sliced cherry tomatoes, warm or at room temperature.
*Note:  if your muffin pan is silicone you do not need to butter it.
Lightly Smoked Cod
Total time: 30 minutes
  This is a cross between smoker cooking and grilling, and it flavored the cod perfectly:  a light smoke and dill combination.  It needed nothing else.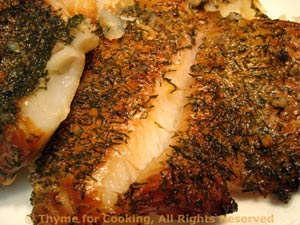 Ingredients:
1 - 2 filets of cod, or other thick, firm white fish, 12oz (360gr) total weight
2 tsp dill weed
1 tbs olive oil
1 tsp soy sauce
wood chips for smoking - apple is nice    See Barbecue Grills for more info
Weber-type kettle barbecue with charcoal  or Gas Grill
 Instructions:
Couscous, Spinach and Green Bean Salad 
Total time: 15 minutes
    Couscous is such a good base for all sorts of vegetables and a wonderful way to use up the bits left in the fridge.  Mine tend to be non-traditional - more vegetables than couscous.  Feel free to adjust...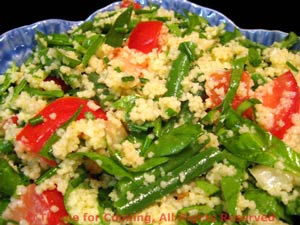 Ingredients:
1/2 cup (3oz, 90gr) couscous
3/4 cup (6oz, 180ml) chicken broth
4oz (120gr) green beans
2 tbs snipped chives
1 tomato
2oz (60gr) shredded fresh spinach
2 tbs white Balsamic vinegar
3 tbs good olive oil
1 1/2 tsp Dijon-style mustard
 Instructions:
Top and tail beans, cut into bite-size pieces. 
Put a medium saucepan 2/3rd's full of water on high heat. 
When boiling add beans and blanch for 3 minutes. 
Drain and immediately rinse with cold water.
Heat chicken broth to boiling.
Put couscous in a medium bowl.
When broth is boiling pour over couscous, cover and let stand for 10 minutes... Do not stir it.
Snip chives.
Roughly chop tomato.
Shred spinach: put the spinach leaves together in one hand and snip with a scissors. 
Add vegetables and herbs to couscous and fluff with a fork.  
Put the vinegar, mustard and oil in a small bowl. 
Whisk well and stir into couscous.  Serve.
Cooking Schedule: 35 minutes
Assemble all food, utensils and serving dishes
Utensils: measuring cups, spoons, knives,
scissors, small bowl, medium bowl, whisk, small
saucepan, medium saucepan, barbecue grill with
grill pan or baking tray, foil, muffin pan
Turn oven on 400F (200C)
Light/turn on barbecue grill
Soak wood chips
Butter or oil muffin pan unless silicone
Cut ham, divide, place in cups
Divide cheese, add to ham
Snip all chives, divide
Add chives to cups
Whisk eggs
Ladle egg into cups, bake
Prepare fish
Drain wood chips, wrap in foil if needed
Put fish in basket or on mat
Put fish on grill

Add wood chips, partially cover grill
Heat water for beans
Top and tail beans, cut
Blanch beans
Check the grill to make sure fish is cooking
Drain beans, put in cold water, drain
Remove frittatas, let cool
Slice cherry tomatoes for garnish
Chop tomato for couscous
Heat stock for couscous
Shred spinach - use scissors
Put couscous in medium bowl
Pour stock over couscous, cover
Mix mustard, vinegar, oil for couscous
Check the fish
Serve Frittatas
Done? 
Add vegetables, herbs to couscous
Add dressing to couscous, stir
Remove fish, serve