Soy Sauce/Mustard Turkey Cutlets Grilled
Potato-Tomato Gratin
Sautéed Chard with Red Pepper
Cooking time: 25 minutes for menu          Cooking schedule: see below for instructions
     Leftovers, stir-fried greens and thin turkey cutlets make a very easy, fast dinner.  
Soy Sauce/Mustard Turkey Cutlets, Grilled
Total time: 25 minutes
     Thin turkey cutlets go well with any marinade and are quickly cooked for an easy main course.  Thin pork or veal cutlets can be substituted, or chicken breasts.  If you can't find turkey, and want it, buy a breast or tenderloin and either have your butcher slice it or do it yourself.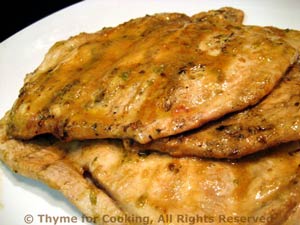 Ingredients:
2 - 4 turkey cutlets, depending on size,  12oz total (360gr)
1 tbs soy sauce
1 tbs Dijon-style mustard
3 tbs white wine tarragon vinegar
3 tbs olive oil
1/2 tsp garlic powder
1/2 tsp oregano, dried
 Instructions:
In small bowl whisk together all ingredients except turkey. 
Put turkey in a dish and pour marinade over.  Let marinate for 15 - 20 minutes or up to 2 hours.  
Remove from marinade and cook on hot barbecue grill for 3 - 4 minutes per side or until done. 

OR

sauté in nonstick skillet for 4 - 6 minutes a side or until done. 
Remove and serve. 
Potato and Tomato Gratin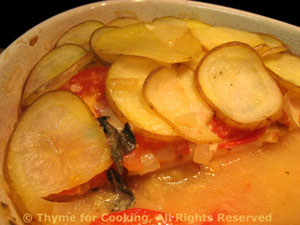 Total time: 10 minutes
 Ingredients:
 Instructions:
Remove from fridge and gently reheat - either the micro or the oven.
Micro: 3 - 4 minutes; oven: 15 minutes 350F (175c).
Sautéed Chard with Red Pepper
Total time: 15 minutes
   Rainbow Chard, Red Pepper and Onion makes a colorful, flavorful side dish that is stir-fried quickly.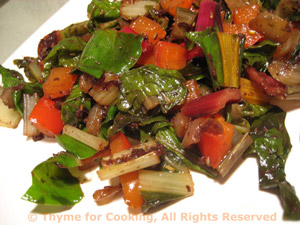 Ingredients:
6oz (180gr) chard   

Swiss chard

1/2 red pepper
1 onion
1/2 tsp dried oregano
2 tsp olive oil
1 tsp soy sauce
1 tsp Balsamic vinegar
 Instructions:
Wash the chard and trim any bad bits. 
Stack the leaves together and fold over, the long way.  Slice into thin strips, using both leaves and stems, but keeping the stems separate. 
Roughly chop the pepper and onion.
Heat oil in a large skillet.  Add the onion, pepper, and chard stems.  Stir-fry over medium heat until onion is transparent and vegetables start to get tender, about 8 minutes. 
Add the chard leaves, oregano, and stir until the leaves soften and fit into the skillet.
 Cook another 2 - 3 minutes. 
Stir in vinegar, soy sauce, and serve.
Cooking schedule: 25 minutes
Assemble all food, utensils and serving dishes
Utensils: measuring cups, spoons, knives,
scissors, small bowl, whisk, dish for marinating,
large skillet, barbecue grill, grill pan
Turn on/light barbecue grill
Make marinade, spoon over turkey
Remove potato gratin from fridge
Decide how to reheat gratin.... reheat

Wash, trim chard, slice
Chop pepper, onion
Sauté onion, pepper, chard stems
Start to cook turkey
Add oregano, chard leaves to skillet, stir-fry
Turn turkey
Finish chard
Remove potato gratin
Serve