Chicken with Mushrooms, Broccoli and Peppers
over Brown Rice
Cooking time:  25 minutes for menu          Cooking schedule: see below for instructions
        Another dish that closely resembles a stir-fry and a great way to use up the leftover bits in the fridge.  Remember that the broccoli stems are as good as the florets; some people prefer them.  Lightly peel them and cut them crosswise, 1/2" (1.25cm) thick.
Chicken with Mushrooms, Broccoli and Peppers
Total time: 25 minutes
    Tarragon and capers are the main flavor components of this chicken dish. They give a Mediterranean taste to the peppers and broccoli.  It all cooks quickly, leaving the vegetables crisp-tender.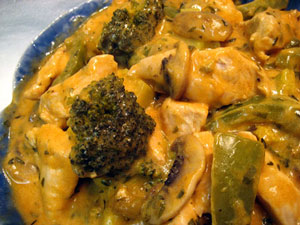 Ingredients:
2 chicken breasts, boneless, skinless
4oz (120gr) mushrooms
1 onion
1/2 green pepper
1/2 head broccoli
2 cloves garlic
2 tbs capers
3/4 cup (6oz, 120ml) white wine
1 tsp dried tarragon
1 tsp dried thyme
1 tbs tomato paste
1 tbs olive oil
1 tbs cornstarch (corn flour, maizena) dissolved in 2 tbs water
 Instructions:
Roughly chop onion.
Slice the green pepper into strips 1/4" (.6cm) wide.
Cut broccoli into florets and peel and slice the stem. 
Mince garlic.
Trim and thickly slice mushrooms.
Cut chicken into large bite-size pieces.
Dissolve cornstarch in water.
Heat oil in nonstick skillet.  Add onion and sauté 5 minutes.
Add garlic, broccoli, mushrooms and pepper and sauté another 5 minutes.
Add chicken and sauté until it's cooked on all sides.
Add capers, herbs, wine, stock and tomato paste.
Cover, reduce heat and cook another 10 minutes, until the chicken is cooked through and broccoli is just tender
Uncover, increase heat.
Stir in cornstarch to thicken. 
Serve over rice or with buttered potatoes.
Brown Rice
Total time: 20 minutes   or whatever your package says  
     I use 'Uncle Ben's' which is all I can get and it is quick cooking.  It looks like brown Basmati and cooks in 20 minutes.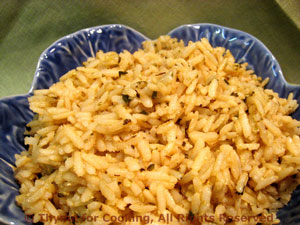 Ingredients:
 Instructions:
Cook rice according to package instructions.
Fluff and serve.
Cooking Schedule: 25 minutes
Assemble all ingredients and utensils
Utensils: measuring cups, spoons, knives,
large skillet with lid, small saucepan with lid
Chop onion, mince garlic
Slice pepper
Trim, cut broccoli
Sauté onion
Cook rice
Cut chicken breasts

Trim, slice mushrooms
Add peppers, garlic, mushrooms, broccoli, sauté
Add chicken, sauté
Add capers, herbs, wine, stock, tomato paste
Cover, simmer
Dissolve cornstarch in water
  Pause while it all cooks
Uncover chicken, increase heat
Add cornstarch and thicken sauce
Fluff rice and serve