Butternut Squash Risotto
Apple Walnut Salad
Cooking time:  35 minutes for menu       Cooking schedule: see below for instructions
           Risotto season is back!  I love it in all versions.  First, the disclaimers: it's NOT difficult to make; it does NOT need to be stirred constantly; it should NOT be loaded with extra butter and fat; and it should NOT be stiff.  It should be almost soup-like when you take it off heat and pour it into the serving platter.  It will continue to thicken and just, barely, hold it's shape on a plate.  That's what makes it creamy and luscious!  The risottos I've eaten in Italy have all been served in flat soup bowls and eaten with a spoon. I steamed a bit more squash on the side....
Butternut Squash with Sage and Ham Risotto  
Total time: 35 minutes
   This is based on a recipe from the cook book 'Risotto'.   As always, the end result should be creamy, smooth, almost soup-like, never stiff.  The squash gives a bit of sweetness to the risotto and adds to the overall velvety texture... and it's a lovely color!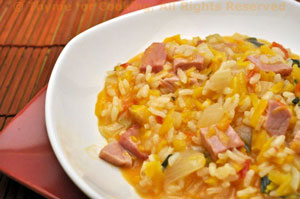 Ingredients:
 Instructions:
Heat chicken stock and keep hot over low heat. 
Finely chop onion and tomato. 
Peel butternut squash using potato/vegetable peeler.  Cut it in half the long way (blossom to stem) and remove seeds.  Using large holes on grater, shred part of the squash until you get 1 cup.  Wrap the remainder in film and refrigerate. 
In medium saucepan heat butter over medium-high heat. 
Add onion and tomato, sauté 5 minutes. 
Add squash and sauté 5 minutes longer.
Add rice and sauté stirring, for 2 - 3 minutes until rice has white center. 
Add white wine and stir. 
Start condimenti.
When wine is almost absorbed add a 1/3 cup of stock, stir.  
When stock is almost absorbed add another 1/3 cup and continue adding 1/3 cup at a time and stirring. 
Before the last 1/3 cup taste a few kernels of rice.  They should be just 'al dente' - slightly resistant to the tooth but fully cooked. 
If more stock is needed add it 2 tbs at a time and waiting until almost completely absorbed.  At this point risotto will be thick but not stiff - there will still be visible liquid and it will not hold its shape on a plate. 
Add the Parmesan and the condimenti, stir well, pour into a bowl or risotto platter and serve immediately. 
It will continue to absorb liquid and the leftovers (if any) will be very stiff. 
Condimenti:
Cut the ham into bite-size pieces. 
Heat olive oil in nonstick skillet.  Add ham and sage and sauté until ham is lightly browned. 
Turn heat to very low and keep warm until needed.
Note: The photo has a serving of steamed butternut squash on the side.
Apple and Walnut Salad
Total time: 10 minutes
   Perfect salad / dessert for fall or winter with my two favorite fall tree fruits:  apples and walnuts.
 Ingredients:
 Instructions:
In medium bowl combine yogurt, sugar and spices.  Stir well.
Quarter apples and remove core. 
Cut into small chunks and add to yogurt and stir well to combine and coat apples. 
Refrigerate until serving.
To serve, divide apples between 2 bowls and sprinkle with walnuts.
Cooking Schedule: 35 minutes
Assemble all ingredients and utensils
Utensils: measuring cups, spoons, knives,
small saucepan, medium saucepan, small skillet,
medium bowl
Heat chicken stock
Peel, clean squash if needed
Chop onion, tomato
Sauté onion, tomato in medium pan
Shred squash
Add squash to onion, tomato
Add rice to vegetables, sauté
Add wine to rice, stir
Cut ham

Stir rice
Sauté ham, sage, stir rice
Add stock to rice, stir
Grate Parmesan, stir rice
Continue stirring, adding stock, until almost done
In between stirring:
Mix yogurt, sugar, spices
Cut apples, add to yogurt, refrigerate
Taste rice, add more stock as needed
Done? Stir in ham and sage
Stir in Parmesan
Serve and eat!
Done?
Sprinkle Apple Salad with walnuts and serve