Grilled Pork Chops
Brown Rice Pilaf
Grilled Peppers and Onions
Cooking time: 30 minutes for menu      Cooking schedule: see below for instructions
     We're making extra Rice Pilaf tonight to use in the Rice Pilaf Salad on Wednesday. I like to grill a few peppers and onions as a side dish in summer with pork chops, burgers, sausages.
Grilled Pork Chops 
Total time: 30 minutes
    This is a simple marinade that works well with chicken and beef, too.  The chops marinate in the time it takes to get the grill ready.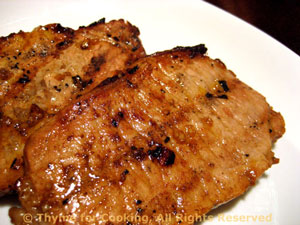 Ingredients:
2 - 4 pork chops, depending on size, boneless or not, 12oz (350gr) for boneless
Marinade:
3 tbs red wine vinegar
1 tbs Worcestershire sauce
1/2 tsp garlic powder
3 tbs olive oil
 Instructions:
Mix all ingredients for marinade and pour over chops. 
Let marinate for 15 - 20 minutes. 
Cook on barbecue for 5 - 8 minutes a side or until done.  Should be slightly pink near bone when done - take a peak (techniques). 
Or fry in nonstick skillet over medium-high heat the same amount of time.  Serve.
Brown Rice Pilaf
Total time: 30 minutes   
      I use Uncle Ben's Brown Rice which looks like brown Basmati and cooks quickly, in about 15 minutes.  If you can't find a quick cooking brown rice and don't want to wait for the traditional to cook in 40 minutes (or so) you can substitute white Basmati which also cooks in about 15 minutes.  Look for the brown, though, better flavor and more nutrition.  This recipe plans on making the Brown Rice Pilaf Salad with the leftover rice pilaf.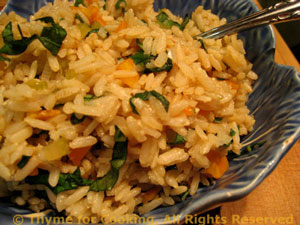 Ingredients:
3/4 cup (5oz, 150gr) quick-cooking brown rice
1 1/2 (12oz, 360ml) cups chicken stock
1/3 cup onion, finely chopped  

about 1/2 onion

1/3 cup green bell pepper, finely chopped  

about 1/3 pepper

1/3 cup carrot, finely chopped  

about 1 medium

1 tbs fresh snipped chives    

substitute 1 tbs dried

1 tbs fresh snipped oregano    

substitute 1 tsp dried

1 1/2 tsp soy sauce
 Instructions:
Finely chop all vegetables. 
Put all ingredients, except herbs, into a saucepan and cook - according to package directions for rice.  
When done, fluff with a fork, add herbs and serve.  
Note:  There should be about half leftover for Rice Pilaf Salad.   If you don't want the leftovers, reduce:
Grilled Peppers and Onions
Total time: 20 minutes
    A simple side dish that pairs well with grilled meats.  You can vary the ingredients according to the rest of the meal: adding paprika, garlic, dried herbs, using vinegar, lemon or Worcestershire or soy sauce; adding ketchup or mustard... Very flexible.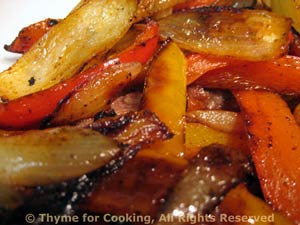 Ingredients:
2/3 green bell pepper
1/2 red bell pepper
1 1/2 onion
1 tbs olive oil
1 tbs soy sauce
 Instructions:
Slice peppers and onion about 1/3" (1cm) thick.
Put olive oil and soy sauce in a large bowl, add pepper and onion, toss well to coat. 
Put into 'grill pan' (a metal or foil pan dedicated to use on the grill) or onto a mesh grill pan (the idea is not to have the stuff fall through the grate into the fire....) Cook over medium heat 10 - 15 minutes, until they have a nice color.  

Or

you can sauté them in a nonstick skillet for about the same amount of time.
Cooking schedule: 30 minutes
Assemble all food, utensils and serving dishes
Utensils: measuring cups, spoons, knives,
small bowl, medium bowl, dish for marinating,
medium saucepan with lid, barbecue grill and tools,
grill pan or large skillet
Light/turn on grill if using
In small bowl mix marinade for chops
Put chops in dish, pour marinade over, set aside
Finely chop onion, pepper, carrot
Put all ingredients for rice, not herbs, in pan
Cover, cook

Grill chops
Slice peppers, onion
Combine peppers, onion, soy sauce, oil
Put peppers, onion in grill pan, grill
Turn chops
Mind the rice
    Pause while stuff cooks
Snip herbs
Fluff rice, add herbs, reserve 1/3 - 1/2 for later
Mind peppers, onions, remove when done
Remove chops
Serve