Lemon Soy Grilled Cornish Games Hens
Pesto Potatoes 
Grilled Asparagus
Cooking time: 60 minutes for menu      Cooking schedule: see below for instructions
      The 'coquelette' that we get are very young chickens and weigh about 16oz (500gr) each.  They are perfect individual servings (with maybe a snack leftover).  If you get larger birds one may be enough; but we'll use the leftovers in the salad on Monday (or use chicken breasts).
Lemon Soy Grilled Cornish Games Hens
(Poussin... little chickens)
Total time: 60 minutes
    If you get one, larger bird, you can cut it in half to cook faster (serving will be easy) or leave whole and add 10 - 15 minutes cooking time.  When done they should have a lovely, dark gold glaze.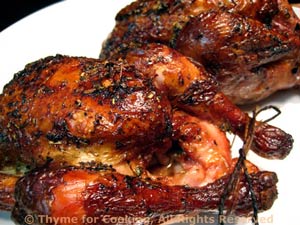 Ingredients: 
 Instructions:
Tie legs together with kitchen string and fold wing tips under back (at first joint) - keeps them from flapping. 
Rub birds with olive oil. 
For the basting sauce: melt butter in a small saucepan; add lemon, soy and pepper.
Cook hens on barbecue grill over indirect heat for 45 - 60 minutes or until done.  Chicken is done at 160 F (70C) on your meat thermometer and/or the juices run clear when pierced with knife. 
During last 20 minutes of cooking baste with sauce 2 or 3 times. 
When done, remove from heat, cut string and serve - don't forget finger bowls (it's messy) and bone bowls (to keep your plates tidy). 

Or

they can be baked in a shallow roasting pan in a 400F oven for the same amount of time - until done.  If baking start basting immediately.
Pesto Potatoes
Total time: 30 minutes
    Warm potatoes, tossed with a bit of pesto sauce, make a delicious side dish with grilled meats.  And, as they really shouldn't be piping hot, they can be made a bit ahead, reducing last minute stress.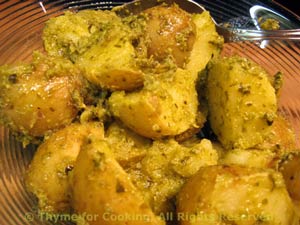 Ingredients:
2 medium potatoes
2 tbs pesto sauce
1 tbs salad olive oil
 Instructions:
Scrub potatoes and cut into eighths - we want large but still bite-size pieces. 
Put into a sauce pan and cover with water to which you add 1/4 tsp salt. 
Cover and bring to a boil. 
When boiling move cover so it's ajar else the potatoes will boil over.  They will, I promise.  
Remove from heat when done (stick a knife in and test - should go in easily), 15  - 20 minutes. 
Drain. 
Immediately toss with olive oil. 
Let rest for a few minutes, then add pesto and toss to coat. 
Serve warm or at room temperature.
Grilled Asparagus  
Total time: 20 minutes 
    General consensus is that one should not grill white asparagus.  I agree - green is better, but white will taste delicious as well.  It just gets a bit more 'golden' before it's done.  Finish with some fresh herbs.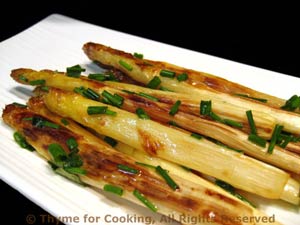 Ingredients:
 Instructions:
Cooking Schedule: 60 minutes for menu
Assemble all food, utensils and serving dishes
Utensils: measuring cups, spoons, knives,
scissors, barbecue grill, tools, or roasting pan,
basting brush, small saucepan, medium saucepan
with lid, grill pan or baking sheet
Turn on/light barbecue grill, if using, or oven
Prep hens, tie legs, rub with oil, put on barbecue
    20 minute break - but mind the hens
Cut potatoes, cook
Make basting sauce for hens, baste

Prepare asparagus, rub with oil
Baste hens
When potatoes are done, drain, toss with oil
Add pesto to potatoes
Baste hens
Cook asparagus
Baste hens
Stir potatoes
Remove hens if done, remove string, let rest
Finish asparagus
Serve