Grilled Lemon Shrimp (Prawns)
Polenta Salad
Green Beans with Lemon and Soy Sauce
Cooking time:  30 minutes for menu          Cooking schedule: see below for instructions
       An easy dinner for summer weekends: the polenta can be made ahead to save time, but doesn't need to be.
Grilled Lemon Shrimp (Prawns)
Total time: 15 minutes  longer if you have to clean them
    Use a grill pan (it's like a mesh skillet) or a mat for these, if possible.  Or thread them onto skewers (soaked in water for 15 minutes if wood) to make them easier to turn.  We don't want them falling through the grill.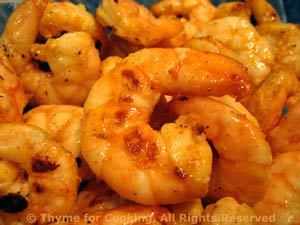 Ingredients:
12oz (360gr) large shrimp (prawns)
1 tsp garlic powder
2 cloves garlic
3 tsp sweet paprika (smoked if you can find it)
2 tbs butter
2 tbs lemon juice  

juice from 1/2 lemon

Olive oil for coating pan
 Instructions:
Clean shrimp if needed, if not just rinse and let drain. 
Mix 1 tsp garlic and 2 tsp paprika in a small bowl. Add shrimp and toss to coat. 
To cook on barbecue either put shrimp on skewers or cook in perforated grill pan with a little olive oil. 
To cook on stove add a little olive oil to a large frying pan and sauté over medium-high heat for 3-5 minutes - until shrimp curl and turn opaque. 
When done, remove from heat, toss with butter sauce and serve.
Butter sauce:
Mince garlic. 
Melt butter in small pan.  Add garlic, 1 tsp paprika and sauté until garlic is tender, 2 - 3 minutes. 
Add lemon juice and whisk lightly to combine.
Polenta Salad
Total time: 10 minutes   plus 10 minutes earlier 
   The cooking time assumes quick-cooking polenta.  This idea came from the recipe for Italian Bread Salad.  We so rarely have the type of bread needed for the salad (leftover) I decided to come up with my own version using polenta cubes.  I used a combination of Greek and green olives, but any will work.  Use your favorites.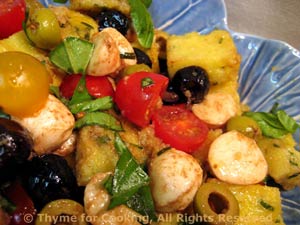 Ingredients:
Polenta:
1 cup (8oz, 240ml) chicken stock
1/4 cup plus 1 1/2 tsp (1.7oz, 50gr) polenta, quick-cooking
oil
Salad:
8 dry-cured, Greek olives
8 green olives
10 cherry tomatoes
8 - 10 small mozzarella balls, half of a package  

they're about the size of the tomatoes  Keep any left in the liquid. You could use half of a larger, whole mozzarella, roughly chopped.

1 tbs fresh snipped chives
2 tbs fresh snipped basil
1 tbs Balsamic vinegar
2 tbs plus 1 tsp salad olive oil
 Instructions:
Note:  Polenta can vary between brands and types. When making polenta for cooling and cooking again, either frying or on the grill, it's important to get it very stiff. It should be hard to stir, and hold any shape you put it in when you are done cooking it - before chilling it.  If it isn't stiff enough, sprinkle another 1 - 2 tsp polenta per 1/4 cup on the cooked polenta and stir in, vigorously.  When cool it should be very firm.  
Note 2:  Polenta can be cooled quickly by setting the metal or heat-proof pan in a bit of cold water to start, then putting it in the fridge or freezer. If cooling quickly, don't cover.
Green Beans with Lemon and Soy Sauce
Total time: 20 minutes 
   I love the combination of lemon and soy sauce, the slightly tart, slightly salty blend enhances the flavors of most foods, particularly vegetables.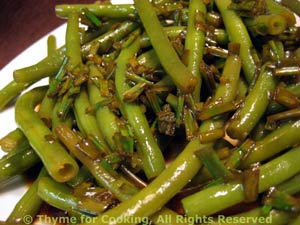 Ingredients:
6oz (180gr) green beans
2 tbs fresh snipped chives
2 tsp butter
2 tsp soy sauce
1 tsp lemon juice
 Instructions:
Top and tail and beans.
Cut in 1 1/2inch (4cm) lengths. 
Put in a small sauce pan with an inch of water.
Bring to a boil over medium heat.  Turn down to low and simmer until done - about 10 minutes. 
Drain beans and put into a serving bowl. 
Melt butter in same pan. 
Add soy sauce, chives and lemon and stir to combine.
Pour over beans and serve.
Cooking Schedule: 30 minutes
Assemble all food, utensils and serving dishes
Utensils: measuring cups, spoons, knives,
scissors, whisk, small bowl, medium bowl, small
saucepan (used 2X), medium skillet, pan for cooling
polenta, cling film, BBQ grill and pan or skewers,
or large skillet
Heat chicken stock for polenta
Prepare cooling pan for polenta
Whisk polenta into stock
Pour into cooling pan, cool, put in fridge / freezer
Turn on/light barbecue grill if using
Top, tail beans, cut
Clean/tend to the shrimp, drain
Mix garlic, paprika
Add shrimp, stir to coat

Cut tomatoes, olives, mozzarella in half, put in bowl
Snip chives, large basil leaves, add to bowl
Whisk oil, vinegar, add to bowl, stir
Skewer shrimp if needed
Get polenta from fridge
Cook beans
Heat oil in skillet for polenta, cut polenta, sauté
Cook shrimp
Turn polenta
Melt butter with garlic, paprika
Remove polenta, add to bowl, stir gently
Add lemon to butter, whisk lightly
Add shrimp to lemon butter
Drain beans, put into serving bowl
Melt butter, chives, lemon, pour over beans
Serve