Baked Chicken with Mustard Crust
Brown Rice with Herbs
Butternut Squash Patties
Cooking time:  40 minutes for menu           Cooking schedule: see below for instructions
          I have never been fond of deep-fat frying. I've always liked the food but not the fat (or the mess of doing it myself). My solution?  Figure out how to do it in the oven with a minimum of oil. It may not be exactly the same; but, usually, it's equally delicious!  
Baked Chicken Breasts with Mustard Crust  
Total time: 40 minutes
  The key to giving these a crispy crust is to drizzle them with olive oil after breading, before baking.  You could also spray them with olive oil or other cooking spray if you have it.  The crust keeps the chicken moist and the mustard adds an unexpected hint of savory sharpness.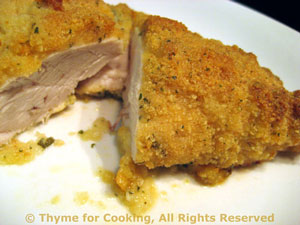 Ingredients:
2 chicken breasts, boneless, skinless
2 tbs Dijon-style mustard
2 tbs olive oil
1/2 tsp dried tarragon
1/2 tsp garlic powder
1/3 cup dried bread crumbs
1 more tbs olive oil
 Instructions:
In small bowl mix mustard, oil, tarragon and garlic. 
Spread on a plate or flattish bowl. 
Put bread crumbs on another plate. 
Roll chicken breasts in mustard mixture to coat thoroughly. 
Then roll in crumbs. 
Brush a baking sheet with a bit of oil and place breasts on
 Drizzle with remaining 1 tbs olive oil. 
Bake at 400F (200C) for 30 minutes or until topping is light brown and chicken is done (test if not sure, see techniques).
Remove and serve.
Brown Rice with Herbs
Total time: 20 minutes    or whatever your package says
      I use 'Uncle Ben's' which is all I can get and it is quick cooking.  It looks like brown Basmati and cooks in 15 minutes.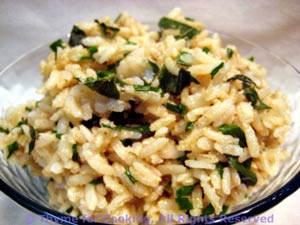 Ingredients: 
 Instructions:
Butternut Squash Patties
Total time: 30 minutes
    Shredded butternut squash, with a bit of egg to hold it together, fried until crisp.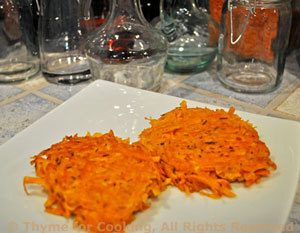 Ingredients:
2 cups shredded butternut squash
1 egg, beaten
1 tbs Dijon-style mustard
2 tbs dry bread crumbs
2 tbs Parmesan cheese, grated
salt and pepper to taste
1 tbs olive oil
 Instructions:
Clean squash.
Shred squash using large holes on box shredder or food processor.
In medium bowl lightly beat egg.
Add mustard, bread crumbs, Parmesan, salt, pepper and mix well.
Add squash and mix well.
Heat large nonstick skillet over medium heat with 1 tbs oil.
Divide squash into 4ths and spoon each 4th into pan, shaping into patty and patting down lightly.
Sauté 10 minutes, or until brown, then turn and sauté the other side 10 minutes longer.
Remove and serve. 
Note:  To clean butternut squash first peel it, using a potato/vegetable peeler.  If it's large (typically) cut it in half between the 'neck' and 'bowl' ends.  Then cut those in half the 'long' way.  Scoop the seeds out of the round end and discard.  I use the neck end for uniform pieces and the bowl end for soups and smaller pieces.
Cooking schedule: 40 minutes
Assemble all food, utensils and serving dishes
Utensils: measuring cups, spoons, knives,
small bowl, 2 flattish bowls or plates, baking sheet,
small saucepan with lid, medium bowl, whisk, grater,
large skillet
Turn oven on, 400F (200C)
Mix mustard, etc. put in flattish bowl
Put crumbs on plate
Roll breasts in mustard, then crumbs
Oil baking sheet, lay breasts on oil
Drizzle or spray with oil,  bake
Grate Parmesan

Clean squash if needed, shred
Whisk egg
Add mustard, crumbs, Parmesan, salt, pepper, whisk
Add squash, stir well
Divide into 4ths, add to large skillet, sauté
Cook rice
      10 minute break
Back?   Turn squash patties
Snip herbs
    Pause while stuff finishes
Check rice, add herbs, fluff
Finish squash
Remove chicken and serve all