Oriental Asparagus Salad
Teriyaki Grilled Swordfish
Pasta with Peanut Sauce
Sesame Carrots
Cooking time: 35 minutes for menu Cooking schedule: see below for instructions
It's not often that I can get the 'larger' ocean fish, here, like tuna or sword fish, but they work so nicely on the grill I always buy them when I seem them in the summer.
Oriental Asparagus Salad
Total time: 30 minutes
I often fix this as a vegetable for a Chinese Dinner but, since I now have some lettuce in my garden, I thought to pair it with some eggs and cherry tomatoes for a first course salad. You could substitute avocado for the asparagus, or just use more greens.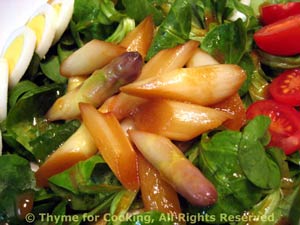 Ingredients:
Instructions:
The salad:
Hard boil the eggs.
Slice the tomatoes in half.
Wash and spin dry the salad greens. If you don't have a salad spinner you can dry the lettuce on paper towels.
The asparagus:
Snap off ends of asparagus. Roll cut asparagus into 1 inch (2.5 cm) lengths.
Fill a large saucepan half full of water and bring to a boil over high heat. When boiling, drop in asparagus and parboil for 2 minutes.
Drain and immediately rinse with cold water.
Spread them on paper towels and pat dry.
In a bowl big enough to nicely hold the asparagus, mix soy sauce, sugar and sesame oil.
Add asparagus and toss lightly to coat. Set aside to marinate for 15 - 30 minutes.
Oriental Vinaigrette:
Put soy sauce, vinegar and mustard in a small bowl and whisk to combine.
Drizzle in the olive oil, whisking constantly.
To assemble:
Put the greens into a bowl, add half of the vinaigrette and toss well to coat (a tongs works well).
Taste and adjust, add more vinaigrette if you want.
Divide the lettuce between two dinner plates.
Peel and slice or quarter the eggs.
Arrange the eggs and tomatoes around the lettuce.
Divide the asparagus and arrange in the middle.
Serve, with any remaining vinaigrette on the side.
Teriyaki Grilled Swordfish
Total time: 15 minutes
The steaks we had were quite thin, about 1/3" (1cm). They cooked very quickly on the grill, about 2 minutes per side. If you prefer, you can quickly pan-fry them for about the same amount of time. We use a grill basket for fish; it makes it easier to handle the filets or steaks. You could also use a silicone mat - but no grill marks!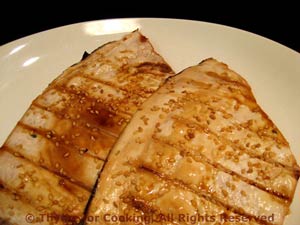 Ingredients:
1 - 2 swordfish steaks, 12oz total (360gr)
2 tbs Teriyaki sauce, divided
2 tsp toasted sesame seeds
Instructions:
Lightly oil fish basket or grill.
Brush 1 tbs Teriyaki sauce on swordfish.
Place in oiled fish basket or on oiled grill rack over direct heat. Cook 2-4 minutes per side, depending on thickness, turning once, or just until done. Do not over cook! The fish should flake easily and be opaque, but overcooking will dry it out. Remove.
Pour remaining 1 tbs Teriyaki sauce over the top, sprinkle with sesame seeds and serve.

To toast sesame seeds:

Put them into a dry, nonstick skillet over medium heat. Toss or stir them about in the pan until lightly golden, about 5 minutes.
Pasta with Peanut Sauce
Total time: 25 minutes
Peanut butter, sherry, fresh herbs... It's a simple sauce, rich, creamy and full of flavor. It is meant to be served just barely warm or at room temperature.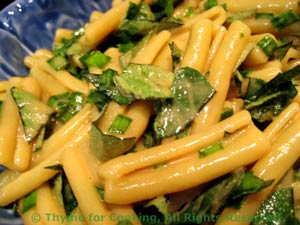 Ingredients:
Instructions:
Cook pasta according to package instructions.
Snip herbs.
In a small saucepan heat chicken stock, peanut butter, soy sauce and sherry, just until peanut butter melts, stirring well to combine.
When pasta is done, drain well and put into a bowl.
Immediately pour sauce over and stir well to combine.
Let rest 5 minutes.
Add herbs, stir well and serve.

Note:

If using dried herbs add to sauce when heating.
Sesame Carrots
Total time: 25 minutes
Carrots are the workhorse of the vegetable world, at least in my kitchen. But that's no reason why they can't be interesting.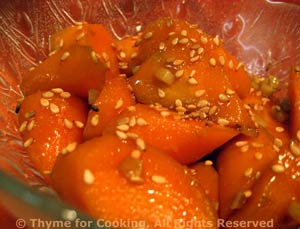 Ingredients:
2 - 3 medium carrots
1/4 tsp powdered ginger
1 clove garlic
1/2 tsp sesame oil
1 tsp soy sauce
1/4 cup (2oz, 60ml) chicken stock
1 tsp toasted sesame seeds
Instructions:
Peel carrots and roll-cut: cut the end off of the carrot at an angle, roll carrot 1/4 turn and cut next piece about 3/4 inch away at an angle, roll 1/4 and cut next piece, etc. This gives you interesting looking pieces with lots of surface.
Mince garlic.
Heat sesame oil in a small nonstick skillet over medium heat.
Add garlic and sauté briefly - 30 seconds, or so.
Add carrots, ginger, soy sauce and chicken stock, cover and simmer over low heat until carrots are tender, 12 - 15 minutes.
Remove cover, increase heat and cook off any remaining liquid.
Sprinkle with sesame seeds and serve.

To toast sesame seeds:

Put them into a dry, nonstick skillet over medium heat. Toss or stir them about in the pan until lightly golden, about 5 minutes.
Cooking Schedule: 35 minutes
Assemble all food, utensils and serving dishes
Utensils: measuring cups, spoons, knives,
scissors, small bowl (use 2X), whisk, medium bowl,
salad spinner or towels, colander, large pasta pot,
2 small saucepans, medium saucepan, small skillet
with lid, barbecue grill, grill basket or large skillet
Cook eggs
Put water on high heat for pasta
Put water on high heat for asparagus
Trim, cut asparagus
Trim, cut carrots
Mince garlic
Wash salad greens, spin dry Refrigerate if possible
Blanch asparagus
Prepare cold water
Make dressing for asparagus
Refresh asparagus in cold water
Dry asparagus, put into bowl, add dressing, stir
Cook pasta

Light/turn on barbecue grill if using
Mind the eggs
Make vinaigrette for salad
Put ingredients for peanut sauce in pan, heat, stir
Snip herbs
Cut tomatoes
Toast sesame seeds if needed
Sauté garlic for carrots
Add carrots, etc. cover, simmer
Peel, slice eggs
Toss lettuce/greens with vinaigrette, taste, adjust
Arrange salad on plates
Drain pasta, put in bowl, add sauce, stir
Serve salad, relax, enjoy
Done? Cook fish
Stir pasta, add herbs, stir
Uncover carrots
Turn fish
Finish carrots, fish
Serve