Salad with Potatoes, Turkey and Avocado
Cooking time:  30 minutes for menu       Cooking schedule: see below for instructions
         We get such lovely turkey cutlets here that I use them often.  If you can't find them you can get a turkey tenderloin and slice your own or use chicken breasts or tenders.
Salad with Potatoes, Turkey and Avocado 
Total time: 30 minutes 
     You can do the potatoes and turkey in a skillet or on the barbecue grill.  The time is about the same.  Use a mix of greens if you can.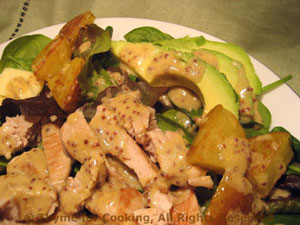 Ingredients:
 Instructions:
Potatoes:
Cut potatoes into bite size pieces and coat with the olive oil. 
Either cook in a pan on the barbecue if you are using, or sauté in a large, nonstick skillet over medium heat until done and lightly browned, 20 - 25 minutes.
Turkey:
Put turkey on a plate and spoon Teriyaki marinade over both sides. 
Cook on barbecue grill for 4 - 6 minutes per side (depending on thickness) or sauté in nonstick skillet for the same amount of time. 
Remove and slice into strips.
Vinaigrette: 
Put all ingredients in a small bowl and whisk well to combine.
The rest:
Prepare lettuce, rinse and spin dry if needed.
Slice avocado.
To assemble:
Add half of the vinaigrette to the lettuce and toss well to coat. 
Divide and arrange on 2 plates. 
Divide and arrange potatoes, turkey and avocado. 
Drizzle with remaining vinaigrette and serve.
Cooking Schedule: 30 minutes for menu
Assemble all ingredients and utensils
Utensils: measuring cups, spoons, knives,
small bowl, whisk, salad spinner, large bowl,
barbecue grill with grill pan or medium and large
nonstick skillets
Turn on/light barbecue grill if using
Cut potatoes, coat with oil, cook
Spoon Teriyaki sauce onto turkey
Prepare lettuce

Make Vinaigrette
Mind the potatoes
     Wait for potatoes to finish
Cook turkey
Slice avocado
Turn turkey
Toss lettuce with some dressing
Remove turkey, potatoes
Slice turkey
Finish salad and serve