Salad with Mozzarella and Ham
Cooking time: 20 minutes for menu      Cooking schedule: see below for instructions
     This couldn't be easier: boil the eggs while assembling the salad and serve.  No other cooking required.
Salad with Mozzarella and Ham
Total time: 20 minutes 
    A cold salad can be just the thing for a hot summer evening.  Other than the eggs, nothing is cooked; just assemble and serve.  The small mozzarella balls are great for tossing with a salad; if you can't find them, just roughly chop half of a larger, whole mozzarella. Serve some crusty, country bread on the side, if you like.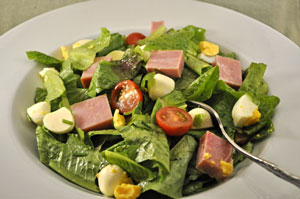 Ingredients:
8oz (240gr ham
10 - 12 small mozzarella balls
1 cup (4oz, 120gr)  cherry tomatoes
1/2 red bell pepper
2 eggs, hard-boiled
1 avocado
enough lettuce for 2 main dish salads
White Balsamic Vinaigrette:
4 tbs good olive oil
1 tbs white Balsamic vinegar
1 tsp lemon juice
1 tbs fresh basil   

substitute 1 tsp dried

1 tbs snipped chives   

substitute 1 tsp dried
 Instructions:
Boil eggs.
Prepare lettuce, tear and put into a large salad bowl. 
Cut ham into strips. 
Cut cheese and tomatoes in half.  
Roughly chop pepper
Remove pit from avocado and slice. 
When eggs are done, cool, peel and cut into pieces. 
Add 2 - 3 tbs vinaigrette to lettuce and toss well with tongs to combine. 
Taste, adjust. 
Add ham, tomatoes, eggs, cheese and avocado and toss gently. 
Serve, extra dressing on the side.
White Balsamic Vinaigrette:
Whisk vinegar and lemon juice. 
Slowly whisk in oil.  
Add basil and chives.
Cooking schedule: 20 minutes
Assemble all food, utensils and serving dishes
Utensils: measuring cups, spoons, knives,
small bowl, whisk, small saucepan, salad spinner
Cook eggs
Prepare lettuce, wash, spin dry
Tear lettuce, put into salad bowl

Cut tomatoes, cheese, pepper
Snip herbs
Make vinaigrette
Remove eggs, cool, peel, chop
Pit, slice avocado
Add vinaigrette to lettuce, toss
Add remaining ingredients, toss gently, serve!