Pork Chops with Peanut Marinade
Pasta with Courgette (Zucchini) and Peanut Sauce
Cooking time:  30 minutes for menu           Cooking schedule: see below for instructions
          Peanut butter adds an interesting flavor to marinades and salad dressings: subtle, not at all dominate.  You could use tahini (sesame seed paste) or another nut butter if you have peanut allergies.  The vegetables for the pasta are lightly cooked, making this a warm, rather than cold salad.
Grilled Pork Chops with Peanut Marinade
Total time: 30 minutes
   Similar to a Satay, this slightly spicy marinade goes well with pork.  For maximum flavor, poke the pork with a fork after adding the marinade to allow it to penetrate the meat.  We had thin chops that cook quickly; try not to overcook, slightly pink is now preferred for pork.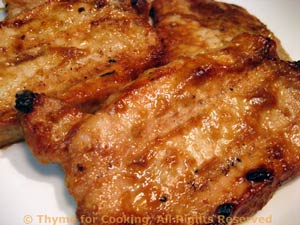 Ingredients:
2 - 4 pork chops, 12oz (360gr) total weight if boneless
Marinade:
1 tbs creamy peanut butter
1 tbs soy sauce
1 tbs red wine vinegar
1/4 tsp garlic powder
1/4 tsp powdered ginger
1 tbs sesame or walnut oil
2 tbs olive oil
 Instructions:
Mix all ingredients for marinade and pour over chops. 
Let marinate for 15 - 20 minutes. 
Cook on barbecue for 5 - 8 minutes a side or until done. Slightly pink is preferred - take a peak (techniques). 

Or

fry in nonstick skillet over medium-high heat the same amount of time.  Serve.
Warm Zucchini (Courgette) Pasta Salad / Peanut Ginger Dressing
Total time: 30 minutes  
     Everyone looks for new, interesting ways to use the summer abundance of zucchini.  With the red peppers, it makes a colorful, warm, summer salad, especially good with the slightly hot/spicy Peanut Ginger Dressing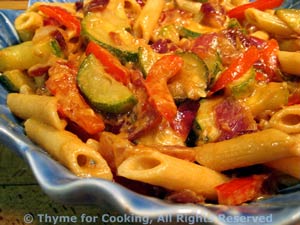 Ingredients:
1 zucchini (courgette), about 8" long (20cm)
2 cloves garlic
1 tbs fresh ginger
1 red onion
1/2 red pepper
1 tsp olive oil
1 tsp sesame or walnut oil
1 tsp soy sauce
1 cup (3.3oz, 95gr) pasta, penne, rigatoni
Peanut Ginger Dressing:
1 1/2 tbs creamy peanut butter 
1 1/2 tbs Dijon-style mustard
2 tsp soy sauce
1 tbs sesame or walnut oil
1 1/2 tbs olive oil
4 tsp white Balsamic vinegar
1/4 tsp powdered ginger
 Instructions:
Cook pasta according to package directions.  When done, drain.  
Slice onion, mince garlic and ginger. 
Slice the red pepper the long way then cut slices in half. 
Cut zucchini in half the long way, then into 1/4" (6cm) slices. 
Heat oils in large nonstick skillet over medium-high heat. 
Add onion, sauté 5 minutes. 
Add garlic, ginger, pepper and zucchini; turn heat to medium and sauté 6 - 10 minutes longer, depending on how crisp/done you like. 
When done to your liking add Dressing and pasta, toss to combine and serve.  I sautéed the veg just until the zucchini started to get limp, about 7 minutes.
Peanut Ginger Dressing:
Combine peanut butter, mustard, ginger and soy sauce in small bowl. 
Whisk to combine completely. 
Add vinegar and oils, whisk well.
Cooking schedule: 30 minutes
Assemble all food, utensils and serving dishes
Utensils: measuring cups, spoons, knives,
whisk, small bowl (used 2X), marinating dish, pot
for pasta, colander, skillet, barbecue grill or skillet
Put water on high heat for pasta
Make marinade, spoon over pork
Poke pork with fork to allow marinade to penetrate
Slice onion
Mince garlic
Clean, slice pepper
Slice zucchini
Light/turn on barbecue grill

Sauté onion
Make dressing
Cook pasta
Add garlic, pepper, zucchini to skillet, sauté
Cook chops
Mind the vegetables
     Stand around a bit
Turn chops
Remove vegetables, put into bowl
Add dressing to vegetables, toss
Drain pasta, add to vegetables, toss to combine
Remove chops
Serve