Chicken with Whole Grain Mustard Sauce
Savoy Cabbage and Rice
Cooking time:  30 minutes for menu           Cooking schedule: see below for instructions
     An easy 'two-dish' dinner for mid-week.
Chicken with Whole Grain Mustard Sauce
Total time: 25 minutes
  Whole grain mustard and white wine, slightly reduced, make a lovely, light sauce for the chicken, bursting with flavor but low in calories.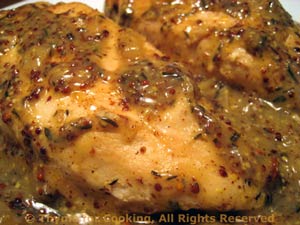 Ingredients:
2 chicken breasts, boneless, skinless
1/2 medium onion
2 tsp olive oil
1 tsp thyme
1/2 (4oz, 120ml) white wine
2 tbs whole grain mustard
 Instructions:
Roughly chop the onion.
Sauté onion in oil in nonstick skillet over medium-high heat. 
When onion starts to brown, move it to the sides of the pan and sauté chicken breasts until lightly browned.
Add thyme, mustard and wine.  Stir to combine.
Cover, reduce heat and simmer until chicken is done, about 15 minutes.
Remove chicken to a small platter, cover to keep warm.
Increase heat under skillet and reduce sauce slightly.
Pour sauce over chicken and serve.
Savoy Cabbage and Rice
Total time: 30 minutes 
      Rice and cabbage, cooked together in a skillet... An easy, nutritious side dish with very little 'hands-on' time.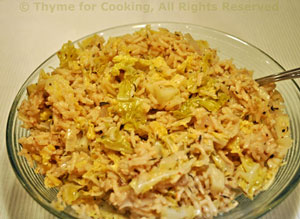 Ingredients:
1/2 cup (3.3oz, 95gr) quick-cooking brown rice

substitute Basmati

1/2 medium onion
2 cups cabbage, thinly sliced
1 tbs Dijon-style mustard
1 tsp thyme
1 cup (8oz, 240ml) chicken stock
1/4 cup (2oz, 60ml) white wine
 Instructions:
Chop the onion.
Heat oil in a large skillet over medium, heat.  Add onion and sauté until starting to get tender, about 5 minutes.
Add cabbage and stir-fry until it wilts.
Add rice, mustard, thyme, chicken stock and wine.
Stir well to combine, cover and simmer until rice is done, about 20 minutes longer.  Stir occasionally.
Cooking schedule: 30 minutes
Assemble all food, utensils and serving dishes
Utensils: measuring cups, spoons, knives,
large skillet with lid, medium skillet with lid
Chop onions, divide between skillets, sauté
Thinly slice cabbage
Add cabbage to large skillet, sauté
Brown chicken breasts, medium skillet
Add rice, mustard, thyme, stock, wine to cabbage
Cover, simmer

Turn chicken
Add thyme, mustard, wine to chicken
Cover, reduce heat, simmer
   Pause while everything cooks
Stir rice / cabbage
    Pause some more
Stir rice / cabbage
Remove chicken, cover, keep warm
Reduce sauce, spoon over chicken
Serve