Turkey with Horseradish Sauce
Sautéed Paprika Potato Rounds
Glazed Tarragon Carrots
Cooking time: 30 minutes for menu          Cooking schedule: see below for instructions
    Horseradish is a most under-used condiment.  I like to add a bit for a different type of heat than typical hot sauce.  The turkey cutlets cook quickly making this an easy weekday dinner.
Turkey with Horseradish Sauce  
Total time: 30 minutes
      You can use turkey tenderloin - sliced horizontally to make cutlets, or kept whole and simmered another 10 minutes, then sliced before serving.  The combination of mustard and horseradish gives this dish an interesting 'warmth', but not heat like pepper sauce would.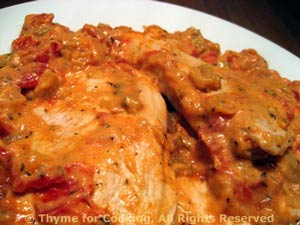 Ingredients:
12oz (360gr) turkey cutlets
1 small onion
2 cloves garlic
1 rib celery
2 cups (15oz, 450gr) whole tomatoes
2 - 3 tbs prepared horseradish
2 tsp Dijon-style mustard
1/3 cup (3oz, 90gr) yogurt
1 tsp dried basil
1 tbs olive oil
2 tsp cornstarch (maizena, corn flour) dissolved in 1 tbs water
 Instructions:
Chop onion and celery.
Mince garlic.
Drain tomatoes, reserving juices.  Roughly chop tomatoes.
Heat oil in medium nonstick skillet.  Add onion, celery, garlic and sauté about 5 minutes.
Move vegetables to the side and add turkey cutlets.  Lightly brown on each side, about 5 minutes.
Remove turkey.  Add tomatoes, reserved juices, mustard, horseradish and basil.
Stir well.  Bring to a boil.
Return turkey to pan, reduce heat and simmer, uncovered, 5 - 10 minutes, depending on thickness of turkey.  Stir occasionally.  (If using a whole, uncut tenderloin, cover and simmer 10 - 15 minutes.)
Dissolve cornstarch in water.
Remove turkey to small platter.
Increase heat under sauce.  Add cornstarch and stir until thickened and clear.
Add yogurt and stir.
Spoon some sauce over turkey and serve, remaining sauce on the side.
Sautéed Paprika Potato Rounds
Total time: 30 minutes
    Rather than baking these chips, I sautéed them.  They get a bit more crisp, and it's easier to add seasonings as they cook.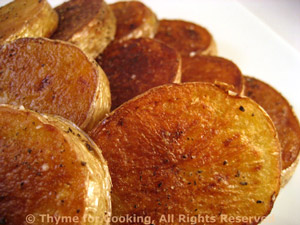 Ingredients:
2 medium potatoes, 12oz (360gr)
1 tsp paprika, smoky if possible
1 tsp Worcestershire sauce
1 tbs oil
salt - sea salt is nice
pepper
 Instructions:
Cut the potatoes into thick slices, app 1/3" (1cm).
Heat oil over medium heat in a large, nonstick skillet.  When hot add potato slices, placing each flat.
Sauté until lightly browned, 10 - 12 minutes.
Sprinkle with 1/2 tsp paprika, a bit of salt and pepper.
Turn.  Sprinkle the browned side with paprika, salt and pepper.
Carefully sprinkle the Worcestershire sauce between the potatoes, so it gets into the skillet, not on top.  Shake the potatoes a bit to distribute, then allow to brown, another 8 - 10 minutes.
When nicely browned and done, remove and serve.
Glazed Tarragon Carrots
Total time: 25 minutes 
     Roll-cutting gives interesting looking pieces with lots of surface to be coated with this lovely sweet-sour, tarragon glaze.  I came up with this recipe in the spring with my fresh tarragon, but it's just as good now, with the dried.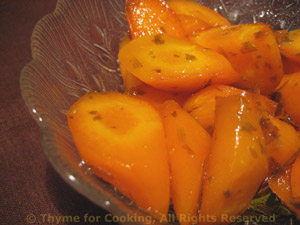 Ingredients:
2 - 3 carrots
1 tbs fresh snipped tarragon   

substitute 1 tsp dried

1 tbs butter
1 tbs honey
1 tbs white wine tarragon vinegar
2 tbs water
 Instructions:
Peel carrots and roll cut - that is cut the end off of the carrot at an angle, roll carrot 1/4 turn and cut next piece about 3/4 inch away at an angle, roll 1/4 and cut next piece, etc.

Put carrots in small sauté pan, add remaining ingredients, cover and simmer 15 - 20 minutes, until done.  Stir occasionally.
If they dry out add a bit more water.  If they don't, uncover and cook off pan juices to finish.  They should be just nicely glazed.  Not tricky - just pay a bit of attention.
Cooking schedule: 30 minutes
Assemble all food, utensils and serving dishes
Utensils: measuring cups, spoons, knives,
small skillet with lid, 2 large skillets
Chop onion, celery
Mince garlic
Sauté onion, celery, garlic for turkey
Slice potatoes, sauté, flat
Open, drain tomatoes, chop
Move vegetables aside, sauté turkey
Cut carrots
Turn turkey
Put all ingredients for carrots in skillet, cover, simmer

Remove turkey
Add tomatoes, juices, mustard, horseradish, basil
Bring to a boil
Sprinkle paprika on potatoes, turn
Sprinkle remaining paprika, add Worcestershire
Return turkey to skillet and simmer, uncovered
    Pause while stuff cooks
Dissolve cornstarch in water
Remove turkey, increase heat under sauce
Stir cornstarch in tomato-horseradish sauce, thicken
Finish carrots, potatoes
Stir yogurt into tomato-horseradish sauce
Serve everything