Potato Soup
Apple Tarts
Cooking time:  60 minutes for menu      Cooking schedule: see below for instructions
       Another simple, fairly quick soup for dinner.  This makes enough for 2 meals.  If you prefer a very thick soup, add less water to cook in (should be enough to just cover everything) /or milk to finish.  We're making the Parmesan Palmiers for Tuesday while the soup cooks.
Potato Soup
Total time: 60 minutes    
     A soup with as many variations as there are cooks:  some like it puréed, some thicken it with flour; some like it thick, some thin; some use carrots, some wouldn't think of it.   This is mine.... at least, today's version.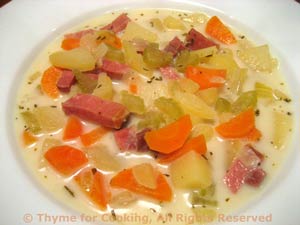 Ingredients:
 Instructions:
Roughly chop onion.
Peel carrots.  Slice by cutting in half the long way (in 2 or mores sections) then into half circles.
Peel and slice potatoes to a similar size.
Slice celery, cutting the wide end in half lengthwise.
Cut cauliflower into small pieces.
Cut ham into small pieces.
Melt butter in small soup pot or large saucepan. Add onion and sauté until it starts to get tender, about 5 minutes.
Add celery and sauté 5 minutes longer.
Add ham and sauté briefly.
Add carrots, potatoes, cauliflower, herbs and water.
Cover and cook until vegetables are tender, 30 - 40 minutes.

To finish:

remove bay leaves.
Add milk and heat through. Serve.
Note:  You could substitute cream for some or all of the milk for a richer soup.
Apple Tart
Total time: 25 minutes  
     This is very simple, easy and yet, properly impressive.  I sauté the apples lightly in butter to coat them and prevent browning as well as to start the cooking process so they soften sufficiently in the oven.... And because it adds a lovely flavor.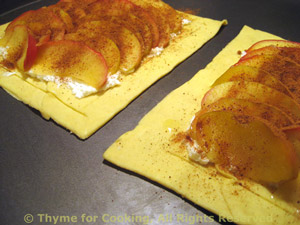 Ingredients:
1 large cooking apple
1 tbs butter
4 tbs ricotta cheese
1/2 tsp cinnamon
1/4 tsp nutmeg
1/2 sheet puff pastry
 Instructions:
Cut 2 squares, rectangles or circles out of the puff pastry... whatever works best, shape is not important.
Cut apple in quarters, through core. 
Slice out core, then thinly slice each quarter.
Heat butter in medium skillet, add apple slices and sauté over medium heat for 3 - 4 minutes, just until warmed through.
Lay puff pastry on baking sheet, either nonstick or lightly oiled.
With a knife lightly score a line around the edge of each pastry, about 1/3" (.75 cm) from the edge. Do not cut through the pastry! (A butter knife works best.)
Divide the ricotta spread within the scored lines.
Arrange the apple slices on the ricotta.
Sprinkle with cinnamon and nutmeg.
Bake in a pre-heated oven at 420F (210C) for 10 - 12 minutes, until sides of pastry have puffed around middle and are golden brown.
Remove and serve.
         With the other half of the puff pastry sheet.... assemble and refrigerate:
Parmesan Crisps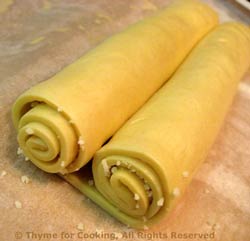 Total time: 15 minutes   plus 5 earlier
   Easy to make and a great way to use up the leftover bits of puff pastry. 
You could also make them sweet: brush with melted butter and sprinkle with cinnamon and sugar; serve for dessert with coffee. 
 Ingredients:
puff pastry sheet, roughly 10 X 6 (25 X 15cm)
1 - 2 tsp olive oil
2 tbs grated Parmesan cheese
 Instructions:
Cut a rectangle of puff pastry.
Lightly drizzle 1 - 2 tsp olive oil over the pastry.
Sprinkle 2 tbs of Parmesan evenly over the top.
Make a mental note (or mark it) of where the middle of the pastry is.  Starting at the short ends, roll the puff pastry to the middle until the two rolls meet.
Wrap in cling film and refrigerate until used.  It's easiest to slice if chilled for an hour and can be made 2 days ahead.
Remove from fridge and slice 1/4" thick (.6cm).
Lay on nonstick baking sheet and bake, 400F (200C) for 8 - 12 minutes, until pastry is golden and cheese is a bit darker.
Remove and serve immediately or allow to cool and store in airtight container.
Cooking Schedule: 60 minutes for menu
Assemble all ingredients and utensils
Utensils: measuring cups, spoons, knives,
small soup pot or large saucepan with lid, baking
sheet, small skillet, cling film
Thaw puff pastry if needed
Chop onions
Heat butter in pot
Sauté onions
Peel carrots, slice
Slice celery, add to pot, sauté
Cut ham, add to pot
Chop cauliflower
Peel, slice potatoes
Add carrots, potatoes, cauliflower, water, herbs to pot
Bring to a boil, cover, reduce heat, simmer
     15 minute break

Turn oven on, 400F (200C)
Cut puff pastry in half
From one half, cut 2 shapes, place on baking sheet
Slice apples
Sauté apples in butter
Score around edge of 2 pastries on baking sheet
Spread pastries with ricotta
Arrange apples on pastries, set aside
Drizzle other half of puff pastry with oil
Grate Parmesan
Sprinkle pastry with Parmesan
Roll each side into middle, wrap, refrigerate for Tues.
Remove bay leaves from soup
Add milk to taste, heat through
Bake apple tarts
Serve soup
When tarts are done, remove, eat