Potato Soup
Parmesan Palmiers
Cooking time: 15 minutes for menu      Cooking schedule: see below for instructions
      All the work was done on Sunday: the soup only needs reheating; the Palmiers only need slicing and baking.... Easy
Potato Soup
Total time: 10 minutes 
.
 Ingredients:
 Instructions:
Parmesan Crisps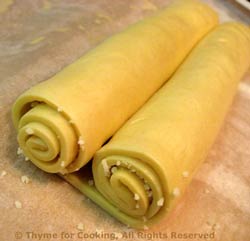 Total time: 15 minutes   plus 5 earlier
   Easy to make and a great way to use up the leftover bits of puff pastry. 
You could also make them sweet: brush with melted butter and sprinkle with cinnamon and sugar; serve for dessert with coffee. 
 Ingredients:
puff pastry sheet, roughly 10 X 6 (25 X 15cm)
1 - 2 tsp olive oil
2 tbs grated Parmesan cheese
 Instructions:
Cut a rectangle of puff pastry.
Lightly drizzle 1 - 2 tsp olive oil over the pastry.
Sprinkle 2 tbs of Parmesan evenly over the top.
Make a mental note (or mark it) of where the middle of the pastry is.  Starting at the short ends, roll the puff pastry to the middle until the two rolls meet.
Wrap in cling film and refrigerate until used.  It's easiest to slice if chilled for an hour and can be made 2 days ahead.
Remove from fridge and slice 1/4" thick (.6cm).
Lay on nonstick baking sheet and bake, 400F (200C) for 8 - 12 minutes, until pastry is golden and cheese is a bit darker.
Remove and serve immediately or allow to cool and store in airtight container.
Cooking schedule: 15 minutes
Assemble all food, utensils and serving dishes
Utensils: knife, dish for reheating soup,
baking sheet
Turn oven on, 400F (200C)

Start to reheat soup
Slice Palmiers, lay on baking sheet
When oven is hot, bake
When Palmiers are done remove
Serve soup, Palmiers....