Peppered Pork Tenderloin in Red Wine Sauce
Sautéed Sliced Potatoes
Balsamic Soy Brussels Sprouts
Cooking time: 30 minutes for menu      Cooking schedule: see below for instructions
     The pork is an economical variation of Steak au Poivre.
Peppered Pork Tenderloin in Red Wine Sauce
Total time: 30 minutes
    Remember that, while adding a lot of flavor, pepper can be quite hot.  Be a bit careful, particularly if you are grinding fresh peppercorns, as these will be hotter than the old stuff in the can in your pantry....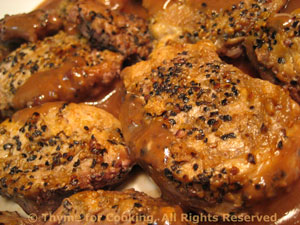 Ingredients:
12oz (360gr) pork tenderloin
2 tsp olive oil
1 clove garlic
1/2 - 1 tsp ground black pepper
2 tsp Dijon-style mustard
1 tsp tomato paste
1 tsp marjoram
1/2 cup (4oz, 120ml) beef stock
1/2 cup (4oz, 120ml) red wine
 Instructions:
Mince the garlic.
Slice the tenderloin into 1 inch (2.5 cm) thick slices.
Sprinkle the pepper evenly over each side of each piece, pressing it in. 
Heat oil in nonstick skillet over medium heat.  Add the pork and sauté for 5 minutes per side.
Add garlic, marjoram, mustard, tomato paste, stock and red wine to pan, reduce heat to low, cover and simmer 10 minutes.
Uncover and remove pork to a small platter, cover to keep warm.
Increase heat and boil sauce, for 2 minutes.   It should reduce and thicken a bit.
Spoon a bit of sauce over the pork and serve, remaining sauce on the side.
Sautéed Sliced Potatoes
Total time: 30 minutes 
     Thinly sliced raw potatoes, sautéed, undisturbed, in a large skillet.  Let them get nicely browned, turn once or twice and finish with a sprinkle of salt.  They are creamy on the inside; crisp on the outside and incredibly easy.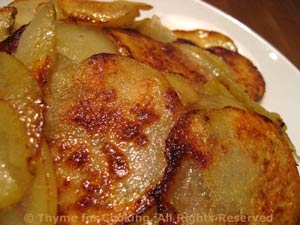 Ingredients:
2 potatoes,  about 12oz total (360gr)
2 tsp olive oil
2 tsp butter
 Instructions:
Slice potatoes paper thin.
Melt the butter in a large nonstick skillet over medium-low heat.
Add the potatoes, arranging in layers.
Drizzle the oil over the top. 
Allow to cook for 15 minutes (Reduce heat further if they start to get too brown).
With a spatula turn in sections - don't worry about being neat.
Continue to cook for another 10 - 15 minutes, until potatoes are done and nicely golden.
Remove, add salt and pepper if you feel so inclined, and serve.
Balsamic Soy Brussels Sprouts
Total time: 20 minutes  
   Cut in half and fried in olive oil, then finished with soy sauce and vinegar.... Not your usual Brussels Sprout.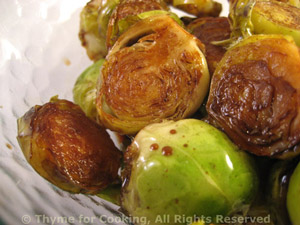 Ingredients:
12 - 15 medium Brussels sprouts
2 tsp olive oil
1 tbs soy sauce
2 tbs Balsamic vinegar
 Instruction:
Slice off stem end of sprouts and remove any wilted or damaged leaves.  Cut each sprout in half through the stem end.
Heat oil in a medium nonstick skillet over medium-high heat. Add sprouts, cut side down, and sauté until lightly browned and crisp-tender, 7 - 10 minutes, checking occasionally so they don't get too dark.
Turn and sauté on the other side for a few minutes longer.
Combine soy sauce and vinegar.  Add to skillet and turn the sprouts over to coat, letting simmer, cut side down for 2 - 3 minutes longer.  Serve.
Cooking schedule: 30 minutes
Assemble all food, utensils and serving dishes
Utensils: measuring cups, spoons, knives,
large skillet with lid, 2 medium skillets
Thinly slice potatoes, sauté
Slice pork, add pepper
Sauté pork
Mince garlic
Trim, slice Brussels sprouts
Turn pork
Sauté Brussels sprouts

Add garlic, herbs, mustard, paste, stock, wine to pork
Cover, simmer
Turn potatoes
      Pause while stuff cooks
Turn sprouts
Uncover pork, increase heat
Remove pork, reduce sauce
Finish potatoes
Combine soy sauce, vinegar, add to sprouts
Turn sprouts to coat
Spoon sauce over pork, serve