Baked Chicken and Rice
Cooking time: 25 minutes for menu          Cooking schedule: see below for instructions
     Dinner doesn't get much easier than this.  'Cook Once; Eat Twice'!  With leftover chicken, rice, carrots and gravy, all from Saturday, it's just a matter of 'heat and eat'.  I used a bit of Greek yogurt as well, giving it a sort of 'Stroganoff' flavor.
Baked Chicken and Rice 
Total time: 25 minutes
     This is a simple casserole made from leftovers.  If someone ate the rest of the chicken but you still have the rice and carrots, just substitute 2 boneless chicken breasts, cooked.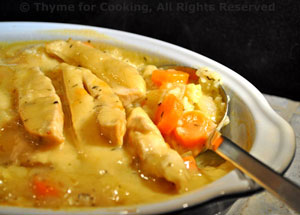 Ingredients:
leftover rice and carrots
leftover chicken
leftover gravy / sauce
2 tsp Dijon-style mustard
1/2 tsp dried marjoram
1/4 cup (2oz, 60gr) Greek or plain yogurt 
 Instructions:
Slice the chicken.
Put the rice and carrots in a baking dish.
Lay the chicken on top.
Mix the leftover gravy with the yogurt, mustard, herbs and pour over the top.
Cover and bake until hot, 350F (175C), about 20 minutes if everything came from the fridge.
Cooking schedule: 25 minutes
Assemble all food, utensils and serving dishes
Utensils: measuring cups, spoons, knives,
baking dish, cover or foil, bowl
Turn oven on 350F (175C)
Slice the chicken

Put rice, carrots in a baking dish
Lay chicken on top
Mix gravy, yogurt, mustard, marjoram
Pour gravy over all, cover with foil or lid
Bake until hot
Remove and serve