Swedish Meatballs with Pasta
Carrots with Dill
Cooking time: 30 minutes for menu        Cooking schedule: see below for instructions
     These were standard fare along side the Lutefisk at the church suppers I went to as a child.  As far as I know, they still are.  I have updated them a bit.... If you have any mascarpone left - add it with the yogurt.
Swedish Meatballs with Egg Noodles
Total time: 30 minutes
   Traditionally served with egg noodles (home made) I usually use any bite-size pasta, preferably a bit 'hearty'.  To stick with tradition you could make small dumplings or hand cut noodles.  The dill is the secret to this dish.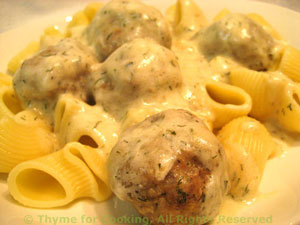 Ingredients:
8oz (240gr) ground beef
1 small onion
1/3 cup bread crumbs
1 egg
2 tsp dried dill weed
1 1/2 cups (12oz, 360ml) chicken stock
1/2 cup (4oz, 120ml) Greek or plain yogurt
1 1/2 tbs cornstarch (corn flour, maizena) dissolved in 2 tbs chicken stock
1 1/4 cups (4oz, 120gr) pasta  or 8oz (240gr) fresh egg noodles
1 tbs butter
 Instructions:
Cook noodles or pasta according to package directions. 
When done, drain and toss with butter.
Meatballs:
Mince onion.
In medium bowl combine onion, half of the dill, the egg, bread crumbs and beef.  Mix well and form into small meatballs, about 1" (2.5cm) in diameter.
In a medium skillet with lid heat the chicken stock. 
When simmering add the meatballs, being careful that they don't touch.  Cover and continue to simmer until done, stirring and turning the meatballs once or twice, about 15 minutes.  
To finish:
Dissolve cornstarch in 2 tbs chicken stock. 
When meatballs are done add the dill to the sauce and move the meatballs to the sides of the pan. 
Turn up the heat a bit and add the cornstarch mixture, stirring until thickened and clear.
Remove meatballs from heat and stir in the yogurt, mixing well. 

Serve, meatballs on top of or next to the pasta.

 

Sprinkle with a bit more dill...
Carrots with Dill
Total time: 15 minutes  
    Sliced carrots, quickly braised in chicken stock and dill, and finished with a dollop of Greek yogurt.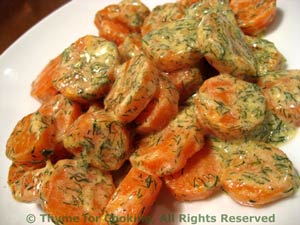 Ingredients:
3 carrots
1/3 cup (3oz, 90ml) chicken stock
2 tsp dried dill weed
2 tbs greek yogurt
 Instructions:
Peel carrots and cut into rounds about 1/4" (.6cm) thick.
Put carrots, stock and dill into a small saucepan or skillet.
Bring to a simmer over medium heat.  Reduce heat and let simmer until just tender, about 8 minutes. 
Uncover and cook off all but 1 tbs stock.
Remove from heat, stir in yogurt and serve.
Cooking schedule: 30 minutes
Assemble all food, utensils and serving dishes
Utensils: measuring cups, spoons, knives,
small saucepan or skillet with lid, large skillet with
lid, pot and colander for pasta
Put water on high heat for pasta
Mince onion
Combine onion, dill, egg, crumbs, beef, mix well
Make meatballs
Heat chicken stock to boiling
Carefully add meatballs, cover, simmer
Peel, slice carrots

Cook pasta
Stir meatballs
Cook carrots
     Pause while stuff cooks
Uncover carrots, reduce stock
Dissolve cornstarch in stock
Add cornstarch mix to meatball stock
Stir until thick and clear
Drain pasta, toss with butter
Add yogurt to meatballs, stir
Add yogurt to carrots, stir
Serve