Puff Pastry Pizza with Green Garlic, Olives
Rhubarb Yogurt Parfait
Cooking time:  30 minutes for menu       Cooking schedule: see below for instructions
          You could use a purchased pizza crust rather than the Puff Pastry if you prefer, but we like the lightness of the pastry crust.
Puff Pastry Pizza with Green Garlic and Green Olives
Total time: 30 minutes 
   Use any cheese you like for this.  The puff pastry makes a light and flaky crust and the pizza is ready in no time!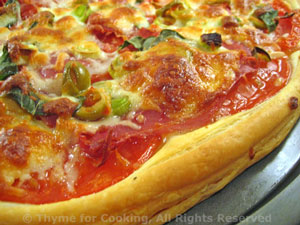 Ingredients:
 Instructions:
Lay the pastry crust out on a baking sheet.
Slice tomatoes as thinly as possible, 8 - 10 slices per tomato.
Tear Prosciutto into small pieces.
Trim and slice green garlic, using the green as well as the white.
Slice the olives.
Arrange the tomato slices on the pastry. 
Lay the Prosciutto on top. 
Sprinkle with green garlic, marjoram, olives and cheese. 
Bake in a preheated oven, 400F (200C) for 20 - 25 minutes, or until crust and top are golden brown. 
Sprinkle with Parmesan just before slicing.
Rhubarb Yogurt Parfait
Total time: 20 minutes 
   Rhubarb sauce is simple: rhubarb and sugar. I like tart; if you prefer sweet add a bit more sugar.  The sauce will keep about a week in the fridge so double or triple the recipe if you like.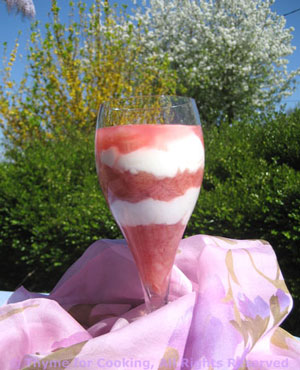 Ingredients:
2 cups sliced, fresh rhubarb, about 2 stalks
2 tbs sugar
1 tbs water
1 cup (8oz 240gr) vanilla yogurt
 Instructions:
Wash the rhubarb and slice it about 1/4" (.5cm) thick. 
No need to peel but pull off any stringy bits as you slice. Use a sharp knife.  
Put in a saucepan with the water and sugar. 
Cover and cook over medium heat until very soft. 
Taste and add more sugar if you like - before removing from heat. 
Chill.
To serve
In a parfait or champagne flute, or other glass, layer the rhubarb sauce and yogurt.  Serve.
Also good over vanilla ice cream....
Cooking Schedule: 30 minutes for menu
Assemble all ingredients and utensils
Utensils: measuring cups, spoons, knives,
baking sheet, medium saucepan, parfait glasses
Turn oven on, 400F (200C)
Thaw pastry if needed
Cut rhubarb, add sugar, water, cook
Lay out puff pastry on baking sheet
Slice tomatoes
Tear Prosciutto
Shred cheese if needed

Slice olives
Trim, slice green garlic
Arrange tomatoes on puff pastry
Add Prosciutto, olives, green garlic, herbs, cheese
Bake pizza
Grate Parmesan
Cool rhubarb when done
    Pause while pizza finishes
Remove pizza, sprinkle Parmesan, let rest a minute
Make Rhubarb Parfaits
Slice pizza, serve