Bolognese Lasagne with Spinach
Fresh Fruit
Cooking time: 40 minutes for menu Cooking schedule: see below for "menu" instructions
This is an easy lasagne, with no pre-cooking and no Béchamel sauce. This should use up the ricotta from last week.
Bolognese Lasagne with Spinach
Total time: 40 minutes
This is a wonderful way to use Ragù Bolognese. It's simply assembling and baking. This lasagne uses ricotta, rather than the more traditional Béchamel sauce.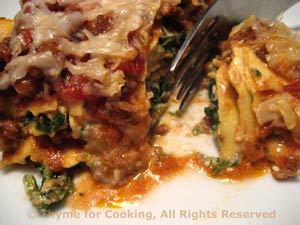 Ingredients:
3 - 4 cups Ragù Bolognese
2 cups (16oz, 480ml) tomato sauce
1 tsp oregano
1 tsp basil
12oz (360gr) frozen spinach
12oz (360gr) ricotta
1/2 cup (4oz, 120ml) milk
1/2 cup shredded cheese
12 - 16 no-cook lasagne noodles
1/2 cup (2oz, 60gr) Parmesan
Instructions:
Fresh Fruit
Something seasonal or more Christmas treats.
Cooking Schedule: 40 minutes for menu
Assemble all ingredients and utensils
Utensils: measuring cups, spoons, medium
saucepan, dish for thawing spinach, large bowl,
baking dish with lid or foil
Turn oven on, 400F (200C)
Heat Ragù
Add herbs, tomato sauce, heat
Thaw spinach

Mix spinach, ricotta, cheese, milk
Assemble lasagne
Bake lasagne
25 minute break
Uncover lasagne
Stand around 5 minutes
Remove lasagne
Let it rest a bit
Cut and serve.... Don't forget the fruit