Menu Plan for the week of July 12, 2013:  Saturday's Recipes
Gazpacho de Andaluz
Barbecued Stuffed Pork Loin
Spanish Potatoes
Cucumber Salad
Cooking time:  60 minutes for menu plus 20 earlier      Cooking schedule: see below for instructions
     The Gazpacho is enough for 4 - have the rest before the salad tomorrow night. Traditional Gazpacho is a puréed soup with only a few chopped vegetables on top for garnish.  As long as we have half a cuke - might as well make salad. This menu is great for a dinner party as most of the work is done ahead, and the cooking mostly unattended.
Gazpacho de Andaluz (Andalusian Gazpacho)
Total time: 20 minutes 
      This started as Traditional Gazpacho, but I found that I preferred it without the bread crumbs.  If you want to stay with tradition, add 1/2 cup of bread crumbs and enough water to thin to the consistency of a thick, cream soup, to the blender.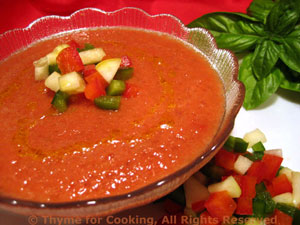 Ingredients:
1/2 green bell pepper
1/2 red bell pepper
1/2 medium cucumber (use about 6" (15cm)
4 - 5 whole, ripe tomatoes
1 red onion
2 - 3 large cloves garlic, 

depending on how hot you like it

1 tsp sherry vinegar
1 tbs sherry
1 cup (8oz, 240ml) tomato juice
2 tbs good olive oil drizzled on top
 Instructions:
Peel the cucumber, onion and garlic. 
Roughly chop all of the vegetables, reserving 1 heaping tbs of the cucumber, onion and pepper, and 2 tbs of the tomato for garnish.
Chop the garnish a bit more. 
Put the rest of the vegetables along with the remaining ingredients, except olive oil, into a blender and purée, in batches if necessary.  
When smooth pour into a bowl.   Taste and adjust seasoning, adding salt, pepper, a bit more vinegar or sherry as desired. 
Chill.
Serve with the reserved chopped vegetables on the side as garnish to be added by each diner along with the olive oil. 
Barbecued Stuffed Pork Loin
Total time: 60 minutes     with 10 earlier
   This is marinated for a few hours in a cross between a brine and a classic pork rib sauce.  I stuffed it with mushrooms and ham and cooked it on the barbecue. After removing the pork from the marinade I boiled the marinade for 5 minutes, reducing it to use both as a basting sauce (some of it) and a dipping sauce (the rest).  There is enough pork for two meals.  Be sure to save any leftover sauce for the leftover pork!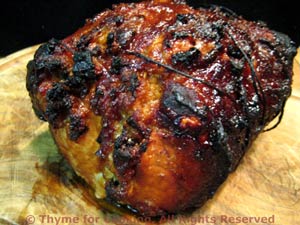 Ingredients:
1 pork loin roast, 24oz (720gr)
Marinade/Barbecue Sauce:
1/2 cup (4oz, 120ml) coffee 

1/2 - 3/4 tsp instant dissolved in hot water or brewed coffee

1/2 cup (4oz, 120ml) maple syrup
1/4 cup (2oz, 60ml) ketchup
2 tbs cider vinegar
1 tbs Worcestershire sauce
1 tbs soy sauce
1 tsp garlic powder
1 tsp dry mustard
Stuffing:
3oz (90gr) mushrooms,

about 1/2 cup finely chopped

2 slices Prosciutto
2 tbs dry bread crumbs
3 tbs marinade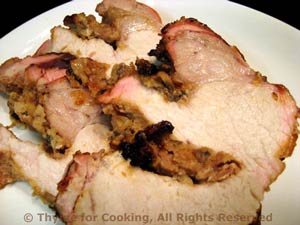 Instructions:
At least 2 hours or up to 8 hours earlier: 
Mix all ingredients for marinade/barbecue sauce. 
Cut a lengthwise slit down the center of the pork loin almost all the way through. Leave about 1/4" (.5cm).  You want to be able to open it like a book. 
Spread the pork out in a deep dish and pour the marinade over. 
Turn the pork to coat, cover and refrigerate. 
Dinner time:
Finely chop mushrooms and Prosciutto. 
Mix mushrooms, Prosciutto and bread crumbs in a small bowl. 
Add 3 tbs of marinade and mix well. 
Remove pork from marinade, reserving marinade, and let drain a bit. 
Lay pork out with cut side up.  Spread the stuffing on one side up to 1/4" from the edges. 
Fold the other side over and tie well with kitchen string: Cut five 10 inch lengths of string and wrap around pork and tie every 2 inches or so - making certain that you do one as close to each end as possible. 
Cook pork on barbecue grill for 45 - 60 minutes or until done, basting 3 or 4 times with the Barbecue Sauce. 
When done, slice and serve with more Barbecue Sauce on the side. 

Or:

Could also be baked at 400F for 45 - 60 minutes or until done but you won't get the sugary crust.  It is done when it's still slightly pink in the center - slice and peak or use a meat thermometer. An instant read meat thermometer is best for a nice, juicy roast.  Cook it to an internal temperature of 145F (62C)  See techniques.
To make barbecue sauce:
Put reserved marinade in a small saucepan and bring to a boil.  Boil for 5 minutes. 
Remove 1/3 cup to use as a basting sauce and reserve the rest to use as a dipping sauce for this meal and with the leftover pork.
Spanish Potatoes
Total time: 35 minutes 
   Cumin, paprika and sherry vinegar add a hint of Spain to these grilled potatoes.  Use any color pepper you like - and add hot peppers if so inclined.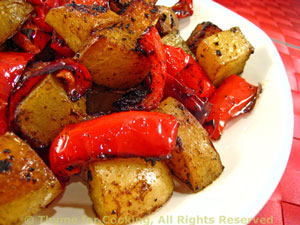 Ingredients:
2 medium potatoes
1/2 red bell pepper
1/2 green bell pepper
1 tbs olive oil
1 tbs sherry vinegar
1/2 tsp cumin
1/2 tsp paprika
 Instructions:
Slice the peppers into thick slices.
Slice potatoes in half the long way, then in half again. Then slice in half or thirds the short way. 
Put spices, vinegar, olive oil into a large bowl, add potatoes, peppers, and toss well to coat. 
Put into 'grill pan' (a metal or foil pan dedicated to use on the grill) or onto a mesh grill pan (the idea is not to have the stuff fall through the grate into the fire....)
Cook over medium heat 20 - 30 minutes, until they all have a nice color and potatoes are done.  Serve.
Old-Fashioned Cucumber Salad
Total time: 10 minutes plus 1 hour 
   This is my mother's recipe, as made by her mother.... Probably German in origin.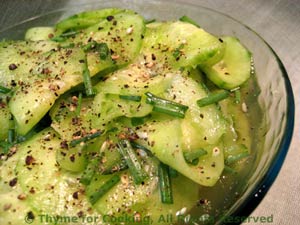 Ingredients:
2 - 3 cucumbers
1 tbs salt
2 tbs sugar
1/4 cup cider vinegar
1 tbs fresh chives, snipped
1/2 tsp pepper
 Instructions:
Peel cucumber and thinly slice, using a box slicer, food processor or mandolin. 
Put 1/3 of the cukes in a deep bowl, sprinkle 1/3 salt. 
Repeat twice. 
Place a small plate or bowl, that will rest directly on the cucumbers, on top. Add a weight of some sort to add pressure to the cukes, and let sit for an hour. 
Drain, rinse lightly and squeeze dry. 
Add remaining ingredients, mix well. 
Serve.  This gets better the next day.
Cooking Schedule: 60 minutes plus 20 earlier
Assemble all food, utensils and serving dishes
Utensils: measuring cups, spoons, knives,
scissors, large dish for marinating, small bowl, small
saucepan, 2 medium bowls, blender, barbecue grill,
grill pan, grater, kitchen string
2 - 8 hours earlier:
Make barbecue sauce
Cut pork loin, spread flat
Pour sauce over, turn, cover, refrigerate
Peel cucumber, onion, garlic for gazpacho
Chop all vegetables for gazpacho, reserve as needed
Combine all ingredients for gazpacho
Purée in blender, in batches if needed
Pour into a bowl, taste, adjust seasoning, refrigerate
Refrigerate unused portions of vegetables
Dinner time:
Turn on/light barbecue grill
Remove pork, let drain
Chop mushrooms, Prosciutto

Make stuffing
Stuff, tie pork, put on barbecue, cook
Peel, slice cucumbers
Layer cucumbers, salt, add weight, set aside
Snip chives, put in bowl with sugar, vinegar
Cook marinade
Remove 1/3 cup for basting, reserve rest for dipping
Baste pork
Cut peppers, potatoes
Combine cumin, paprika, oil, vinegar
Add potatoes, peppers, stir to combine, cook
Baste pork
Ladle Gazpacho into bowls, garnish, serve
Sit around, enjoying gazpacho, waiting for stuff to cook
Disturb yourself to stir the potatoes, baste the pork
Everything done?
Remove pork, let rest
Remove potatoes
Rinse cucumbers, finish salad
Slice pork, serve