Spicy Teriyaki Chicken Breasts
Baked Teriyaki Potato Chips
Sautéed Cabbage
Cooking time: 35 minutes for menu          Cooking schedule: see below for instructions
     Summer dinner with an Asian twist.  Use either Teriyaki sauce, marinade or basting sauce.
Spicy Teriyaki Chicken Breasts 
Total time: 25 minutes
    Using a hot mustard with the Teriyaki sauce gives these chicken breasts an intense flavor. Poke the breasts with a fork to let the marinade seep deeper into the chicken.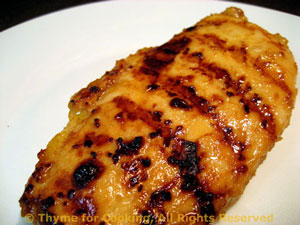 Ingredients:
2 chicken breasts, boneless, skinless
1 tbs Dijon-style or spicy brown mustard
3 tbs Teriyaki sauce
1/2 tsp garlic powder
1/4 tsp ground ginger
 Instructions:
Mix all ingredients except chicken in a small bowl.  
Pour over the chicken and let marinate for 10 - 15 minutes. 
When ready, cook on barbecue grill for 10 - 12 minutes, turning once or under broiler for same amount of time or sauté in nonstick skillet for 12 - 15 minutes; in all cases cook until done. 
Remove chicken, slice nicely (if you want... or not) and serve.
Baked Teriyaki Potato Chips
Total time: 35 minutes
   The Teriyaki Marinade caramelizes on the bottom of the chips, making a chewy crust around the edges.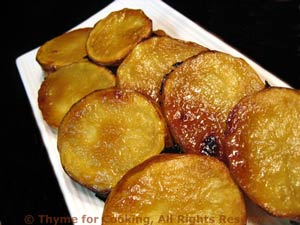 Ingredients:
2 medium potatoes
1 - 2 tbs Teriyaki marinade or sauce
 Instructions:
Slice potatoes in about 1/4 inch (.5cm) thick slices.

(Or a little thinner.)  

Put potato slices and Teriyaki in a bowl and stir well to coat. 
Lay on a nonstick baking sheet (if you have one - just makes it easier). 
Bake in a 400F (200C) oven for 30 minutes. 
Turn half way through if you like. 
Remove and serve.
Sautéed Cabbage 
Total time: 15 minutes
    One more, quick way to use up a bit of cabbage.  The slightly sweet-sour flavor make this an excellent side dish for hearty meats.
 Ingredients:
2 cups shredded cabbage

1 tbs olive oil
1 tbs sherry vinegar or red wine vinegar
1 tbs brown sugar
1/2 tsp chili powder
 Instructions:
Shred cabbage: cut a slice off of the head, lay the slice cut side down, cut into 4ths, then, cutting across, slice very finely: 1/16" - 1/8" (.3cm).  Do not use the core of the cabbage - you'll recognize it when you see it. 
Heat oil in a large nonstick skillet. 
Add chili powder and sauté briefly. 
Add cabbage and sauté 5 - 8 minutes, until cabbage start to wilt. 
Add vinegar and sugar, and stir well. 
Cover, reduce heat and let cook for 5 minutes.  Serve.
Cooking schedule: 35 minutes
Assemble all food, utensils and serving dishes
Utensils: measuring cups, spoons, knives,
small bowl, whisk, dish for marinating, medium
bowl, baking sheet, large skillet with lid, barbecue
grill or large skillet
Turn on oven, 400F, (200C)
Light/turn on barbecue grill if using
Mix marinade for chicken
Spoon marinade over chicken, set aside
Slice potatoes
Mix potatoes and Teriyaki

Spread potatoes on baking sheet, bake
Shred cabbage
Start to cook chicken
Sauté chili powder
Add cabbage, stir-fry
Turn potatoes
Turn chicken
Add vinegar, sugar, reduce heat, cover, simmer
      Pause while everything finishes
Remove potatoes
Remove chicken, slice if you like
Serve