Sesame Baked Chicken
Sesame Brown Rice
Stir-Fried Cabbage with Peanut Sauce
Cooking time:  30 minutes for menu          Cooking schedule: see below for instructions
     An oriental dinner that's not a stir-fry.  It's still easy, though....  I cut the chicken breasts in half the long way to speed up baking time.  We use peanut butter and Teriyaki sauce all through the summer.
Baked Sesame Chicken Strips
Total time: 30 minutes
    These have a lovely, crispy, crunch with a surprise Teriyaki flavor.  I cut each breast into 2 or 3 long strips. They bake faster and have more 'crust'.   If you prefer, you can just use breadcrumbs without the sesame seeds; and spray them with cooking spray, if you have it, rather than drizzling with oil.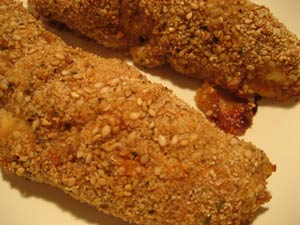 Ingredients:
 Instructions:
Cut chicken breasts into 2 or 3 long strips each. 
Using 3 flattish bowls: put the flour in one; whisk the egg and Teriyaki in one; mix the breadcrumbs, garlic and sesame seeds in one. 
Lightly brush a baking sheet with oil. 
Using your fingers, roll each piece of chicken in flour; then dip in the egg, coating all sides (let drain a bit); then roll in the crumbs. 
Lay on the baking sheet. 
Drizzle remaining oil over top. 
Bake in 400F (200C) oven for 15 - 20 minutes, until golden and crisp.
Sesame Brown Rice
Total time: 20 minutes    or whatever your package says  
    I use 'Uncle Ben's' which is all I can get and it is quick cooking.  It looks like brown Basmati and cooks in 15 minutes.
 Ingredients:
 Instructions:
Cook rice according to package instructions stirring in the sesame oil, soy sauce and seeds when rice is almost done.
Fluff and serve.
Note: You can toast regular sesame seeds in a small, dry, skillet over medium heat for 5 - 7 minutes, until light brown.
Stir-Fried Cabbage with Peanut Sauce 
Total time: 25 minutes
    I love the flavor a little peanut butter adds to a stir-fry.  If you don't normally have it on hand you can leave it out - but add another tsp soy sauce.  This is a cross between a stir-fry and a salad.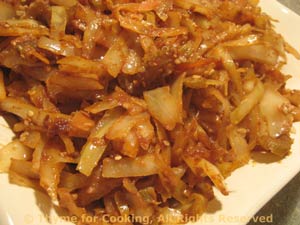 Ingredients:
1 1/2 cups shredded cabbage
1 carrot
1 rib celery
1 tsp soy sauce
1 tsp walnut or sesame oil
2 tsp olive oil
1/3 cup (3oz, 90ml) chicken stock
1 1/2 tbs peanut butter
1 tbs sherry vinegar or red wine vinegar
1/2 tsp chili powder
1 tbs (toasted) sesame seeds
 Instructions:
Shred cabbage: cut a slice off of the head, lay the slice cut side down, cut into 4ths, then, cutting across, slice very finely: 1/16" - 1/8" (.3cm).  Do not use the core of the cabbage - you'll recognize it when you see it.
Slice the carrot into paper thin strips using the vegetable peeler. 
Thinly slice celery. 
Heat oil in a large nonstick skillet. 
Add chili powder and sauté briefly. 
Add cabbage, carrot and celery.   Stir-fry 5 - 8 minutes, until cabbage start to wilt. 
Add soy sauce and chicken stock. 
Stir well to combine, cover, reduce heat and let cook for 5 more minutes. 
Combine peanut butter and vinegar. 
Uncover cabbage and increase heat.  Stir in peanut butter/vinegar mixture.  Continue cooking and stirring until most of the liquid has evaporated and peanut butter melted into the cabbage. 
Sprinkle with sesame seeds and serve.
Cooking Schedule: 30 minutes
Assemble all ingredients and utensils
Utensils: measuring cups, spoons, knives,
large skillet with lid, small saucepan with lid,
baking sheet, 3 flattish bowls
Turn oven on, 400F (200C)
Toast sesame seeds, if needed
Shred cabbage
Shred carrot
Slice celery
Cut chicken in half, long way
Put flour in 1 dish

Beat egg, Teriyaki or soy in 1 dish
Mix crumbs, sesame seed in 1 dish
Dip chicken in flour, egg, crumbs
Drizzle with oil, bake
Cook brown rice
Sauté chili powder in large skillet
Add cabbage, carrot, celery, stir-fry
Add soy sauce, stock, cover and cook
Add sesame seeds, oil, soy sauce to rice
Combine peanut butter, vinegar, add to cabbage
Remove chicken
Serve