Barbecued Chicken Breasts
Sweet Corn on the Cob
Cooking time:  30 minutes for menu          Cooking schedule: see below for instructions
     Sweet corn is best fresh - so this meal requires a visit to the market or farm stand before dinner (or earlier in the day).  But, it's worth it. The proper way to fix sweet corn:  Bring a pot of water to a boil.  When boiling go to the garden and pick your sweet corn; RUN back, peeling on the way.....
We overindulge on the sweet corn so other food isn't needed.
Barbecued Chicken Breasts
Total time: 30 minutes
   A quick, savory marinade and a spicy barbecue sauce to finish makes these chicken breasts perfect for a quick summer dinner. Save a bit of barbecue sauce to pour over just before serving.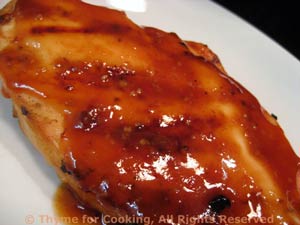 Ingredients:
2 chicken breasts, boneless, skinless
1 tbs Worcestershire sauce
1 tbs red wine vinegar
2 tbs olive oil
1/3 tsp garlic powder
1/2 tsp chili powder
Barbecue Sauce:
1/3 cup ketchup
1 tbs cider vinegar
1 tbs molasses or brown sugar
1 tbs Dijon-style mustard
2 tsp Worcestershire sauce
1/2 tsp chili powder
1 tsp garlic powder
 Instructions:
In small bowl whisk together Worcestershire, vinegar, oil, garlic and chili powder. 
Put chicken breasts in a glass baking dish and pour marinade over.  Let marinate for 10 - 15 minutes. 
Cook on barbecue grill for 7 - 9 minutes a side or until done (test - take a peak), basting with barbecue sauce. 

OR

sauté in nonstick skillet for 8 - 10 minutes a side until nicely browned and done. 
Serve with remaining barbecue sauce on the side.
Barbecue sauce: 
Mix all ingredients in small sauce pan and heat, stirring, until well combined.
Keep half the sauce separate for finishing.
Sweet Corn 
Total time: 15 minutes
   Nothing says summer like corn on the cob.  We've tried roasting it and boiling it... and if I ever find a method that is better than plain old steaming I'll add it to the recipes....
 Ingredients:
 Instructions:
Shuck corn. 
Bring an inch of water to boil in a large kettle with a steamer rack. 
Add corn, cover and steam 4 - 5 minutes (depends on how much corn you put in) or until done. 
Take 1 ear, slather with butter, salt and pepper.  Eat.  Repeat.  Happy summer!
Cooking Schedule: 30 minutes
Assemble all ingredients and utensils
Utensils: measuring cups, spoons, knives,
dish for marinating, small saucepan, small bowl,
whisk, large pot with steamer basket and lid,
barbecue grill or large skillet
Turn on / light barbecue grill
Make marinade, pour over chicken
Make barbecue sauce

Peel sweet corn
Heat water in steamer for corn
Divide barbecue sauce
Start to cook chicken, baste with sauce
Baste chicken, turn, baste
Start to cook sweet corn
Baste chicken
Remove sweet corn, chicken
Enjoy summer!