Pasta Salad with Ham, Peas and Celery
Cooking time:  25 minutes for menu          Cooking schedule: see below for instructions
     I love peas and celery in pasta salads - such great color and crunch.  This is a raw salad, the only thing cooked is the pasta. Cool food for hot weather. 
Pasta Salad with Ham, Peas and Celery 
Total time: 25 minutes
      I love creamy pasta salads - made with lots of mayonnaise.  Unfortunately, my good sense tells me that it's not the most healthy way to enjoy summer.  Using a bit of Greek or plain yogurt stretches the mayonnaise while still keeping the flavor.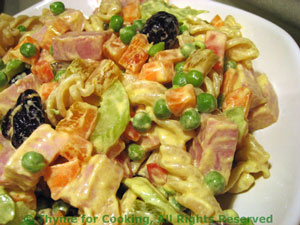 Ingredients:
 Instructions:
Cook pasta according to package directions.
Peel and chop carrot.
Chop pepper.
Slice celery.
Put frozen peas in a strainer and run hot tap water over them until they are thawed, about 1 minute.
Cut ham into bite-size pieces.  
Pit olives if needed, and cut in half.
Mix all ingredients for salad (except dressing) in a large bowl. 
When the pasta is done, drain, rinse lightly in cool water. 
Add to bowl. 
Add as much of the dressing as suits your taste; Stir and eat.
Creamy Dressing:
Whisk all ingredients together.  It will be quite thick.
Cooking schedule: 25 minutes
Assemble all food, utensils and serving dishes
Utensils: measuring cups, spoons, knives,
small bowl, whisk, pot, colander, pasta, large bowl
Put water on high heat for pasta
Cut ham
Cut pepper
Peel, cut carrot
Slice celery

Pit, cut olives
Cook pasta
Thaw peas
Put all vegetables and ham into bowl
Make dressing
     Stand around waiting for pasta
Drain, rinse pasta
Add pasta to vegetables, add some dressing
Taste, adjust, serve