Sautéed Sole with Capers
Lyonaise Potatoes
Sunchoke Gratin
Cooking time:  40 minutes for menu          Cooking schedule: see below for instructions
       Sole is a delicate fish that cooks in minutes.  The Lyonaise are from the second (some would say first) gastronomic capital of France: Lyon.
Sautéed Sole with Browned Butter and Capers
Total time: 10 minutes
    Sole is a delicate fish with a mild flavor that pairs well with lemon and capers.  It's normally served with the tail and bones intact: just skinned and cleaned but not filleted. They cook very fast and if you are not careful when you take them by the tail to turn them over the skeleton will come away in your hand.  The flesh comes away easily with a fork to eat.  Or, even better, buy them skinned and filleted.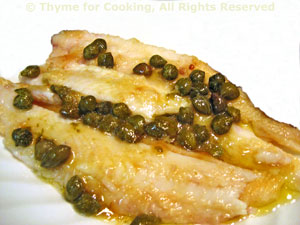 Ingredients:
 Instructions:
Put the flour and paprika on a plate large enough for the fish to fit.  Mix with a fork until combined. 
Over medium-high heat melt the butter in a nonstick skillet large enough to hold both fish. 
Rinse fish and pat dry. 
When butter is sizzling and just starting to color dip both sides of fish (hold it by the tail) in flour and add to pan. 
Sauté 1 - 2 minutes on each side depending on size of fish.  
When lightly browned and done remove to plates. 
Add capers, wine and lemon juice to skillet.  Quickly stir, loosening and browned bits. 
Pour over each fish. 
Serve with 2 lemon quarters to squeeze over top.
Note 1:  You can cook them slightly underdone, to this point, then put them on a platter, cover them loosely with foil and put in a 200F (100C) oven to keep warm.
Note 2: If you get sole filets, they will cook even faster.  Use a long spatula to turn them carefully.
Potatoes Lyonaise
Total time: 40 minutes
    These are incredibly easy and delicious, and pair well with flavorful fish and chicken.  They absorb the chicken stock at the end, giving them a bit of a syrupy glaze.
 Ingredients:
2 medium potatoes
1 medium onion
1 clove garlic
2 tsp butter
2 tsp olive oil
1/4 cup (2oz, 60ml) chicken stock
 Instructions:
Peel onion, cut in half and slice thinly. 
Peel and chop garlic. 
Sauté onion and garlic in medium nonstick skillet in 2 tsp butter until lightly golden, about 10 minutes. 
Cut potatoes in quarters lengthwise, then slice thinly.
Remove onions and garlic from pan. 
Add 2 tsp oil, potatoes and sauté until golden, turning often with spatula, about 20 minutes. 
When potatoes are golden, return onion and garlic to pan, add chicken stock, cover and simmer until stock is absorbed, 5 - 10 minutes.  Serve.
Sunchoke Gratin
Total time: 30 minutes
    These gnarly roots are delicious and easy to fix.  Select sunchokes that are firm and with fewer rather than more knobby bits.  There is no need to peel, but scrub well. Trim any big knobs if you like.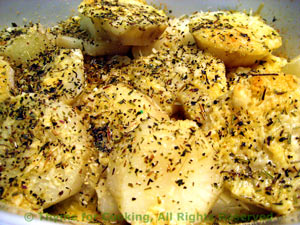 Ingredients:
3 - 4 Jerusalem artichokes aka sunchokes (8oz, 240gr)
1 tbs olive oil
1 tsp Herbes de Provence
1/4 cup (1oz, 30gr) Parmesan
 Instructions:
Trim and clean sunchokes. 
Leave whole and put into a steamer basket over hot water. 
Steam 15 minutes or until just tender when pierced with a sharp knife.  Watch them - they go from barely done to over done quickly. 
When done remove and cut into 1/2" (1.25cm) slices. 
Lightly oil a small gratin dish. 
Layer the sunchoke slices in dish. 
Sprinkle with herbs and Parmesan. 
Drizzle the remaining olive oil over the top. 
Bake, 400F (200C) for 10 - 15 minutes, until golden brown.  Remove and serve.
Cooking Schedule: 40 minutes
Assemble all food, utensils and serving dishes
Utensils: measuring cups, spoons, knives,
medium saucepan / steamer basket, lid, medium
skillet, lid, large nonstick skillet, small baking dish
Slice onion for potatoes, sauté
Mince garlic
Add garlic to onions for potatoes, sauté
Peel sunchokes, steam
Slice potatoes
Remove onion, garlic for potatoes, set aside
Sauté potatoes
Cut lemon, squeeze a bit for the juice
     Pause while everything cooks
Get everything ready for the fish

Turn potatoes
Slice sunchokes
Grate Parmesan
Finish sunchoke gratin, bake
     Pause while everything cooks
Turn potatoes, return onion, garlic
Add stock to potatoes, let cook
Melt butter for fish
Flour fish, fry
Turn fish, fry
Remove fish, add capers, lemon, stir, scrape
Pour sauce over fish, garnish with lemon
Remove sunchokes
Spoon potatoes into bowl
Serve