Hot and Sweet Glazed Pork Chops
Grilled Potatoes and Onions
Cheesy Zucchini (Courgette)
Cooking time:  35 minutes for menu          Cooking schedule: see below for instructions
     We'll be starting to use more ginger as we get into winter cooking.  It keeps quite well at room temperature.
Hot and Sweet Glazed Pork Chops
Total time: 30 minutes
    Fresh, chopped ginger adds a better, sharper flavor than the powdered.  Usually you can just break off a small piece at the store.
 Ingredients:
 Instructions:
In small bowl whisk together the ingredients for the marinade - you need to use the whisk to break up the marmalade. 
Pour over chops and let marinate for 10 minutes (or longer...).
Remove from marinade and cook on barbecue 10 - 15 minutes turning once.
Baste with any remaining marinade before turning to give better glaze.  In all cases it depends on thickness of the chops. Test for doneness by slicing and peaking. 
Remove and serve.
Grilled Potatoes and Onions
Total time: 35 minutes
  Sweet or red onions add a wonderful flavor to simple grilled potatoes.  With the mustard and vinegar this is almost a hot salad... and perfect with simple grilled meats.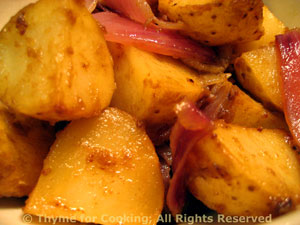 Ingredients:
2 potatoes
1 sweet or red onion
1 tbs Balsamic vinegar
1 tbs Dijon mustard
2 tbs olive oil
 Instructions:
Slice potatoes - the long way, first in half, then in half again, then in thirds or fourths the short way. (potatoes for roasting). 
Cut onion into quarters. 
In medium bowl mix vinegar, mustard and oil. 
Add vegetables and toss to coat.  Put them into a grill pan and cook on barbecue (grill) for 20 - 30 minutes or until done... and you will need to stir them with a long-handled wooden spoon occasionally as they tend to develop 'hot spots' and can get a little crispy. 

Or

you can roast them in the oven.  Arrange potatoes and onions on baking sheet with rim (I use my trusty, round pizza pan) Bake at 400F for 30 minutes.  
Remove and serve.
Cheesy Zucchini (Courgette)
Total time: 20 minutes
    Nothing like a bit of cheese to top off a veg.....  Just sprinkle on at the last minute and cover to melt.
 Ingredients:
 Instructions:
Cut zucchini into fourths, the long way, than slice. 
Slice red pepper, then cut slices in half. 
Roughly chop onion. 
Heat oil in a large nonstick skillet over medium heat. 
Add onion and pepper and sauté for 5 minutes. 
Add zucchini, sauté until zucchini is tender, 5 - 8 minutes longer. 
Add soy sauce and vinegar, stir to combine. 
Sprinkle with cheese and cover until cheese melts. 
Remove and serve.
Cooking schedule: 30 minutes
Assemble all food, utensils and serving dishes
Utensils: measuring cups, spoons, knives,
scissors, small bowl, whisk, dish for marinating,
medium bowl, large skillet with lid, grill, grill pan
Turn on/light barbecue grill
Cut potatoes
Quarter onion
Mix vinegar, mustard, oil
Add potatoes, onion, stir gently
Put in grill pan, cook
Make marinade, spoon over pork

Mind the potatoes
Chop onion
Slice red pepper
Sauté onion, red pepper
Slice zucchini
Start to cook chops
Mind the potatoes
Add zucchini to onion/pepper, sauté
Turn chops
Sprinkle cheese on zucchini
Remove potatoes, chops
Serve