Grilled Salmon with Tomato/Tarragon Sauce
Zucchini (Courgette and Brown Rice Gratin
Cooking time: 60 minutes for menu            Cooking schedule: see below for instructions
      You could do this dinner in the oven, but we prefer the flavors of the barbecue grill.... Preserving the flavors of summer. 
Grilled or Smoked Salmon with Tomato/Tarragon Sauce
Total time: 25 minutes
   We lightly smoked the salmon, directions are below...  If you prefer, it can simply be grilled or roasted in the oven. The salt is scraped off before serving.
 Ingredients:
2 salmon fillets, 12oz (360gr) total weight
2 tsp dill weed
1 tsp coarse salt
1 tsp olive oil
wood chips for smoking - apple is nice See Barbecue Grills for more info  

optional

1 small - medium ripe tomato, chopped  

about 1/2 cup

1 tbs fresh tarragon, snipped  

substitute 2 tsp dried

1 tbs fresh parsley, snipped  

 substitute 2 tsp dried

2 tbs mayonnaise
 Instructions:
Note: Salmon should flake easily but not be dry; remove from heat when just barely done.
Zucchini (Courgette) and Rice Gratin
Total time: 55 minutes
The brown rice and zucchini are combined with just a bit of yogurt and cheese to create a creamy gratin.  Try to find a quick-cooking brown rice or adjust the time accordingly.  I use 'Uncle Ben's' which is all I can get.  It looks like brown Basmati and cooks in 15 minutes. You could substitute regular Basmati if you prefer.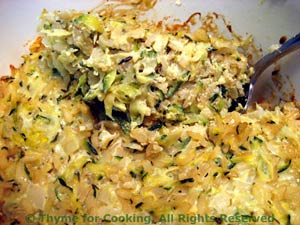 Ingredients:
2 cups shredded zucchini (1 small - medium)
1/2 onion
1/2 cup (3.3oz, 95gr) quick-cooking brown rice
1 cup plus 2 tbs (9oz, 270ml) chicken stock
1/2 cup (2oz, 60gr) shredded cheese
1/3 cup (3oz, 90gr) plain or Greek yogurt
1 egg
1 tsp thyme
2 tsp olive oil, plus a bit for baking dish
 Instructions:
Put 1 cup stock (or whatever your rice requires) and rice into a small saucepan.  Cover and bring to a boil. 
Reduce heat and simmer until done. 
Shred zucchini using large holes on grater. 
Chop the onion. 
Heat oil in a medium skillet. 
Add onion, sauté until tender. 
Add zucchini and sauté until zucchini is tender, slightly translucent and dry. 
Remove from heat and allow to cool slightly. 
In large bowl whisk egg. 
Add cheese, yogurt and thyme.  
Add 1/2 of the zucchini/onion to the eggs and stir well. 
Add the remaining zucchini along with the rice and 2 tbs chicken stock. 
Stir well to mix and pour into a baking dish that has been coated with a bit of oil.  Bake in 350F (175C) oven for 30 minutes. 
Remove and serve.
Cooking schedule: 60 minutes
Assemble all food, utensils and serving dishes
Utensils: measuring cups, spoons, knives,
scissors, small bowl, large bowl, whisk, 2 small
saucepans with lids, baking dish, barbecue grill,
basket or mat
Turn oven on 350F (175C)
Start to cook rice
Chop zucchini
Chop onion
Start to cook zucchini, onion
Soak wood chips if using
Snip herbs
Oil salmon, add dill, salt, set aside
Chop tomato for sauce

Make Tomato Tarragon Sauce
Remove zucchini from heat
Uncover rice, fluff
Oil baking dish
Whisk eggs in large bowl
Add cheese, yogurt, thyme, whisk
Add half the zucchini, stir
Add remaining zucchini, rice, stir
Spoon into baking dish, bake
Light/turn on barbecue grill
      Pause while gratin bakes
Start to cook salmon
    Pause while salmon and gratin finish
Remove gratin
Remove salmon ... Serve