Barbecued Stuffed Pork Tenderloin
Potato-Tomato Gratin
Green Beans with Browned Butter
Cooking time:  75 minutes for menu     Cooking schedule: see below for instructions
      Potatoes and tomatoes together?  Yes, it works.  And with so many tomatoes this time of year, we tend to put them in everything. We'll finish them on Monday.  Don't tie the pork too tightly or the stuffing will ooze out.  Use any leftover barbecue sauce with the burgers.
Barbecued Stuffed Pork Tenderloin
Total time: 45 minutes
   It doesn't take a lot of stuffing... And it kind of oozes out the top.... But, it does get nicely caramelized on top and keeps the pork moist. Cook the pork, stuffing side up, without turning, in a covered grill.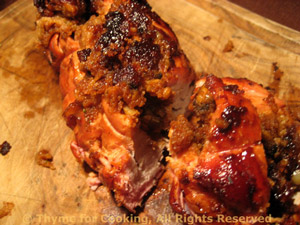 Ingredients:
1 pork tenderloin, 14oz, 420gr
2 tsp olive oil
1 1/2 tsp paprika
1 clove garlic, minced or crushed
1/3 cup chopped mushrooms about 1oz (30gr)
1 1/2 tbs bread crumbs
1 tbs ketchup
1 tsp Worcestershire sauce
1 tbs snipped fresh rosemary

substitute 1 tsp dried

1 tbs snipped fresh chives  

substitute 1 tsp dried

Barbecue Sauce:
1/4 cup (2oz, 60ml) ketchup
1/2 cup (4oz, 120ml) tomato sauce 
2 tbs cider vinegar
2 tbs molasses
1 tbs Worcestershire sauce
2 tsp dry mustard
2 tsp dried oregano
1 tsp garlic powder
 Instructions:
Chop mushrooms
Mince or crush garlic. 
Heat olive oil in small skillet over medium heat. Add paprika and sauté for 1 minute. 
Add mushrooms and garlic and sauté for 3 - 4 minutes, until starting to brown and soften. 
Meanwhile, butterfly pork tenderloin - cut it in half lengthwise leaving 1/4 inch intact - so that you can open it like a book.  Open it and give it a couple of whacks with a meat mallet so that it lies flattish... or pound lightly with the edge of a plate.  You just want it to be flat and easy to work with. 
When mushrooms are done put into a small bowl and add bread crumbs, herbs, Worcestershire and ketchup. 
Mix well and spread on one side of pork about 1/8 inch from the edge. 
Fold other side over and tie with kitchen string.  Cut five 6 inch lengths of string and wrap around pork and tie every 2 inches - making certain that you do one as close to each end as possible.
Cook pork on barbecue grill for 30 minutes or until done, basting during the last 10 minutes with Barbecue Sauce.  When done, slice and serve with more Barbecue Sauce on the side. 
Could also be baked at 400F for 30 minutes or until done.  It is done when 'juices run clear', so - either poke it, slice it and take a peak or use a meat thermometer.  See techniques.
Barbecue sauce: 
Mix all ingredients in small sauce pan and bring to a boil over medium heat stirring frequently.
Simmer 10 - 15 minutes, remove from heat and use when needed. 
Sauce will keep for a week in the refrigerator.
Potato and Tomato Gratin
Total time: 1 hour 15 minutes
    We are planning for leftovers with this gratin.  I normally use Gruyère in potato gratins but I decided to use something stronger with the sage and tomatoes.  Use what ever cheese you like - a sharp cheddar could be good, or Muenster.  And, Yes, tomatoes do work well with potatoes!
 Ingredients:
4 medium potatoes, 22oz total (660gr)
1 large onion or 2 smaller onions,  12oz total (360gr)
2 - 3 tomatoes, 12 - 14oz total (360-420bg)
2 cloves garlic
1 tbs olive oil
3oz (90gr) strong cheese of choice,  I used Tomme  shredded or cut into small pieces
1 tbs dried sage
1/4 cup chicken stock
1/4 cup grated Parmesan
 Instructions:
Green Beans with Browned Butter    
Total time: 30 minutes
     My mother put browned butter on all of her vegetables.  I don't do it quite that often but once in awhile it's still a treat.  The nutty flavor of the butter pairs well with fresh green beans.  Just don't let it get too dark.  It will go from light brown to dark very quickly once it starts. 
 Ingredients:
6oz (180gr) green beans

1 1/2 tbs butter
Pepper
 Instructions:
Top and tail beans... cut off the ends. 
Cut into 1 1/2 inch lengths (4cm) or leave whole. 
Put beans, 1/4 cup of water into a small pan, cover and simmer until done, about 15 minutes.  If beans dry out add a little more water. 
When done drain beans, put into a serving bowl and put the pan back on medium heat. 
Add butter and brown it, being careful not to let it get too dark.
Add pepper and beans, toss to coat and serve.
Cooking Schedule: 75 minutes for menu
Assemble all food, utensils and serving dishes
Utensils: measuring cups, spoons, knives,
small skillet, medium skillet, small saucepan,
gratin dish, barbecue grill
Turn on oven, 425F (210C)
Peel onions, garlic
Slice onions, garlic for potatoes
Sauté onions, garlic for potatoes
Make barbecue sauce
Cut cheese
Slice tomatoes
Slice potatoes
Assemble potato-tomato gratin, cover, bake
     15 minute break
Clean, trim mushrooms, chop
Sauté paprika

Add garlic, mushrooms, sauté
Light/turn on barbecue grill
Cut pork, flatten
Make stuffing for pork
Stuff, tie pork, cook
Top and tail beans, cut
Uncover potatoes, reduce heat 400F (200C)
Start to cook beans
Baste pork
  Pause while it all cooks
Baste pork
Remove pork, loosely cover with foil, let rest
Remove potatoes, let rest
Remove beans, cover
Brown butter, finish beans
Slice pork, cut gratin
Serve