Grilled Swordfish with Olive Shallot Relish
Barley Salad with Sautéed Peppers
Cooking time: 30 minutes           Cooking schedule: see below for instructions
     You can use any fish suitable for grilling - tuna, swordfish, halibut, snapper.  They would all pair well with the olive relish.
Grilled Swordfish with Olive Shallot Relish 
Total time: 25 minutes
   You can use any fish suitable for grilling - tuna, swordfish, halibut, snapper.  They would all pair well with the olive sauce.  If you get sushi-grade tuna or swordfish you will want them seared but rare to medium-rare in the center.  Any leftover Olive Sauce can be used with other grilled meats or simply eaten with savory biscuits.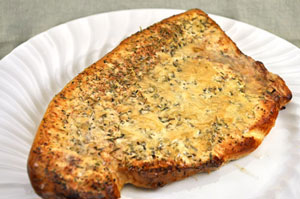 Ingredients:
2 swordfish or other fish steaks or filets, 6oz each (180gr each)
1 tbs olive oil
2 tsp Herbes de Provence
Warm Olive Relish:
2 medium shallots
2 cloves garlic
1 tsp Herbes de Provence
1 tsp fennel seeds
3 tbs chopped Kalamata or dry Greek olives
3 tbs chopped green olives
1 tbs olive oil
1 tbs lemon juice
4 tbs white wine
 Instructions: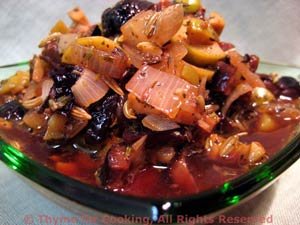 Brush fish lightly with olive oil and sprinkle with herbs. 
Put fish in a grill basket or cook on a grill pan, particularly if the fish is thinner filets. 
Cook on barbecue grill for 2 - 6 minutes per side, depending on thickness and grade of fish.  Walleye or snapper will become opaque when done.  Good tuna or swordfish you just want to brown the outside quickly. 
When done, put on a small platter, spoon some

Olive Relish

on and serve, remaining sauce on the side. 
Olive Shallot Relish:
Mince shallots and garlic. 
Heat oil in small nonstick skillet.  Add shallots, garlic and sauté until tender, about 5 minutes. 
Add fennel seeds, herbs and sauté 1 minute longer. 
Add olives, lemon and wine. 
Bring to a boil, reduce heat and simmer 1 minute. 
Remove from heat, put into a small serving bowl. 
Cover to keep warm until ready to use.
Note: Can also be cooked under broiler or sautéed in nonstick pan for roughly the same amount of time. 
Note 2:  I threw a few wood chips on the grill for a slightly smoky flavor - thus the darker surface color.
Barley Salad with Red and Green Peppers
Total time: 25 minutes
   Colorful peppers add both flavor and nutrition to salads and side dishes.  I use quick-cooking barley, which takes about 15 minutes.  Cook in chicken stock for added flavor.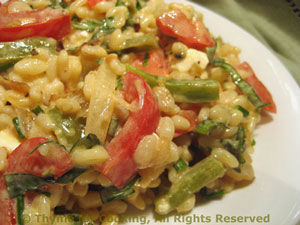 Ingredients:
2/3 cup (3.3oz, 95gr) quick-cooking barley
1 1/3 cup (11oz, 330ml) chicken stock
1/2 red bell pepper, sliced into strips
1/2 green bell pepper, sliced into strips
1 onion, sliced
2 tsp olive oil
1 tbs fresh chives, chopped
1 tbs fresh basil, chopped
Mustard Vinaigrette:
2 tbs Dijon-style mustard
2 tbs white Balsamic vinegar
2 tbs good olive oil
 Instructions:
Cook barley in stock until done, stirring occasionally. If all stock is not absorbed, drain.
Heat medium nonstick over medium heat.  Add oil, onion, pepper and sauté until tender and light brown, about 10 minutes.
Mustard Vinaigrette:
In a small bowl whisk together mustard and vinegar. 
Slowly drizzle in olive oil, whisking constantly.
To finish:
When barley is done put into a medium bowl. 
Add peppers and onions.
Stir in Vinaigrette, herbs, and serve.
Cooking schedule: 30 minutes
Assemble all food, utensils and serving dishes
Utensils: measuring cups, spoons, knives,
scissors, medium bowl, small bowl, whisk, small
skillet, medium skillet, small saucepan with lid,
barbecue grill, basket or grill mat
Turn on/light barbecue grill
Start to cook barley
Mince shallots, garlic
Sauté shallots, garlic
Chop olives
Slice onion
Slice peppers

Add fennel, herbs to shallot/garlic
Sauté onion, pepper for barley
Add olives, lemon, wine to shallots, simmer
Make vinaigrette
Remove olive relish from heat, cover, keep warm
Snip herbs
Put pepper, onions, herbs into bowl
Start to cook fish
Finish Barley Salad
Turn fish
Put olive relish in a pretty bowl
Remove fish
Serve