Grilled Turkey Teriyaki
Sautéed Mushrooms
Brown Rice with Snow Peas (Mangetout)
Cooking time: 30 minutes for menu          Cooking schedule: see below for instructions
     I knew I would have just a few too many mushrooms by the end of the week, so I added them to this dinner - I do hate waste.  
Grilled Turkey Teriyaki
Total time: 15 minutes
  Turkey cutlets are great for a quick main course.  Paired with a simple Teriyaki marinade, these can be ready in under 10 minutes.... But you have to let the barbecue grill warm up!  Or just quickly sauté in a nonstick skillet. 
 Ingredients:
2 - 4 turkey cutlets, depending on size  12oz total (360gr)
2 - 3 tbs Teriyaki marinade
 Instructions:
This is very work intensive:  Open bottle of Teriyaki marinade and pour some on the turkey cutlets. Set aside to marinate for a bit. 
When ready cook on barbecue grill for 2 - 3 minutes per side or under broiler for same amount of time or sauté in nonstick skillet for 3 - 5 minutes a side - in all cases cook until done.
Sautéed Mushrooms 
Total time: 15 minutes
  I make these whenever I have a few extra mushrooms on hand.  Usually they get eaten with a toothpick before ever reaching the table....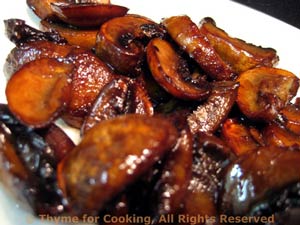 Ingredients:
4oz (120gr) mushrooms
1 tbs Worcestershire sauce
1 tsp butter
1 tsp olive oil
 Instructions:
Clean mushrooms and thickly slice. 
Heat butter, oil and Worcestershire in medium nonstick skillet over medium heat. 
Add mushrooms and sauté, stirring frequently, until they are dark and glazed, about 10 minutes.  You may have to turn the heat down a bit after 7 or 8 minutes. 
Set aside and partially cover to keep warm... Or start to nibble..
Sesame Brown Rice with Snow Peas (Mangetout)
Total time: 30 minutes
     A cross between a stir-fry and a pilaf, the snow peas and red pepper add color and crunch to brown rice.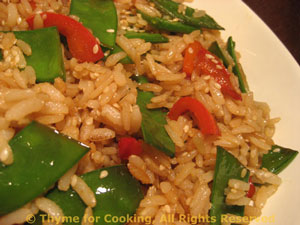 Ingredients:
 Instructions:
Cook rice in chicken stock according to package instructions.
Clean pea pods - snip off the stem end.  Cut large pods into pieces, at an angle, if desired. 
Cut red pepper into matchsticks.
When rice is almost done:
Toast sesame seeds. Remove.
Heat butter and sesame oil in a large nonstick skillet over medium heat.  
Add pea pods, red pepper, soy sauce and sauté 5 - 7 minutes, stirring frequently. 
Add brown rice and stir-fry quickly. 
Sprinkle with sesame seeds and serve.
To toast regular sesame seeds:  Put them into a dry, nonstick skillet over medium heat.  Toss or stir them about in the pan until lightly golden, 2 - 4 minutes.
Cooking schedule: 30 minutes
Assemble all food, utensils and serving dishes
Utensils: measuring cups, spoons, knives,
small saucepan, lid, medium skillet, large skillet,
barbecue grill or skillet for turkey
Start to cook brown rice
Turn on/light barbecue grill if using
Trim, slice mushrooms
Sauté mushrooms
Pour marinade over turkey
Cut red pepper

Trim, slice snow peas
Mind the mushrooms
      Pause while rice cooks
Toast the sesame seeds
Sauté red pepper, snow peas
Start to cook turkey
Add rice, soy sauce to skillet, stir-fry
Turn turkey
Remove rice
Remove mushrooms
Remove turkey, Serve