Stir-Fried Scallops and Ham
Spaghetti with Egg Sauce
Sweet and Pungent Carrots
Cooking time: 30 minutes for menu      Cooking schedule: see below for instructions
     We haven't done a Chinese dinner in awhile.  These recipes are based on ideas from "The Thousand Recipe Chinese Cook Book", modified, of course, to suit local ingredients... and my taste.
Stir-Fried Scallops and Ham
Total time: 10 minutes
     The sweetness of shellfish pairs very well with the salty ham.  Small bits of ham are often used as flavorings in Chinese foods.  I buy frozen scallops, which are less expensive than fresh.  You could also use small, bay scallops, which will cook very fast or shrimp.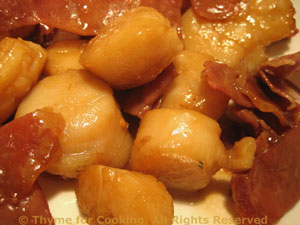 Ingredients:
10oz (300gr) large scallops
4 slices Prosciutto, (3.5oz, 100gr) or other dry-cured ham, Bayonne, Serrano
1 tsp minced fresh ginger
1 tbs dry sherry
2 tsp soy sauce
3 tsp olive oil
1 tsp sesame oil
1 tsp cornstarch (maizena) dissolved in 2 tbs water
 Instructions:
Cut ham slices into thick strips.
Dissolve cornstarch in water.
Stir sherry and soy sauce into cornstarch mixture.
Heat a large nonstick skillet over medium-high heat.
When hot add 2 tsp olive oil, ham and stir-fry until crisp.
Remove ham and set aside.  Add remaining 1 tsp olive oil and sesame oil to skillet.

Add scallops and stir-fry quickly until scallops turn opaque

. Some scallops will release water when cooked, causing them to steam rather than fry. Be sure to use a large skillet, giving them plenty of room. Turn the heat to high after adding the scallops if they don't start to sizzle.

Return ham to skillet, add cornstarch mixture and stir until it's hot, thick and coating the scallops, less than a minute. 

Serve immediately.
Noodles with Egg Sauce
Total time: 25 minutes
     I use spaghetti for this, but rice noodles should work, as well. The simmering stock is whisked into the eggs to 'temper' them, so they will be more like a sauce than scrambled eggs.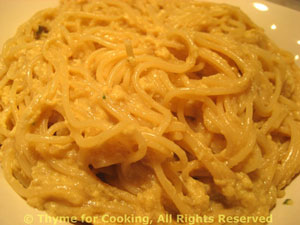 Ingredients:
 Instructions:
Cook pasta according to package instructions.  Drain. 
Trim and slice green onion.
Heat oils in drained pasta pan, over medium heat.  Add green onion and sauté lightly, about 1 minute.
Add stock, sherry and soy sauce; bring to a simmer. Reduce heat to medium low.
Whisk eggs.
When stock is simmering, whisk 2 tbs of hot stock into eggs.
Immediately whisk eggs into hot stock.
Immediately after that add pasta, stirring and tossing to heat through and coat noodles without curdling eggs.  (Tongs work best.) Serve.
Sweet and Pungent Carrots
Total time: 20 minutes
      In a typical 'Chinese Dinner' these would be served as an accent dish.  For our Western dinner, we added more carrots and made it our vegetable side dish.
 Ingredients:
2 - 3 medium carrots
1/2 cup (4oz, 120ml) chicken stock
Sweet and Pungent Sauce
1 tsp cornstarch (maizena, corn flour)
1 tbs sugar
1 tbs red wine vinegar
3 tbs water
 Instructions:
Peel carrots and roll cut: cut the end off of the carrot at an angle, roll carrot 1/4 turn and cut next piece about 3/4 inch away at an angle, roll 1/4 and cut next piece, etc.  This gives you interesting looking pieces with lots of surface.
Put carrots in a small saucepan, add stock and cook, covered, 15 - 20 minutes or until are done.
Remove carrots, discarding stock.  Keep carrots warm.
Add all ingredients for sauce to pan.  Heat, stirring constantly until thick and clear.
Pour over carrots and serve.
Cooking Schedule: 30 minutes
Assemble all food, utensils and serving dishes
Utensils: measuring cups, spoons, knives,
small saucepan, lid, large skillet, pot & colander
for pasta
Put water on high heat for noodles
Cut carrots, put in pan, add stock, cover, cook
Slice green garlic (or onion)
Cut Prosciutto
Mix cornstarch, etc for scallops
Mix cornstarch, etc, for carrots
Whisk eggs
Start to cook noodles
    Pause while carrots, pasta cook

Sauté ham
Drain carrots, put in bowl, cover to keep warm
Drain noodles
Sauté green garlic for noodles
Heat sauce for carrots in saucepan
Remove ham, add scallops, stir-fry
Add stock, sherry, soy to green garlic, simmer
Add carrots to sauce, heat through
Return ham to scallops, add cornstarch, thicken
Remove scallops from heat
Add hot stock to eggs, whisking
Add eggs to stock, whisking
Add noodles, toss to heat and coat
Serve everything