Filet Mignon with Caramelized Onions
New Potato 'Oven Fries'
Sautéed Mangetout & Mushrooms (Snow Peas)
Cooking time:  35 minutes for menu        Cooking schedule: see below for instructions
         The dish would be equally good using a less expensive steak, a flank steak or even a 'Cube Steak'.  If using a tougher cut, slice it across the grain at an angle to serve and/or marinate.
Filet Mignon with Caramelized Onions
Total time: 35 minutes
     With a lovely piece of flavorful, tender filet mignon this is truly marvelous main course. But the savory-sweet onions will make even a lesser cut shine.
 Ingredients:
2 filet mignon steaks (tournedos), 6oz (180gr) each 

or other cut of choice

1 large or 2 medium onions
2 tsp butter
2 tsp olive oil
1 tbs brown sugar
2 tsp Dijon-style mustard
1 tsp Worcestershire Sauce
 Instructions:
Mix Worcestershire sauce, oil and brush on steaks.  Set aside. 
Cut onion in half then into 1/4 inch (.65cm) think slices. 
Heat butter, oil in medium nonstick skillet over medium heat. 
Add onions and sauté until browned, stirring frequently, about 25 minutes.  You may have to turn the heat down to low after about 15 minutes. 
When onions are nicely browned add sugar, mustard, Worcestershire, and stir until well blended and sugar is melted.  Set aside and keep warm.  
Cook steaks on barbecue grill until done to your liking.... about 3 minutes per side for medium rare.  It depends on thickness of cut, heat of grill, etc.  Check out this site for the 'thumb test'.
Divide caramelized onions and place on 2 plates.  Put steak on top and serve. 
Note:   Could be done under the broiler (grill) or quickly pan fried over high heat for about the same time.
New Potato 'Oven Fries'
Total time: 35 minutes
     New potatoes are about the size of walnuts...(or golf balls).  They are great braised or roasted whole, but get wonderfully crunchy with creamy interiors when cut in half and baked like 'Fries'.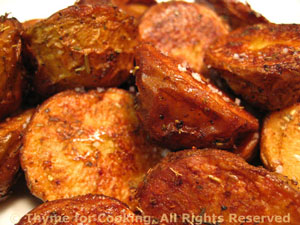 Ingredients:
10 - 15 new potatoes 

enough for two people 

1 tbs olive oil
1 tsp paprika
1 tsp thyme

salt and pepper 

sea salt if you have it
 Instructions:
Sautéed Snow Peas (Mangetout) & Mushrooms
Total time: 10 minutes
     The mushrooms give a bit of meaty flavor and 'weight' to the delicate snow peas and contrast nicely with their crisp crunch.
 Ingredients:
4oz (120gr) mangetout, snow peas
2oz (60gr) mushrooms
2 tsp olive oil
1 tsp sesame oil
2 tsp soy sauce
 Instructions:
Clean pea pods - snip off the stem end. Cut large pods into pieces, at an angle, if desired.
Trim and thickly slice mushrooms. 
Heat oils and soy sauce in a nonstick skillet over medium heat. 
Add snow peas, mushrooms and sauté 5 - 7 minutes, depending on size, stirring frequently. 
Taste, when they are done to your liking, remove and serve.
Cooking Schedule: 35 minutes
Assemble all food, utensils and serving dishes
Utensils: measuring cups, spoons, knives,
large skillet, medium skillet, baking sheet, small
bowl, medium bowl, barbecue grill, broiler / skillet
Turn oven on, 400F (200C)
Slice onion, sauté
Cut potatoes
Mix paprika, oil, thyme, add potatoes, coat
Lay potatoes, cut side down, on tray, bake
Mix Worcestershire, oil, brush on steaks
Mind the onions
Trim, slice mushrooms

Trim, cut snow peas
Turn potatoes
Turn on/light barbecue grill if using
Sauté mushrooms, mangetout
Start to cook steaks
Finish onions
Turn steaks
Mind the mushrooms, mangetout
Remove potatoes, salt
Arrange onions on plates
Top with steaks
Remove mangetout, mushrooms
Serve