Mushrooms Stuffed with Bacon and Tomato
Seared Scallops with Prosciutto on Tarragon Cream
Potato Gratin
a la Two Fat Ladies


Braised Carrots and Onion

Cooking time: 75 minutes for menu           Cooking schedule: see below for instructions

      We may not be grilling but we still have lots of fresh herbs in the garden...    Leftover Potatoes on Monday.
Mushrooms Stuffed with Bacon and Tomato
Total time: 20 minutes
    I love stuffing vegetables.  This is a less-caloric version of a recipe I made years ago, stuffing the mushrooms with lots of bacon and cream cheese - full fat of course.  That was good; this is better... And so much less guilt! The Vinaigrette is much thicker and more intense than I would use for a lettuce salad, but works well with the mushrooms and sliced tomato.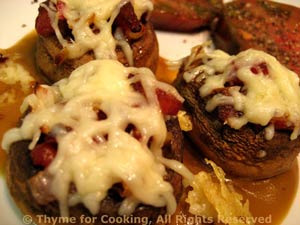 Ingredients:
6 large button or cremini mushrooms, 1 1/2 - 2" (3.75 - 5cm) in diameter
1 tbs olive oil
1 tbs soy sauce
2 shallots

or a small onion

2 slices bacon
2 ripe tomatoes
1/4 cup (1oz, 30gr) shredded cheese
Balsamic Vinaigrette:
1 tbs Dijon-style mustard
2 tbs Balsamic vinegar
2 tbs good olive oil
 Instructions:
Clean mushrooms, removing stems.  
Finely chop the shallots.
Chop bacon.
 Cut 3 thick slices out of each tomato.  Set aside 4 slices and chop the other 2 slices. 
Heat oil and soy sauce in nonstick skillet over medium-high heat. 
Add mushroom caps and sauté until light brown, 3 minutes, turning once. 
Remove and place on a baking sheet - with a lip so they don't slide off.
Add shallots, bacon and sauté until the shallots are tender and the bacon crisp. 
Remove shallots, bacon with a fork or slotted spoon and put in a small bowl. 
Add the chopped tomato and stir to combine. 
Spoon mixture into the mushroom caps, dividing evenly.
Sprinkle, carefully, with cheese.
Bake in 400F (200C) oven for 10 - 12 minutes, until they are light brown.
Balsamic Vinaigrette:
Combine mustard and vinegar in a small bowl.  Slowly add oil, whisking constantly, until thick.
To Serve: 
Place two tomato slices on the side of each plate. 
Spoon half of the vinaigrette on to the other side and place 3 mushroom caps on top.
Seared Scallops with Prosciutto on Tarragon Cream 
Total time: 15 minutes
   Scallops are rich, sweet, and often expensive.  But we can still indulge on occasion.  Here they are quickly seared with a bit of Prosciutto and served on a bed of velvety Tarragon Cream.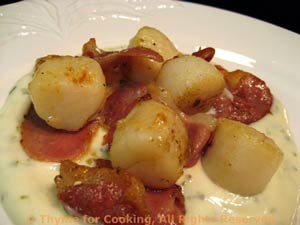 Ingredients:
10oz (300gr) large scallops
4 slices Prosciutto, (2oz, 60gr)   or other dry-cured ham, Bayonne, Serrano
1 tbs olive oil
1/2 tsp paprika
Tarragon Cream:
2/3 cup (5oz, 150ml) white wine
1/3 cup (3oz, 90ml) chicken stock
1/3 cup (3oz, 90ml) Greek yogurt, crème fraiche or sour cream
1 tsp dried tarragon
1 tsp dried basil
1 tbs cornstarch (maizena) dissolved in 2 tbs stock
 Instructions:
Mix olive oil and paprika. 
Add scallops and stir to coat. 
Cut ham slices in thirds.
Combine ham and scallops. 
Heat large nonstick skillet over medium-high heat . 
When hot add scallops and ham.   Stir-fry quickly until scallops turn opaque and ham starts to crisp. 
Remove and serve on Tarragon Cream.
Tarragon Cream:
In a small saucepan, over medium heat,  bring stock and wine to a boil.  
Add tarragon, basil and simmer 5 minutes.
 Mix cornstarch in stock and stir into simmering stock. Cook until thickened - should be quite thick. 
Remove from heat and stir in yogurt / crème fraiche.
Note:  Some scallops will release water when cooked, causing them to steam rather than fry.  Be sure to use a large skillet, giving them plenty of room.  Turn the heat to high after adding the scallops if they don't start to sizzle.
Potato Gratin with Herbs and Garlic
(The Two Fat Ladies)
Total time: 1 hour 15 minutes
    This is something I watched "The Two Fat Ladies" do on their cooking show.  Perfect for late summer, flavored with lots of fresh herbs and garlic; I hope I can do them as well as Jennifer. You can modify the herbs to suit your taste, just use lots!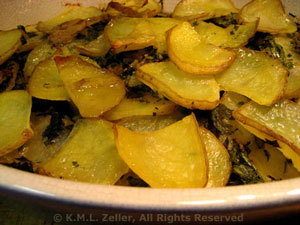 Ingredients:
 Instructions:
With a sharp knife thinly slice the potatoes. 
Put slices in a large bowl of cool water and set aside.
Chop or snip herbs. 
Finely chop garlic and mix together with chopped herbs. 
Remove potatoes from water, lay out on kitchen (paper) towels and pat dry. 
Drizzle a bit of the oil in a glass baking dish, just large enough to hold ingredients. 
Make a layer of potatoes, sprinkle with a bit of the herb/garlic mixture and drizzle with a little oil. 
Repeat 4 more times. 
Pour the stock over all, cover with foil and bake at 400F (200C) for 30 minutes. 
Remove foil and continue baking another 30 minutes.  Top potatoes should start to brown and get crisp. 
Remove from oven and serve.
Note:  I use a scissors to snip the herbs first and use the flat of a large knife to smash the garlic. Then combine the herbs and garlic and chop finely, using a large knife in a 'rocking' motion.
Braised Carrots and Onions
Total time: 30 minutes
   Sautéed onions and chicken stock bring out the natural sweetness of carrots as well as making this common vegetable a bit more interesting.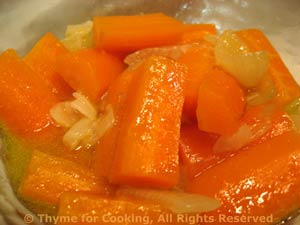 Ingredients:
2 - 3 carrots depending on size and hunger
1/2 onion
1/3 cup (3oz, 90ml) chicken stock
1 tbs olive oil
 Instructions:
Peel carrots, cut in half, then each half again so you have carrot sticks. 
Cut onion 'half' in half again (vertically) and slice thickly - 1/4 inch (you will have 'quarter slices'). 
Heat oil in saucepan.  Add onions and sauté until tender and starting to brown. 
Add carrots and stock. 
Cook, covered, 15 - 20 minutes or until vegetables are done. 
Remove cover, drain and serve.
Cooking schedule: 75 minutes
Assemble all food, utensils and serving dishes
Utensils: measuring cups, spoons, knives,
scissors, large bowl, small bowl, whisk, large
nonstick skillet (use 2 X), 2 small saucepans, lids
Turn oven on, 400F (200C), arrange 2 shelves
Slice potatoes, put in water
Snip herbs
Chop garlic
Combine herbs, garlic
Pat potatoes dry
Assemble gratin
Cover gratin with foil, bake
     30 minute break
Back?
Uncover potatoes
Clean mushrooms
Sauté mushroom caps
Chop shallot
Remove mushroom caps, place on baking sheet
Sauté shallots, bacon slices
Slice tomato, chop 2 slices
Turn bacon

Cut carrots
Slice onion for carrots
Remove bacon, shallots
Combine shallots, tomato
Crumble bacon, add to shallot/tomato
Stuff mushrooms
Sprinkle with cheese, bake
Sauté onion for carrots
Make vinaigrette
Make Tarragon Cream, remove from heat, cover
Add carrots, stock to onions, cover, braise
Remove mushrooms
Put tomatoes, vinaigrette, mushrooms on plate
Serve Mushrooms
Done?
Heat skillet for scallops
Remove potatoes
Sauté scallops, Prosciutto
Drain carrots / onions
Turn scallops, Prosciutto
Spoon Tarragon Cream onto plates
Arrange scallops, Prosciutto
Cut potatoes, serve all