Grilled Teriyaki Pork Chops
Zucchini (Courgette) Potato Cake
Cooking time:  35 minutes for menu          Cooking schedule: see below for instructions
    I rarely see nice, bone-in chops.  I had to take advantage for our last week of grilling.
Grilled Teriyaki Pork Chops  
Total time: 25 minutes
    Sometimes we just have to be easy... And it's not easy to duplicate a bottled Teriyaki sauce!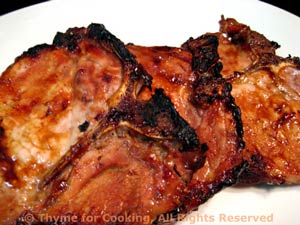 Ingredients:
2 - 4 pork chops, depending on size  12oz (360gr) boneless, 16oz (480gr) bone-in
4 - 5 tbs Teriyaki marinade
 Instructions:
Pour marinade over chops. and let marinate for 10 minutes. 
Remove from marinade and cook on barbecue 10 - 15 minutes turning once or under broiler for 12 - 15 minutes turning once - or sauté in large skillet 10 - 15 minutes (you get the picture). 
Baste with any remaining marinade. 
In all cases it depends on thickness and test for doneness by slicing and peaking.   Remove and serve.
Potato and Zucchini (Courgette) Cake
Total time: 25 minutes
   This was based on a Potato Leek Cake that I make during the winter.  I updated it for summer by adding red pepper and zucchini.  It was a bit heavy to 'flip' so you can either turn it, whole, using 2 plates or just turn it in large sections with a big spatula.  Either way, let it get nice and crispy first!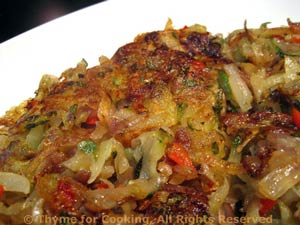 Ingredients:
2 medium potatoes, (10oz, 300gr total)
1 small - medium zucchini (8oz, 240gr)
1 onion (5oz, 150gr)
1/2 red pepper
1 tbs olive oil
salt and pepper to taste
 Instructions:
Cooking Schedule: 35 minutes
Assemble all ingredients and utensils
Utensils: measuring cups, spoons, knives,
dish for marinating, large bowl, grater, large
skillet, barbecue grill
Light/turn on barbecue grill
Pour marinade over chops, set aside
Chop pepper, onion
Shred potato, zucchini
Mix vegetables well

Heat oil in skillet
Add vegetables, pat down, fry
  Pause while veg cooks
Start to cook chops
Turn potato zucchini cake
    Pause while it all cooks
Turn chops
     Pause again
Remove chops
Remove Potato Zucchini Cake, slice and serve