Grilled Chicken Breasts with Sage, Rosemary, Lemon
Pasta with Sage and Parmesan
Courgette (Zucchini) and Tomato Gratin
Cabbage Salad
Cooking time: 30 minutes for menu          Cooking schedule: see below for instructions
    Sage and rosemary: the fall herbs.  They are stronger than the summer herbs, use as much or as little as you like.     
Chicken Breasts with Sage, Rosemary and Lemon
Total time: 30 minutes
   Sage and rosemary work well together and, along with the lemon, make these simple chicken breasts a tender, succulent, flavorful dinner.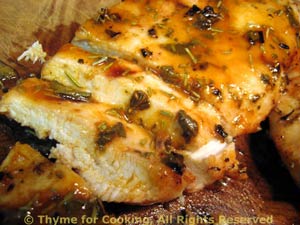 Ingredients: 
2 chicken breasts, boneless, skinless
3 tbs lemon juice
2 tbs olive oil
1 tbs ketchup
1 tbs fresh sage, chopped  

substitute 1 tsp dried

1 tbs fresh rosemary, chopped  

substitute 1 tsp dried
 Instructions:
In a small bowl mix lemon juice, oil, ketchup and herbs. 
Place chicken breasts in a dish with sides and pour marinade over.  Let marinate 10 - 20 minutes or up to 4 hours in the refrigerator. 
Remove from marinade and cook on barbecue grill for 7 - 10 minutes per side, or until done,  basting with marinade. 
Could also be sautéed in a nonstick skillet for same amount of time. Serve.
Pasta with Sage, Olive Oil and Parmesan
Total time: 25 minutes
    I love the fried sage leaves, and if you like sage at all, 20 leaves are not too many!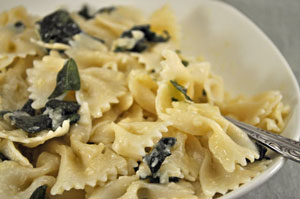 Ingredients:
1 cup (2.8oz, 80gr) dried farfalle pasta
2 tbs olive oil
15 - 20 fresh sage leaves
2 garlic cloves, minced
1/3 cup (1.5oz, 45gr) grated Parmesan - preferably freshly grated
black pepper
 Instructions:
Cook pasta according to package instructions.  Drain. 
In same pan, over medium low, heat olive oil. 
Add sage leaves and minced garlic and sauté for a few minutes. 
Add drained pasta, toss quickly.
Remove from heat and add Parmesan and pepper. Serve.
Zucchini (Courgette) and Tomato Gratin
Total time: 15 minutes

 Ingredients:
leftover Zucchini Tomato Gratin
 Instructions:
Reheat in the microwave for 2 - 3 minutes or oven, (350Fm 170C) for 15 - 20 minutes.
Serve. 
Creamy Cabbage Salad
Total time: 1 minute 

 Ingredients:
 Instructions:
Remove from fridge and serve.
Cooking schedule: 30 minutes
Assemble all food, utensils and serving dishes
Utensils: measuring cups, spoons, knives,
scissors, small bowl, dish for marinating, pot and
colander for pasta, dish for reheating gratin,
barbecue grill
Put water on high heat for pasta
Turn on/light barbecue grill
Snip or chop herbs
Mix oil, lemon, ketchup, herbs
Spoon over chicken set aside
Remove gratin from fridge, decide how to heat
Remove cabbage salad, stir
     Wait for the water to boil

Reheat gratin (start in cold oven if using)
Start to cook pasta
Start to cook chicken
Grate Parmesan
Mince garlic
Turn chicken
      Wait for stuff to cook
Drain pasta
Sauté sage, garlic
Add pasta, stir
Remove, put in bowl, stir in Parmesan
Remove chicken, slice if you like
Remove zucchini tomato gratin
Serve the lot