Goat Cheese and Tapenade Pastries
Smoked Salmon with Lemon and Herbs
Barley with Mushroom Cream
Roasted Acorn Squash Slices
Cooking time: 50 minutes for menu           Cooking schedule: see below for instructions
      Well be using some of the Tapenade tonight, and the rest tomorrow night.  The same with the Puff Pastry, although we'll make the Palmiers tonight.  The goat cheese we'll be finishing on Sunday. 
Goat Cheese and Tapenade Pastry
Total time: 45 minutes
    Sweet onions, tangy goat goat cheese and salty tapenade... Pour a glass of something fruity.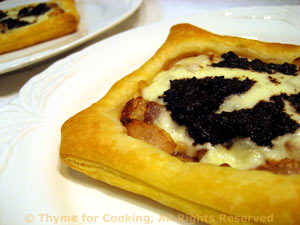 Ingredients:
3oz (90gr) goat cheese  

You don't want the creamy kind in the carton for this but a proper goat cheese: log-shaped and wrapped in paper.  It will have a thin, whitish, rind that is edible.

1 onion
1 tbs olive oil
1 tsp brown sugar
2 tbs tapenade
1/2 sheet puff pastry
 Instructions:
Thaw the puff pastry, if needed. 
Roughly chop the onion.
Heat oil in medium nonstick skillet over medium heat.  Add onion and sauté until transparent and tender, about 7 minutes.
Turn heat up and cook, stirring, until they start to get brown, about 5 minutes longer.
Turn heat to medium low, add sugar and stir until sugar is melted and evenly distributed.
Let cook over medium low heat until very brown, 10 - 15 minutes longer, stirring occasionally.
Cut goat cheese into 1/4" (.6cm) slices.
Lay out puff pastry and cut two squares or circles, 4 - 5 inches (10 - 12cm) each.  
Lay the cut pastry on a baking sheet and, with a table knife, score a line around the edge of each pastry, about 1/3" (1cm) from the edge.
Divide the caramelized onions between the two, spreading to the scored lines.
Lay the goat cheese on top, cutting smaller slices, to roughly cover the onions. 
Spread tapenade on top of the goat cheese, dividing evenly. 
Bake in a pre-heated oven at 400F (200C) for 12 - 15 minutes, until sides of pastry have puffed around middle and are golden brown. 
Remove and serve.
With leftover puff pastry......
Parmesan Crisps
(Palmiers)
Time:  15 minutes plus 5 earlier  
   Easy to make and a great way to use up the leftover bits of puff pastry.  I ignored the fact that my pastry was actually a semi-circle and sliced the crisps from the 'straight' edge.  I was able to use almost all of it....
 Ingredients:
puff pastry sheet, roughly 10 X 6 (25 X 15cm)
1 - 2 tsp olive oil
2 tbs grated Parmesan cheese
 Instructions:
Cut a rectangle of puff pastry.
Lightly drizzle 1 - 2 tsp olive oil over the pastry. 
Sprinkle 2 tbs of Parmesan evenly over the top. 
Make a mental note (or mark it) of where the middle of the pastry is.  Starting at the short ends, roll the puff pastry to the middle until the two rolls meet. 
Wrap in cling film and refrigerate until used.  It should be chilled at least an hour and can be made 2 days ahead.

To Bake:

Remove from fridge and slice 1/4" thick (.6cm). 
Lay on a baking sheet and bake, 400F (200C) for 8 - 12 minutes, until pastry is golden and cheese is a bit darker. 
Remove and serve immediately or allow to cool and store in airtight container.
Salmon with Lemon and Herbs,
Lightly Smoked
Total time: 15 minutes
    This is a cross between smoking and grilling.  The wood chips are optional, but we like the added flavor, especially for salmon.  As always, with fish, cook until it just flakes easily, being careful not to let it on too long.  You could also roast the salmon, 400F (200C) oven.  If you do, add 1/2 tsp soy sauce to the lemon/herb mixture.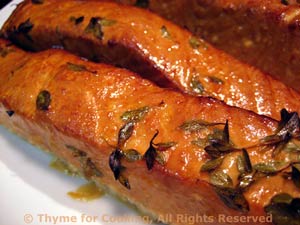 Ingredients:
2 salmon fillets, 6oz (180gr) each 
2 tbs lemon juice
2 tbs olive oil
1 tbs fresh lemon thyme or regular thyme leaves  

substitute 1 tsp dried

1 tbs snipped fresh parsley    

substitute 1 tsp dried

1 tsp kosher, sea or rock salt
wood chips for smoking - apple is nice See Barbecue Grills for more info
 Instructions:
In all cases, fish should flake easily but not be dry.  Slightly pink in the center is perfect.  Remove from heat and serve, sliding it off the skin if needed.
Barley with Mushroom Cream
Total time: 25 minutes
   Sautéed mushrooms and onions give a woodsy note to the barley.  The Greek Yogurt gives it a creamy finish.  I use quick-cooking barley, which takes about 15 minutes, and cooked it in beef stock for a more robust flavor.
 Ingredients:
 Instructions:
Cook barley in stock until done, stirring occasionally. If all stock is not absorbed, drain. 
Roughly chop onion. 
Trim and slice mushrooms. 
Heat oil in a medium skillet.  Add onions and sauté until tender, about 7 minutes. 
Add mushrooms and sauté until lightly browned, about 5 minutes longer. 
Add Worcestershire sauce and stir. 
Dissolve cornstarch in beef stock and add to skillet, stirring until bubbling and thick. 
Remove from heat and stir in yogurt. 
Keep warm until barley is done.  
When barley is done, stir into mushroom sauce.  Serve.
Roasted Acorn Squash Slices
Total time: 45 minutes
    Roasting winter squashes concentrates their natural sweetness and all you need to finish is a bit of salt and pepper.... or you can smear on butter.
 Ingredients:
1 acorn squash
1 tsp dried rosemary
1 tbs olive oil
salt and pepper to finish
 Instructions:
Cut squash in half, through stem and blossom ends, and scoop out seeds. 
Then cut in 1" (2.5cm) slices the short way. 
Mix rosemary and olive oil.  Toss squash slices in oil. 
Lay squash on a baking sheet and bake at 400F (200C) for 25 minutes. Turn slices and bake another 8 - 10 minutes, until fork tender. 
Sprinkle with salt and pepper and serve. 
Cooking schedule: 50 minutes
Assemble all food, utensils and serving dishes
Utensils: measuring cups, spoons, knives,
scissors, small bowl, whisk, dish for marinating,
medium nonstick skillet, small saucepan with lid,
2 baking sheets, medium bowl, grill basket/pan,
barbecue grill, cling film
Thaw puff pastry if needed
Soak wood chips if using
Turn on oven, 400F (200C), arrange 2 shelves
Chop onion for pastry, sauté
Cut acorn squash, scoop out seeds, slice
Mix oil, rosemary, add squash, coat
Lay squash out on baking sheet, bake
Turn onions up, sauté
Snip all herbs
Add sugar to onions, reduce heat, cook
Whisk lemon, oil
Add herbs, spoon over salmon, set aside
Slice cheese
Turn on/light barbecue grill
Chop onion for barley
Trim, slice mushrooms
Lay out, cut, score pastry

Spread sautéed onions on pastries
Lay cheese on onions
Add tapenade, bake
Trim remaining puff pastry
Drizzle with oil, sprinkle with cheese
Roll up pastry, wrap in film, refrigerate
Start to cook barley
Sauté onions for barley
Prepare wood chips for smoking
Dissolve cornstarch in stock
Remove pastries
Turn squash
Turn barley to low
Start to cook salmon
Add mushrooms to onion, remove from heat
Serve pastries
Done? Put onion/mushroom back on heat, add Worcestershire
Mind the salmon
Mind the barley
Add cornstarch/stock to onion/mushroom
Add yogurt, then barley
Remove squash, salmon
Serve all